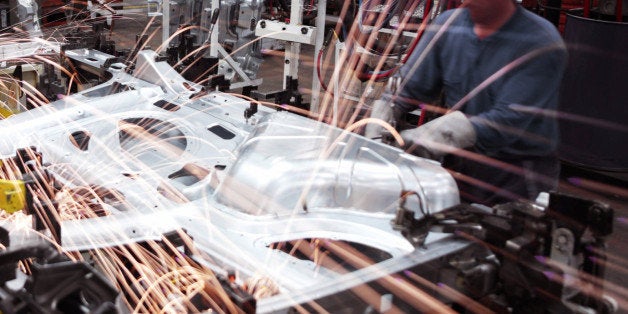 The transformation of the South by international industry has picked up speed. In 1974, there were only 19 foreign-owned manufacturers in Tennessee. They were valued at $649 million. In 1995, the state had 400 foreign-owned firms with a value of $15 billion. By 2013, the number of foreign-owned firms had more than doubled to 864 with a value of $30 billion. According to the Global Location Trends Report by the IBM Institute, Tennessee led the nation in jobs created by foreign owned firms.
Five years ago, there was no International Business Council (IBC) of the Chamber of Commerce of Greater Chattanooga. Today, IBC Past President Anjelika Riano, current President Anton Demenchuk, both immigrants from the Ukraine, and President-Elect Marty Lester took turns informing, amusing, and congratulating the multi-lingual audience on the transformation. The family-like atmosphere was continued by the Chamber's Vice President of Economic Development, Charles Wood, who shared how he enjoyed bringing companies to town for the shock value. "For a community of our size, it's very surprising and very metropolitan."
As for the future, an endless stream of announcements appear in The Chattanooga Times Free Press of companies planning to relocate to the area or expand existing factories and services. Wood reported that a billion dollars worth of projects are in the pipeline to Chattanooga, half of that coming from international companies. Hamilton County, the city of Chattanooga, and the state of Tennessee work together to make the transformation possible.
Preparing local employees to work for global companies with hi-tech needs has been a challenge, particularly since the Volkswagen had its ceremonial "wall raising" in 2009. Not surprisingly, it remains a key concern today. The Chamber's VP of Public Policy, Rob Bradham, introduced the topic, What International Companies Expect from Chattanooga's Workforce. He also introduced the panel of HR executives from global companies with plants in the Chattanooga area.
Sebastian Patta from automobile manufacturer Volkswagen.
Dr. Erika Burk from polysilicon manufacturer Wacker.
Joe Fuqua from construction manufacturer Komatsu.
Tony Cates from automobile parts manufacturer Gestamp.
The panelists' friendly competition was entertaining and light-hearted, but they were serious about recruiting and training of a local workforce. Describing the uphill battle, Cates said, "Good folks are hard to find. I talk to groups helping people get jobs. I go into churches, talk to schools and teachers, explain the skill set the need. We bring the kids in for tours and develop partnerships, but it's going to be tough..."
To encourage and educate promising Chattanoogans, the companies provide internships, apprenticeships, plant tours, and partnerships with schools and colleges. They anticipated the lack of high-tech skills. They did not expect either the substantial number failing drug tests of the lack of education basics. Burk explained that Wacker made a $3 million investment to develop a college program to meet the company's needs. "It was surprising that early applicants couldn't pass the reading and math literacy test. Remedial courses were necessary."
Dedication should match the technical skills. Cates explained, "The best strategy is to find good people and train them up. We started internships with high school students, but how do you get kids to commit and have the patience to get degrees?" He added, "Program a robot and Gestamp will hire you." Patta shared his perspective, "They have to stay for a 10-hour shift, be there on time, and follow Volkswagen's policies. High school graduates have no idea of what goes on. They need more practical workplace experience."
The panelists concluded by asking for referrals of local candidates to intern in their international companies. They encourage an educational system that can produce technical expertise. They currently import the more specialized engineers, especially for the Research and Design centers. However, the companies are open to local referrals at that level, too. Ultimately, Chattanooga expects to increase its homegrown expertise, changing the current mix of expats and American transplants recruited to work here by international companies. Like other small Southern cities with similar growth, Chattanooga will leap-frog from local to global in record time.
Calling all HuffPost superfans!
Sign up for membership to become a founding member and help shape HuffPost's next chapter