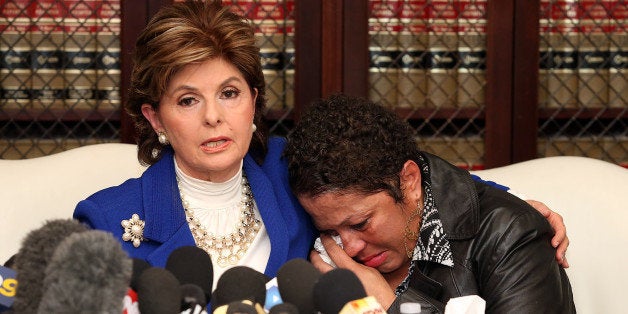 The three women who joined Allred were Beth Ferrier, who was first publicly identified in 2005 as Jane Doe #5 in Andrea Constand's suit against Cosby, and Helen Hayes and Chelan (who is currently being identified by her first name only), who previously had not made their allegations about Cosby public.
The LA Times reported that Hayes is claiming that Cosby groped her breasts in 1973 while they were at a restaurant. Chelan, who was crying and visibly shaken during much of the press conference, said that Cosby drugged and sexually assaulted her at the Las Vegas Hilton in 1986 when she was just 17, the same location where Florida nurse Therese Serignese claims she was raped by Cosby 10 years prior. According to the LA Times, Chelan told press that Cosby gave her a blue pill to "help with a cold." After she took it:
The woman said she found that she couldn't move or say anything and that he began sexually assaulting her before she blacked out. She said she awoke hours later to hear Cosby clapping his hands and saying, "Daddy says wake up." He gave her $1,500 to buy something nice for her and her grandmother, she told reporters at the news conference.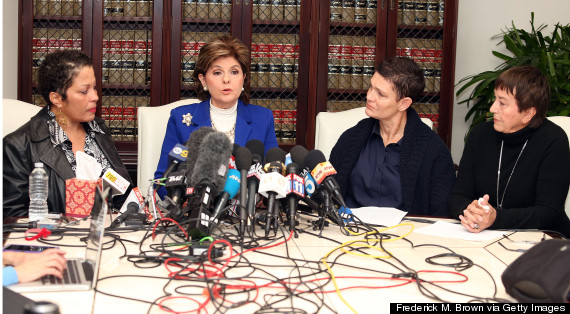 Attorney Gloria Allred (2nd from L) speaks during a press conference with alleged victims of Bill Cosby; Chelan, Beth Ferrier and Helen Hayes.
Allred said that her two proposed solutions were a way for Cosby's accusers and, should his name be cleared, Cosby himself, to get justice. She also said that she had "lost count" of the number of women who had contacted her with claims against the 77-year-old comedian.
When asked what advice she would give Cosby if she were his attorney, Allred was very clear: "Under no circumstances would I ever give advice to Bill Cosby... nor would he ever be my client, even if he wanted to be," she said.
Cosby has stayed fairly tight-lipped about the allegations, telling a Florida Today reporter on Nov. 22, "I know people are tired of me not saying anything, but a guy doesn't have to answer to innuendos ... People should fact check. People shouldn't have to go through that and shouldn't answer to innuendos."
His attorney, Martin D. Singer, gave a statement to The Huffington Post on Nov. 21, calling the recent slew of allegations "unsubstantiated, fantastical stories about things they say occurred 30, 40, or even 50 years ago have escalated far past the point of absurdity." His statement also targeted news outlets, calling the coverage of these claims "an unprecedented example of the media's breakneck rush to run stories without any corroboration or adherence to traditional journalistic standards."
HuffPost reached out to the Cosby camp about these new allegations and Allred's suggested next steps, but had yet to hear back at time of publication.
"We challenge Mr. Cosby to end this nightmare," Allred said as she wrapped up the press conference. "The ball is in his court."
Popular in the Community