Jay-Z's mother, Gloria Carter, was greeted with a standing ovation as she accepted a special recognition award at the 2018 GLAAD Media Awards in New York.
Carter was honored at Saturday's ceremony for documenting her coming out process on "Smile," a track from Jay-Z's acclaimed 2017 album, "4:44." The song, she said, "became a reality because I shared with my son who I am. Not that people didn't know."
"For me, this was the first time that I spoke to anyone about who I really am," she recalled in her acceptance speech, which can be viewed above. "My son cried, and said, 'It must have been horrible to live that way for so long.' My life wasn't horrible. I chose to protect my family from ignorance. I was happy, but I was not free."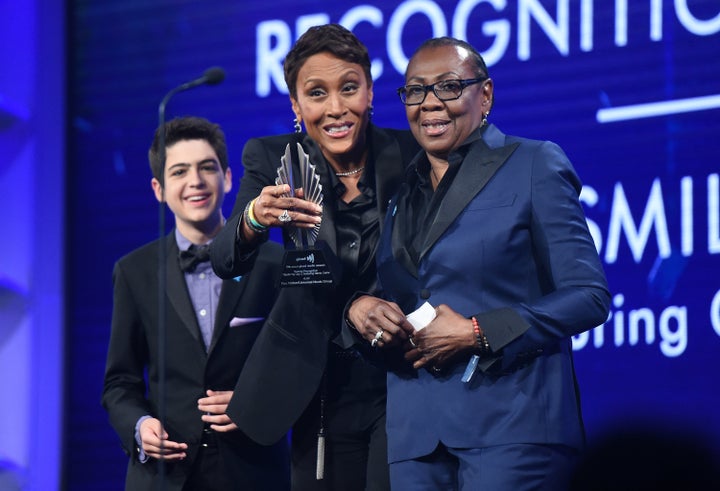 Carter devoted much of the speech to her partner, who helped her free herself "from being in the shadows."
"Love gave me the courage to take the power that I allowed other people to have over my life for fear of them revealing my secret that wasn't really a secret. Here I am," she said. "I'm loving, I'm respectful, I'm productive, and I'm a human being who has a right to love who I love. So everybody, just smile, be free."
"Smile," of course, made headlines last year, as it was the first time Carter had spoken about her sexuality publicly.
"Mama had four kids, but she's a lesbian. Had to pretend so long that she's a thespian," Jay-Z rapped in the song. "Had to hide in the closet, so she medicate. Society shame and the pain was too much to take."
Last month, the rapper opened up about "Smile" in an episode of Netflix's "My Next Guest Needs No Introduction," telling host David Letterman he hit the studio to record it just one day after his mother came out to him.
"I cried because I was so happy for her that she was free," Jay-Z said at the time. "I don't even believe in crying because you're happy. I don't even know what that is. What is that?"
Popular in the Community