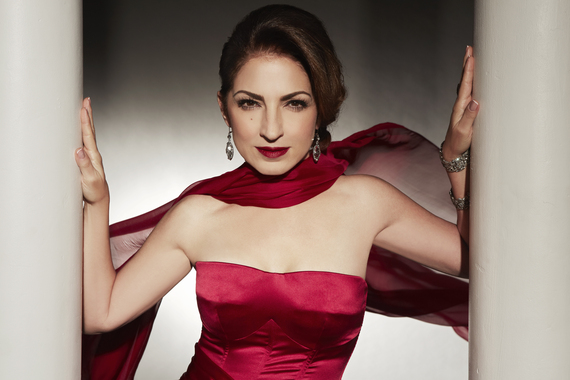 On Sunday, May 24, Grammy winning pop megastar Gloria Estefan will join an impressive line up of performers for PBS' National Memorial Day concert on the west lawn of the U.S. Capitol. Headlined by newly crowed American Idol winner Nick Fradiani, the concert will bring Estefan together with talent and distinguished guests including Colin Powell, Laurence Fishburne, Gary Sinese, Tony Award winner, Laura Benanti, The Voice season five winner Tessanne Chin and more to help mark the occasion--which for Estefan stirs both patriotic and personal emotions, as she honors her father Jose, an Army veteran who passed away in 1980.
A Cuban immigrant, Estefan's father represents an important part of the diversity in our armed forces, those who have moved to the United States and then choose to defend it. It's estimated that there are currently 65,000 immigrants serving in active duty, making up approximately 5 percent of our armed forces.
"It's always a bittersweet holiday because of course we're enjoying each other's company and having a great time," Estefan said in a recent interview. "But at the same time we know that the reason we have this holiday is because the sacrifices made by our incredible human beings that serve and protect us--one of them being my dad."
Jose's story in fact starts with law enforcement in Cuba, where he served as a motorcycle police officer. However, when Fidel Castro took power their family, including Estefan, moved to the U.S. where Jose then signed up to fight against Castro's government during the Bay of Pigs. He was captured and served two years as a political prisoner. When he returned, however, Jose continued to fight for freedom, then signing up for the U.S. Army where he served on bases here in the states and oversees in Vietnam. Sadly, during his time in Vietnam he was exposed to Agent Orange and as a result, suffered from MS later in life.
Vocal too in her dissent against the government in Cuba, Estefan takes great pride in being an American. "I think that as immigrants we sometimes give more strength and more power to the freedoms that we enjoy in this country," she said. "We [Cuban immigrants] do not take them for granted because we did lose our country and realize how important these freedoms are and how lucky we are in the United States to have them."
Estefan views her freedom not just as an American but also as a refugee from Cuba's oppressive regime. "I have a great respect for our people in uniform that put their lives on the line every day for us to enjoy our freedoms in the U.S. and worldwide," Estefan shared. In addition to performing, however, she also believes in and advocates for giving back to those who protect and serve, herself having volunteered in VA hospitals. "The minute I could do anything for the VA, including when my dad was in the VA hospital the last five years of his life... my mom and I would go every day to help the nurses in the nursing room home floor because there were so swamped," she added. "We would feed my dad and bathed him and take care of him, but then we would help them in whatever way needed, to feed the other vets that were there and help them out. That was when I was a teenager. So I've been involved on a personal level for many, many years."
The National Memorial Day concert will air live on PBS on Sunday, May 24 at 8PM ET.
REAL LIFE. REAL NEWS. REAL VOICES.
Help us tell more of the stories that matter from voices that too often remain unheard.