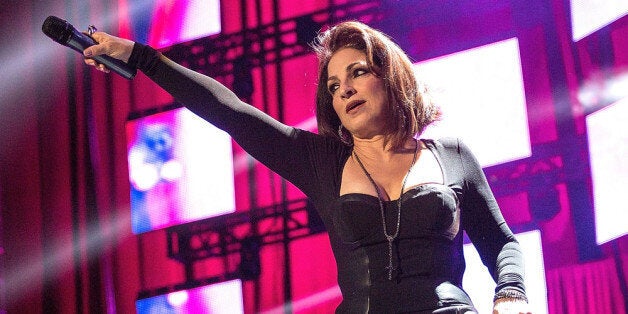 At 56 years old, Gloria Estefan has yet to slowdown– musically that is.
She is set to release her long awaited standards album appropriately titled "The Standards" on September 10. The album includes classics like "The Way You Look Tonight" and "The Day You Say You Love Me," an English version to Carlos Gardel, "El dia que me quieras." She will open the Festival Miami concert series on October 1 at UM's Maurice Gusman Concert Hall.
The mother of 32-year-old Nayib and 19-year-old Emily Marie Consuelo got her start in the music world in the mid 1980s when her family migrated from Cuba to Miami.
Once in Miami, she met long-time husband and music producer, Emilio Estefan who back then was a keyboardist and led the Miami Sound Machine band that played popular Latin tunes. Together they produced many hits in the following two decades including "Rhythm Is Gonna Get You" and "Conga."
The song that urged "Come on, shake your body baby, do that conga!" quickly topped the charts and Gloria Estefan's career went nowhere but up.
Gloria Estefan was on top of the world, selling out concerts and touring non-stop. However, Estefan's hectic on-the-road lifestyle did come to a stop in March of 1990 when Miami Sound Machine's tour bus collided with a semitruck on a Pennsylvania highway.
The singer, recognized internationally for her awe-inspiring voice faced one of her life's lowest points as her ability to perform and even walk was threatened by a severely broken back.
After a harsh recovery including rigorous physical therapy and husband-of-35-years Emilio helping her every step of the way Gloria has gone on to enjoy a successful career as a crossover pop star, singing in English and Spanish in countries all around the world.
The Grammy winner is known for keeping a low profile and always putting family first.
Cuban-American salsa music powerhouse Gloria Estefan turned 56 on September 1. In honor of her birthday, let's take at her most inspiring quotes.
Originally published on VOXXI as Inspirational quotes by Gloria Estefan