 SPECIAL FROM

"I suspect that like many women here I am living out the unlived life of my mother."
At a recent dinner of the Silurians, an organization of veteran New York City journalists founded in 1924, Gloria Steinem was honored with the society's prestigious Lifetime Achievement Award. Looking radiant and chic in black pants, a black jersey, and a gold-plated chain belt, Steinem thanked President Mike Kandel for the award and then remarked playfully, "first of all it's for a lifetime, which in my case is 78, a reminder of age and immortality, which I definitely need, because I have a deep conviction that I'm immortal. And the Silurians have honored everyone from Walter Cronkite to [the photojournalist] Ruth Gruber. Gruber is now a hundred and one. So she is my role model, and I'm into it at least to a hundred!"
Then she switched key, becoming serious as she explained emotionally: "What really stirs me up is the memory of my mother who, when I was very little, began to show me how to take a piece of typing paper, fold it into threes, so it was in columns. Later I realized it was what she had done to take notes before there were reporter's notebooks. And indeed when she tried to be a journalist her very first writing had to be under a man's name, otherwise she couldn't be published. So I'm really moved by this award because I realize how much my mother would have loved it. She wanted so much to come to New York, to be a journalist here. She would have loved so much to be in your company.
"And I suspect that like many women here I am living out the unlived life of my mother. (See Jane Fonda and her mother) And this is a huge step forward. We should be proud of this, but it's also true that we need to move forward to a time when parents live out their own dreams. And children don't feel that they have to carry on in order to make up for lost talents and lost lives."
I was surprised to hear Steinem speak about her mother with such emotion, since I knew little about her early life (I thought she was hatched with long blonde hair and glasses). I soon learned that Gloria was born on March 25, 1934, in Toledo, Ohio, to Ruth and Leo Steinem. Leo was the son of German Jews; Ruth was the daughter of Scotch Presbyterians who disapproved of Ruth's marriage to a Jew. Despite this objection, Ruth married Leo twice--first in a private ceremony and than in a public ceremony. In her fifth year of marriage, Ruth bore a daughter, Susanne; nine years later Gloria was born. The family spent their summers in Michigan, where Leo owned a summer resort that he was trying to turn into a showcase for big bands; in the winters they lived in a house trailer and traveled around so that Leo could sell antiques. But Leo's show-biz ambitions foundered and he had a tough time providing for the family. Gloria didn't spend a full-year in school until she was twelve.
Leo's mother, Pauline, in contrast, was resilient and an early feminist. After emigrating to Toledo from Germany in the early 1900's, she became a prominent educator and woman's rights activist; she also sent many relatives in Germany to Palestine during the early 1930's at the hefty price of $500 per person. Mostly due to Pauline, Ruth taught her daughters to be proud of their Jewish heritage and she also made them aware of the horrors of the Holocaust. Even so, Pauline did not forge a strong friendship with Ruth or extend a helping hand when Ruth became ill.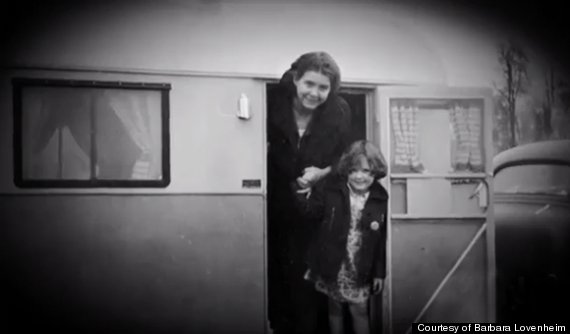 In Toledo Ruth worked happily as a journalist for the local newspaper. But after she quit her job to work in Leo's resort and also raise two children, she quickly deteriorated. "Energetic, fun-loving and book-loving, she turned into someone who was afraid to be alone, who could not hang on to reality long enough to hold a job, and who could rarely concentrate enough to read a book," Steinem wrote in Ruth's Song, a moving essay she published in Ms. magazine in 1983 about her experiences with her mother. By 1945 Gloria's older sister Susanne was a student at Smith College. Leo's business went under and he felt useless as a provider and husband. He took off for California when Gloria was eleven, leaving her to take care of Ruth in the upstairs of a deteriorating family farmhouse. Incredulously, Gloria does not blame Leo for leaving: "He was a kind and loving father," she said in a follow-up interview, "but he was not that responsible."
Gloria escaped into books as she tried to manage her mother's periodic relapses. In her teens, she tap-danced at local clubs and worked as a salesgirl to bring in extra money. "In many ways I was the mother and she was the child," Gloria wrote. "Yet that didn't help her either, for she still worried about me with all the intensity of a frightened mother, plus the special fears that came from her own world full of threats and hostile voices." As Ruth's condition continued to spiral downwards, Gloria sought help from doctors but received none. "In retrospect, perhaps the biggest reason my mother was cared for but not helped for twenty years was the simplest: her functioning was not that necessary to the world."
After Susanne graduated, she persuaded Leo to take care of Ruth so that Gloria could have a carefree year living with Susanne in Washington D.C. There Gloria finished high school and entered Smith, graduating Phi Beta Kappa and winning a fellowship to India. Susanne, meanwhile, made provisions for Ruth to enter a mental hospital near Baltimore, where both daughters could visit her regularly. And there, under proper care and medication, Ruth gained strength and some clarity; eventually she was able to live independently for long periods of time.
When Gloria returned from India she moved to New York City and began writing magazine articles, driven by a passion to make society more equitable for all the Ruth's who suffered because the world and its masculine hierarchy didn't care about them. In 1962 Clay Felker, then editor of Esquire, commissioned Gloria to write about a new contraceptive pill; her article became a serious discussion about how women were forced to choose between marriage and a career. In it Gloria quipped: "I've never heard a man ask for advice on how to manage a career and marriage." The following year she worked undercover as a Playboy Bunny and wrote an exposé for the now defunct SHOW magazine about the bad pay and terrible working conditions that women experience when the only jobs available to them are entertaining men in nightclubs. When Felker left Esquire to found New York in 1968, he recruited Steinem as a founding editor.
In 1969 Steinem covered and endorsed an abortion speak-out for New York; soon after she become a passionate spokesperson and organizer for the still nascent feminist movement. In 1972 she co-founded Ms. with Letty Cottin Pogrebin and others as a special issue of New York. As Steinem rose to national prominance, Ruth was proud of her daughter's accomplishments. Gloria visited her frequently and took her on trips. She and her sister were with Ruth when she died in a well-run nursing home. "I miss her--but perhaps no more in death than I did in life," Gloria concludes poignantly in Ruth's Song. "But at least we're now asking questions about all the Ruths in all our family mysteries. If her song inspires that, I think she would be the first to say: It was worth the singing."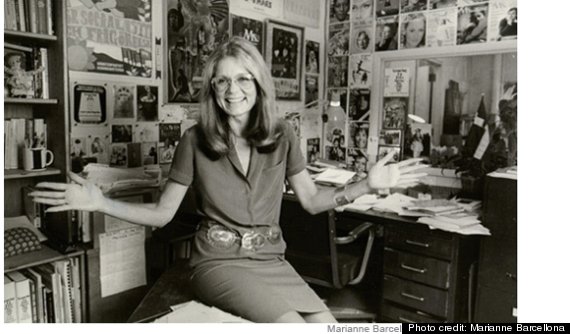 Still on the Road
Now, fifty years later, Gloria Steinem has not lost a step in fighting for women's rights. "This world of ours has always been ruled by men and what a mess we have made of it," she told the Silurian audience, eliciting cries of "yes" from women attendees, several of them former New York Times reporters who participated in the 1974 lawsuit accusing the newspaper of sexism. "It isn't that women are going to do a better job looking after this world, if we do it by ourselves. No, it's because we understand now that if a group of men make a decision by themselves, they are more likely to choose the most aggressive solution, even if it's wrong. And a group of women are more likely to choose the most conciliatory solution, even if it's wrong. But if we have a group that really represents humanity as it exists, we are much more likely to have a full range of alternatives."
In our follow-up interview, I asked Steinem what she considered the main challenge for feminism today. She responded: "The main challenge is whatever unfairness or violence or self-doubt or condescension a woman will experience as she reads your article. However, if we talk about the challenges still suffered by the largest number of women, I would say that we still don't have reproductive freedom as a basic human right; there is still opposition to birth control and abortion, plus a lack of health care for many women who choose to have children. And there is still a lot of violence against women and girls. Even though some men have come a long way in becoming really equal parents, many women still have two jobs, one outside the home and one in it. Nobody can do two full-time jobs. There is no 'superwoman.'
"There are now hundreds of companies with family friendly policies that didn't exist before the women's movement," she continued, "but the U.S. is still behind every European country and Canada in providing everything from childcare to flexible schedules. And most women are still paid less than men doing comparable jobs. Women also deserve more leadership positions in politics or business. Remember: Any great movement has to last a century to be fully absorbed by society and we're only about 40 years into this wave of feminism."
Steinem now spends about half her time traveling to lecture and organize activist groups in colleges and communities here and also abroad. Last year, she traveled to campaign for Obama.
She is also involved with the Women's Media Center that she co-founded in 2005 with Jane Fonda and the feminist Robin Morgan to make women more visible in the media and to level the playing field for men and women journalists. And she is also a firm supporter of Equality Now, a global human rights group that aims to reduce such dangers as child marriage and female genital mutilation. If this isn't enough, she is working on another book--her fifth--about her life on the road as a feminist organizer for the past forty years.
When I asked if she thinks Hillary will run for President, she answered: "I haven't talked with her, nor do I know if she knows whether she wants to run. But if she does run, I will do my best to activate the vote for her."
Before You Go
Post 50 Female Legends And Icons
Popular in the Community