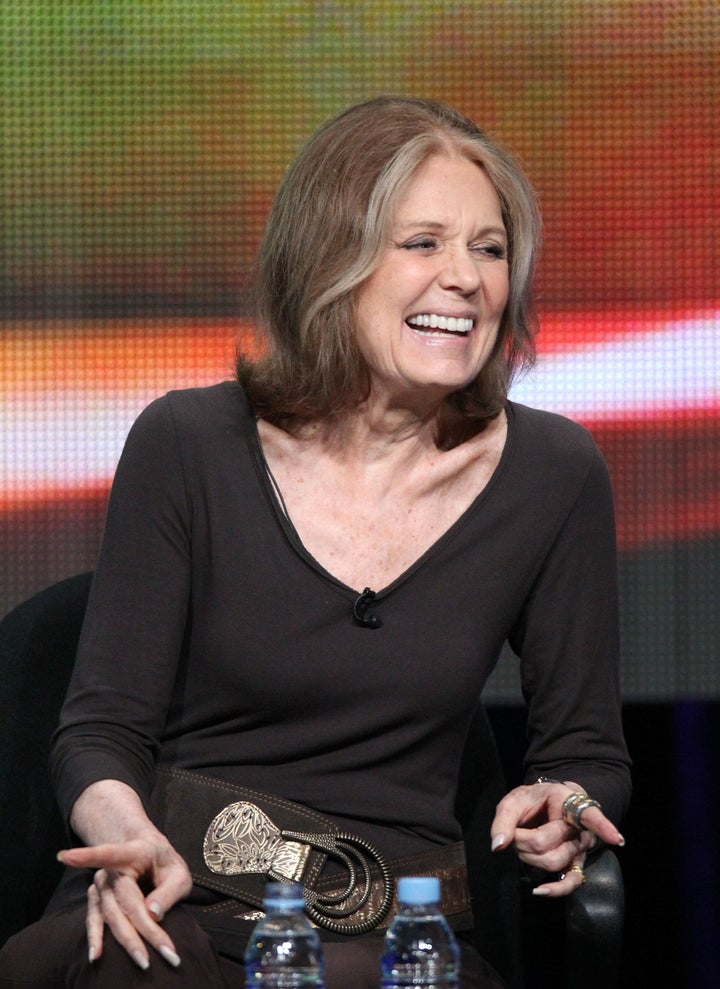 WASHINGTON -- First Lady Michelle Obama, longtime feminist activist Gloria Steinem and several other prominent Democratic women will be the featured guests at a fundraiser in New York City next month for President Barack Obama's reelection campaign, in an effort to mobilize and energize Democratic women for 2012.
The Park Avenue fundraiser on Sept. 20 will also feature EMILY's List President Stephanie Schriock, Planned Parenthood Federation of America President Cecile Richards and Democratic National Committee Chair Rep. Debbie Wasserman Schultz (D-Fla.).
Tickets prices start at $500 and go up to $38,500. Mothers and daughters are encouraged to attend together, as well as mentors and mentees.
Steinem's office confirmed to The Huffington Post that she is planning to attend the event. The Obama campaign confirmed that it is the first reelection event Steinem has participated in.
"Women are a really important constituency for us," said an Obama campaign aide. "Their involvement and support was integral in 2008 and we are not taking their support for granted in 2012. The idea behind this fundraiser is engaging women, on a wider scale, to get involved and energized about the political process and the 2012 election."
The fundraiser is not part of the specific "Women for Obama" effort, a grassroots effort to connect with women voters that the campaign will be relaunching for 2012.
Jennifer Lawless, director of the Women and Politics Institute at American University, said Obama needs strong turnout from women in order to win in 2012.
"He needs the women's vote. There's no question," said Lawless. "What's up for grabs right now is the extent to which women are energized and ready to mobilize for him. In every presidential election since 1980, there's been a gender gap with women more likely to support the Democratic candidate than men. Without the women's vote -- because women comprise the majority of the electorate -- it's virtually impossible for a candidate to win the election."
In 2008, an analysis by the Rutgers Center for American Women and Politics found that women were a "significant factor" in Obama's victory. He won 56 percent of women's votes, whereas his opponent, Sen. John McCain (R-Ariz.), won just 43 percent. Men split their vote about evenly between the two candidates.
A recent AP-GfK poll found that less than half of all women approve of the job Obama is doing. That's a significant drop from the 100-day mark of his presidency, when 68 percent of women approved of his performance. Fifty percent now say he deserves reelection.
Women are still more likely than men to approve of his handling of the economy, with 43 percent approving, compared to 29 percent of men.
So far, 22 of Clinton's top fundraisers, known as "bundlers," are bundling for the Obama reelection effort. The involvement of Steinem and others in the Obama 2012 effort could help get more Clinton supporters actively involved.
Yet at the same time, many pro-choice activists have been dismayed that Obama has included the Hyde Amendment in his budget proposals, a measure that bans federal funds from being used to pay for abortions.
Pro-choice issues aside, Lawless said that like the rest of the electorate, women are being hammered by the tough economic situation and may need extra motivation to get out the vote.
"The status quo is not so great right now. The jobs situation is bad. The economy is bad," said Lawless. "The Obama team has had several incredibly successful legislative successes, but they haven't necessarily communicated those successes the right way. So I think they have to, right off the bat, start energizing everybody, even if the people they're trying to energize are the people who would be their obvious core supporters."
List of Clinton bundlers who are bundling for Obama's reelection:
Abigail Pollack
Alex Heckler
Blair Effron
Carol Hamilton
Carol Pensky
Chad Griffin
Chris Korge
Clarance Avant
David Cohen
Elaine Schuster
Elizabeth Bagley
Janet Keller
John Emerson
Jon Corzine
Joyce Aboussie
Marc Lasry
Michael Kempner
Noah Mamet
Patricia Edington
Robert Zimmerman
Sally Susman
Susan Ness
Paul Blumenthal contributed reporting.
Calling all HuffPost superfans!
Sign up for membership to become a founding member and help shape HuffPost's next chapter