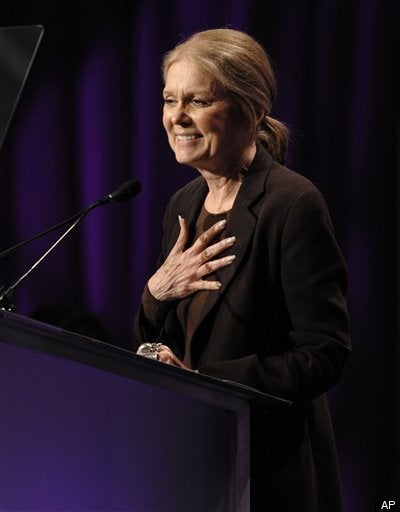 A feminist icon is coming to Chicago to support Alexi Giannoulias's bid for U.S. Senate.
Gloria Steinem, a leader in the women's liberation movement in the 1960s and '70s, will headline a lunch fundraiser for the Democratic candidate this Wednesday, according to the Chicago Sun-Times' Lynn Sweet.
Steinem once fought for the Equal Rights Amendment with impassioned testimony before Congress. Now, she's hoping to help send a Democrat to the Senate, in a hotly contested race between Giannoulias and Republican Mark Kirk.
The luncheon, to be held at Carnivale restaurant in Chicago, will have prices running from $150 to $4,800, according to Sweet. Fundraising limits can be doubled for this event, as for all events in the Illinois Senate contest, because both Giannoulias and Kirk are on the ballot for a special Senate election as well.
Women are an important constituency for Democrats; President Obama won the female vote over John McCain by a split of 56-43. But as the New York Times reported over the weekend, women are showing significantly less interest in this November's elections than are men, which Democrats fear could hurt them at the polls.
In bringing Steinem to town, the Giannoulias campaign is clearly hoping to mobilize progressive female voters.
Steinem has been an influential figure in politics since the late '60s, when she endorsed George McGovern, who eventually lost the nomination to Hubert H. Humphrey. In 2008, she backed Hillary Clinton in the presidential primary, despite expressing strong admiration for Barack Obama.
Calling all HuffPost superfans!
Sign up for membership to become a founding member and help shape HuffPost's next chapter