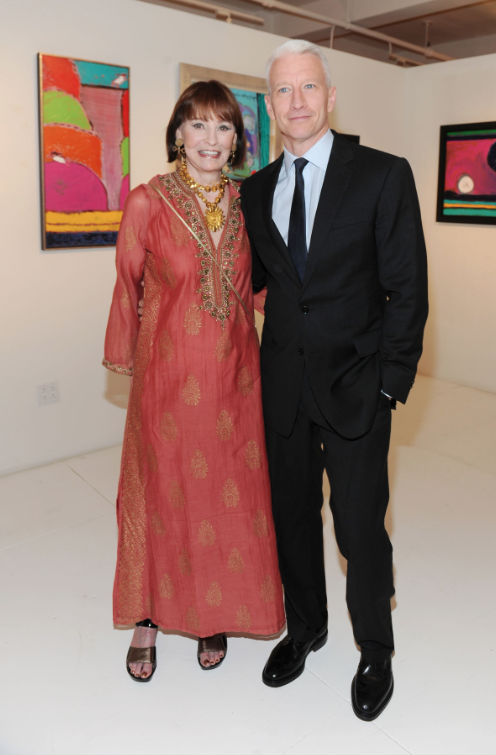 Gloria Vanderbilt with son Anderson Cooper at the 1stDibs Gallery Event
(All photos courtesy of Patrick McMullan)
Last Wednesday as the madness of New York Fashion Week was drawing to a close, I skipped a couple of shows to immerse myself in the art world, if only for an evening.
The wonderful people at 1stdibs Gallery were hosting an exhibit of collages, dream boxes and recent paintings by the iconic Gloria Vanderbilt.
We all know her from her ancestry, her denim and her handsome son Anderson, but her art is something that has given Gloria great happiness for most of her life.
She has been through much from a lonely childhood to the death of one of her sons, but she has never been closed off and shut down. Even today at 88, she is here among the crowd of people who paid a generous amount to attend the opening night fundraiser for the Hunstsville Museum of Art in Alabama, floating around in her glittering caftan and chatting with old friends and new admirers. So busy in fact that it was difficult to get her away for an interview! So we let her enjoy herself and we cornered the always amusing New York Magazine Design Editor, and author of a book on Ms. Vanderbilt, Wendy Goodman.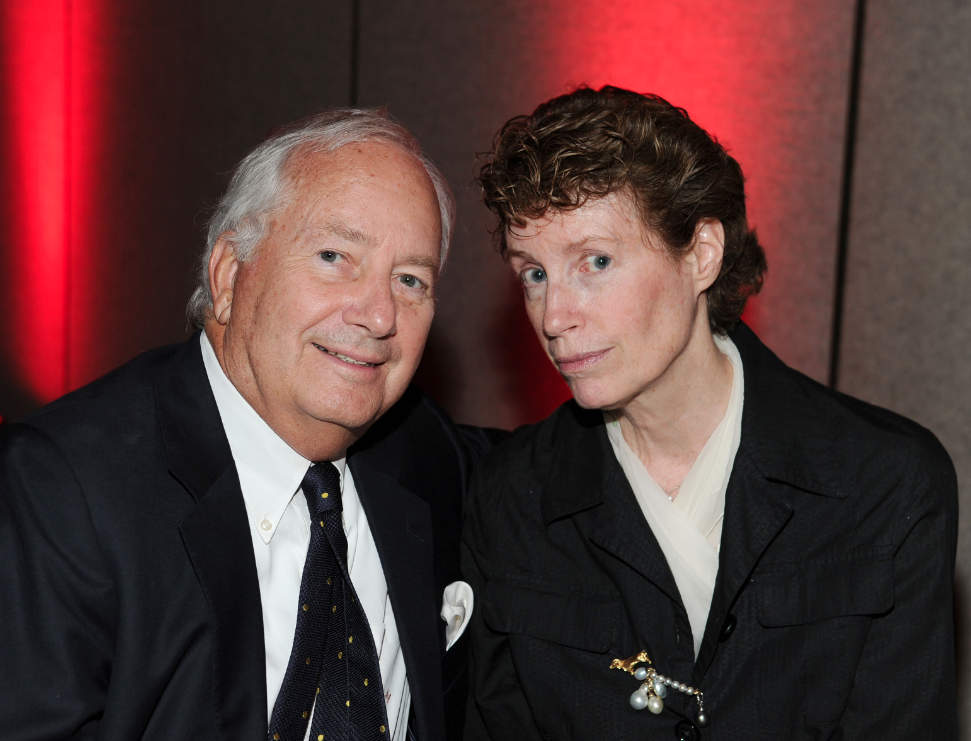 Peter Lowe and Wendy Goodman
How did your book come about?
My mother and I were visiting Gloria and I saw this photograph of her by Dick Avendon at her apartment. I asked if there were more and she said, oh yes of course! I then began to think that there needed to be a visual record of Gloria. People know her through her jeans, through her marriages but they don't have the sense of the incredible dimensions of her life. So I wrote her a long letter and I proposed this book. She got back to me immediately and said, "Let's do it!"
I then went to the Avedon archive and asked if I could see every image of Gloria that Dick had shot. So I go there and they had all these images carefully laid out on a table and it was like going into a treasure trove. I was so thrilled. I realized that it wasn't just Avedon. She has been shot by every photographer. And Gloria has been meticulous about keeping her own archive from newspaper clippings to Anderson's drawings. It started this research and this journey with Gloria. I recorded her talking about these photographs.
We know she is amazing, but what do you think is unique about Gloria?
The world that Gloria grew up in is gone. And she is the link. How many people are the link to a past that is gone? And she remembers everything! Beyond that, there is the story of her life; how she has endured and survived. She has a spirit unlike anyone I have ever met. She is positive, she never looks back or feels sorry for herself. She looks forward to everything. She thinks the best is yet to come. One of her mantras is, "It is not what happens to you it is how you handle what happens to you." Gloria taught me so much.
She is a very spiritual person. Does she talk much about that?
She doesn't really discuss that process but she does speak of her journey about dealing with her mother. Gloria never could get enough of her and she was rarely there for Gloria. Yet she still blossomed. When she was 10 years old she went through that horrible custody battle and she realized at that age that she needed to take care of herself because nobody else was here to do that.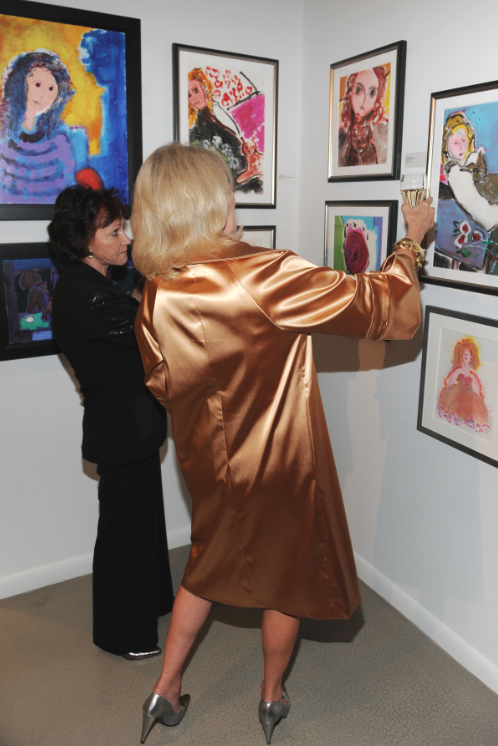 Guests admiring Vanderbilt's work
After our chat with Goodman we solemnly strolled the galleries and admired the work from past and present. Indeed, there were paintings that nearly brought tears to my eyes from the sheer happiness they conveyed. And with titles such as 'Snow Tenderly,' 'Surprises,' 'Celebration' and 'Rejoice' we see how truly positive and happy Gloria Vanderbilt seems to be.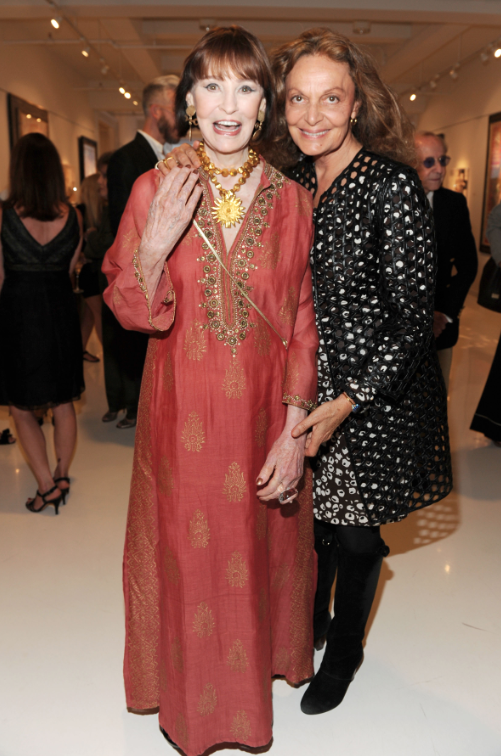 Ms. Vanderbilt and friend Diane Von Furstenberg
1stdibs at the New York Design Center 10th floor gallery is open to the public Monday through Saturday, Weekdays from 9 a.m. to 5 p.m. and 10 a.m. to 5 p.m. on Saturday. The exhibit runs until October 26th.
Related
Popular in the Community