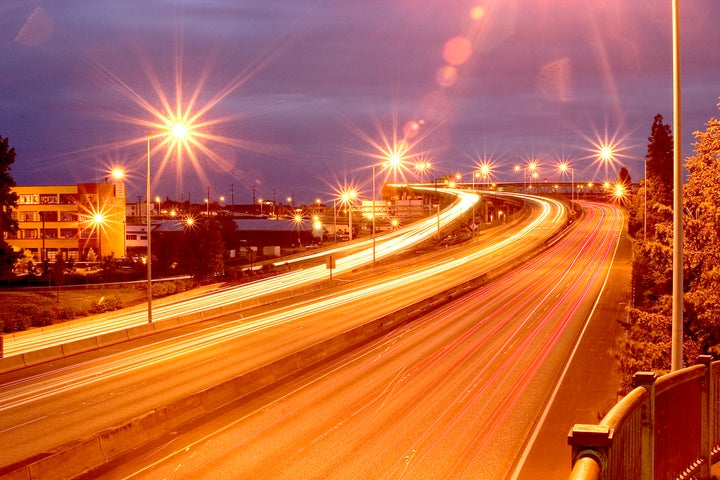 The world's dullest building material just got a lot more exciting.
A scientist in Mexico announced earlier this month that he had developed solar-powered, glow-in-the-dark cement that could be used to illuminate roads, bike lanes and walking paths, according to the news site Investigación y Desarrollo.
The cement absorbs energy from the sun during the day and converts that energy into light at night. After a full day under the sun, the material can shine for up to 12 hours.
"Nine years ago, when I started the project, I realized there was nothing similar worldwide, and so I started to work on it," José Carlos Rubio, a professor at the University of San Nicolas Hidalgo in Mexico and the product's inventor, told Investigación y Desarrollo.
"The main issue was that cement is an opaque body that doesn't allow the pass of light to its interior," he said.
Cement is a powder that forms a gel when it's mixed with water. Adding water also typically produces tiny crystal flakes that block light. Rubio found a way to get rid of those crystal flakes, allowing him to create a cement that can absorb sunlight.
Unlike other phosphorescent materials, which are usually made out of plastic, the glow-in-the-dark cement doesn't degrade when exposed to ultraviolet rays. Glow-in-the-dark plastics last about three years, but the new light-emitting cement can stick around for up to 100, according to Rubio.
If used to make concrete, the new material could potentially allow cities to rely less on streetlights to illuminate roads. Streetlights can suck up a huge amount of electricity, draining cities' energy resources and eating into their budgets. Powering streetlights accounts for 25 to 50 percent of the municipal energy bill in some cities, according to CityLab.
For years, cities have been looking for ways to cut down on those costs, often by turning to energy-efficient LED lights. Rubio's twinkling cement could provide another, and much more stunning, alternative.
Correction: A previous version of this article described the cement as a "fluorescent" material. It is in fact a phosphorescent material, since it absorbs solar radiation during the day and emits light at night.