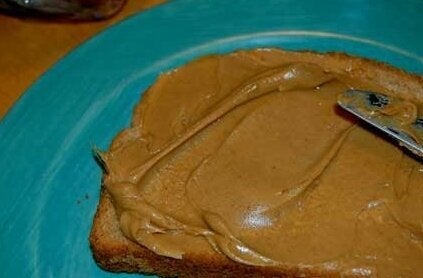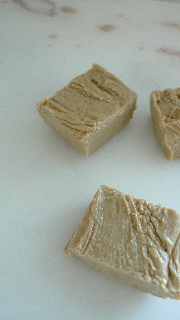 Notice that the peanut butter part of this recipe title is in quotation marks. You're probably a little confused right now, but not to worry. This holiday favorite really is nut free despite the fact that it tastes like peanut butter.
A few years ago, I was at a friend's house having coffee. It was a Saturday morning, and her groggy husband stumbled out of bed into the kitchen and began foraging in the fridge for something to eat. He settled on toast, and when it was done, he pulled out a jar with a label that I'd never seen. "What the heck is Sunbutter?" I asked. Too tired to even speak, he handed me the jar and a spoon.
Now, this was a fateful encounter. I was writing my book at the time, and with that first bite, it occurred to me that I could make a great, faux, peanut butter cookie with this stuff. I was right. I love sunflower seed butter.
Fast forward to today, almost three years later. It's the holiday season, and I want to make something that everyone loves to eat, however, I want to send out something safe. So, here is my new recipe for sunflower seed butter fudge. It might sound a little strange, but it is creamy and rich, just like mom used to make.
1/2 cup coconut oil (measured in its solid form)
2 cups C&H brown sugar
1/2 cup So Delicious plain coconut milk creamer
2/3 cup Sunbutter
1 teaspoon vanilla extract
3 cups C&H confectioner's sugar, sifted
Lightly grease and 8x8" square pan and set it aside. In a medium saucepan, melt the coconut oil over low heat. Stir in the brown sugar and creamer and turn the heat up to medium-high. Stirring constantly, bring the mixture to a boil and let it boil for 2 minutes. Remove the mixture from the heat and stir in the Sunbutter and vanilla. Stir in the confectioner's sugar until the fudge is smooth. Pour the batter into the prepared pan and refrigerate it for 4 hours or until it is solid. Cut with a hot knife.
Store in an airtight container, refrigerated, for up to seven days.