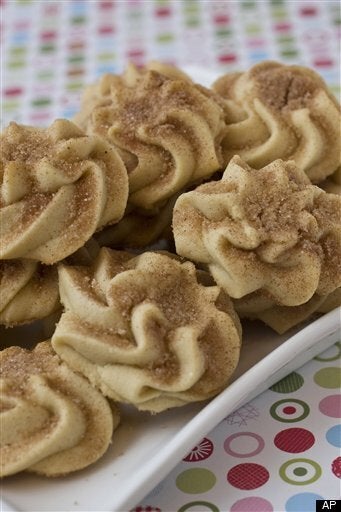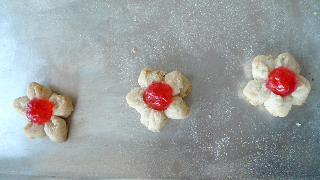 Well, the holidays are upon us. There's no turning back now, so I figured I ought to get out my spritz gun already. I have to admit that I strongly dislike using this Scandinavian device, for despite the fact that my mother can screw hers up and spit out 60 cookies a minute, I have just never been able to get the hang of mine. I blame the spritz gun, but I have a feeling that it's probably me.
Anyway, this year, I thought I'd attempt an allergy-free spritz, and it came out really well. Now, the gun and I had about as much luck together as in previous years, but the cookies came out beautifully. Once I got them out of the gun, that is. Now, you might look down at the ingredients list in this recipe and gasp. Yes, gasp! There's lard in these cookies.
I know that lard goes counter to everything that we Americans hold sacred, namely dieting and weight loss. However, lard has recently revolutionized my baking. I have discovered that when it comes to baking allergy-free, lard is indispensable in two areas: 1) making crispy yet flaky cookies that don't break a tooth and 2) pie crust. Now the latter is no big surprise, really, everyone loves lard for pie crusts (except vegetarians). However, in this particular kind of baking, lard helps make the crust dough nearly silky, a dream to roll out. It also makes it pretty darn flaky.
So, happy holidays, dear reader. I hope that you have an easier time with the spritz than I and that you enjoy every last crumb of these cute little cookies.

Holiday Spritz Cookies
2 c superfine or Chinese rice flour
2/3 cup potato starch
1/3 cup sorghum glour
1/2 teaspoon salt
7/8 teaspoon xanthan gum
1 cup lard
1 cup sugar
1/4 cup applesauce
3 teaspoons artificial butter flavor (optional, see allergy note)
1 teaspoon vanilla
24 candied cherries (red, green or both), halved
In a large bowl, whisk together the rice flour, potato starch, sorghum, salt and xanthan. Set aside. In the bowl of a stand mixer, beat together lad and sugar until they are light and fluffy. Scrape down the sides and beat in the applesauce, butter flavor (if using) and vanilla. Scrape down the sides again and slowly stir in the dry ingredients. Gather the dough up into a ball, dump it onto plastic wrap and wrap it tightly. Refrigerate the dough for an hour.
Preheat the oven to 350 degrees and line two baking sheets with parchment paper. Remove the dough from the refrigerator. Fit the spritz gun with the plate that resembles a wreath and then load part of the dough into the spritz gun. Begin to spritz out the cookies onto the prepared cookie sheets. Place a halved cherry in the center of each cookie. Repeat. Bake the cookies for 11 minutes or until the edges are just beginning to turn golden. Remove the cookies to cooling racks to cool completely.
These cookies may be served immediately or stored in airtight containers at room temperature for up to 4 days. They also freeze well and can be frozen for up to three months in airtight containers.
*Allergy Note: be sure to check with the manufacturer to be sure that the butter flavoring that you are using does not contain any milk solids. Despite that it is "artificial" butter flavor, it sometimes contains milk anyway.