While everyone has spent these first weeks of 2014 eating healthier, losing weight, and generally being better humans, I've resolved to bake more. That's right, everyone else is heading to the gym and I'm vowing to spend more time in the kitchen -- carbing up.
Before being diagnosed with celiac disease, I baked a lot and even dreamed of opening up my own bakery. After my diagnosis, however, I immediately shied away from the oven. I've flipped through plenty of gluten-free baking books, but everything seems so daunting and, frankly, expensive, with many recipes calling for obscure and exotic (to me) ingredients like guar gum and xanthan gum. The elaborate ingredient lists -- some with more than 20 items -- seem better suited for hexes or potions than, say, muffins.
The few attempts I did make ended, uh, interestingly (read: inedibly). Though, do see me for a lovely soupy and disintegrating cookie recipe, or if you're interested in instructions for rock-hard pumpkin cupcakes (they double nicely as doorstops). And, while there are some fine gluten-free boxed baking options, it's just not as satisfying as doing it all from scratch.
So since baking hasn't been happening much at home, I've spent a lot of time trolling New York City bakeries in search of gluten-free goodies. In my quest for treats that don't taste like despair, I've happened upon some delicious, completely gluten-free establishments. I've also found many bakeries that while not exclusively gluten-free, do offer great gluten-free options.
One such bakery is Ovenly, a Brooklyn gem started by Agatha Kulaga and Erin Patinkin. In preparation for my return to my amateur kitchen, I met with the ladies to discuss how they got their start baking. It seems their original idea was actually to develop gourmet bar snacks. Baking didn't enter the plan until Agatha's friend Heather Millstone was opening up the bar Veronica People's Club and wanted the ladies to supply the snacks. But Millstone needed pastries too and, having celiac disease herself, requested that Erin and Agatha create gluten-free options as well.
Over the next few months, Agatha and Erin experimented with different gluten-free recipes before learning they favored ingredients that were naturally gluten-free. "We made all this stuff that was terrible," Agatha explains, "and decided we're just going to stick with the recipes that are great that we've made and not do anything too weird. I think the gluten-free stuff gets weird when you start using the substitutions... it gets gummy."
After a lot of trial and error, they focused on developing more natural recipes that they could easily bake at scale. One such winning recipe is their scrumptious Cherry Oatmeal Granola Bar, which is made with gluten-free oats, peanut butter, cherries and "other special additions," according to Erin. It was their constant experimentation that brought them to this popular breakfast option, which was originally conceived as a cookie.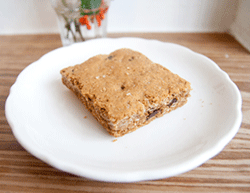 "The cookie didn't really retain its shape very well so we thought, 'why don't we turn this into a bar?' and it ended up so much better," Agatha said.
Many of their other gluten-free offerings are similar in the sense that they also have complex flavors but simple ingredient lists.
"Our pistachio muffin contains brown rice flour and our truffle cookie does as well, but our pistachio agave cookie is just nut flour. We have a hazelnut cookie that we do sometimes and that's just hazelnut meal. And our peanut butter cookie is mostly just peanut butter, brown sugar and eggs," says Erin. "With all of the things we make, we try to keep things simple. Most of our recipes have seven or less ingredients."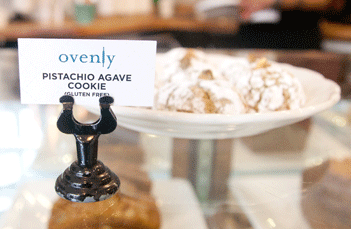 After my many months of scrolling through lengthy ingredient lists with hard-to-pronounce elements, Agatha and Erin's simplified approach to baking was a revelation. I asked for more tips they have learned along the way.
Erin shared that "Gluten-free oats and nut meal are great substitutes for flours, and nut meals and butters such as hazelnut or pistachio, pair well with egg and sugar to make beautifully formed pastries."
However, the most valuable lesson was just learning how important it is to constantly test new ideas and try new recipes.
Though Ovenly makes wonderful gluten-free products, it must be noted that their kitchen is not certified gluten-free. However, they are diligent about keeping their gluten-free production separate from their other foods and they always let customers know that they are not certified.
"We try to do our production so gluten-free happens at a certain time and it all starts clean. We drain the sinks and clean all of our equipment," says Erin.
Personally, I'm happy to report I've never had any issues with gluten cross-contamination at Ovenly. But, when trying any new bakery it's always best to have them clarify their process and certification.
Hungry yet? You can check out Ovenly at 31 Greenpoint Avenue in Brooklyn. If you're not in the New York area, fret not! Many of the Ovenly recipes will be available in their upcoming cookbook out this fall. If you're looking for something to bake now, you can see their recipe for gluten-free Hazelnut Maple cookies in the Brooklyn Chef's Table.
After talking with Erin and Agatha, my desire to experiment in the kitchen has been reignited for 2014. Please share your own experiences with gluten-free baking, experimenting, or even your own New Year's resolutions in the comments.
Photo Credit: Andrew Frisicano