This week was Rosh Hashana, the Jewish New Year. During the New Year, we celebrate with apples dipped in honey to celebrate a "sweet new year'. I had a plethora of extra apples at home (thank you to the Fun to Eat Fruit Company for the inscribed apples) so my fiance and I decided to make these delicious cheesecake stuffed apples.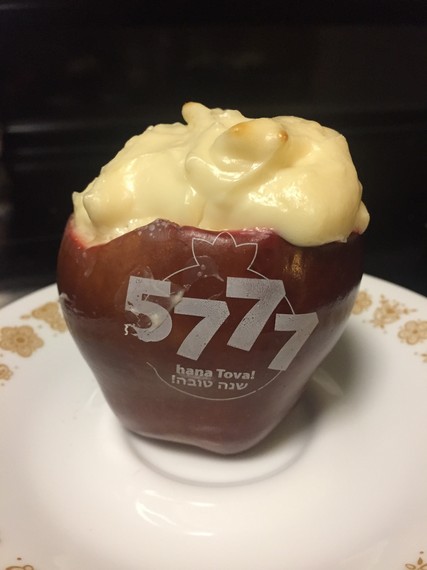 Ingredients:
4 tbsp. melted butter
2 tbsp. brown sugar
1 tsp. cinnamon
4 apples, tops sliced, insides scooped
2 blocks cream cheese, softened
1/2 c powdered sugar
1/2 tsp. vanilla extract
Directions:
1. Preheat oven to 400 degrees F. In a small bowl, mix together melted butter, brown sugar, and cinnamon.
2. Place apples in a baking dish and brush on apples. Bake 20 minutes.
3. In a large bowl, beat cream cheese, sugar, and vanilla until creamy. Spoon mixture into stuffed apples and bake 10 minutes more.
4. Optional- garnish apples with graham crackers (I have Kinnikinnick Foods S'moreables Graham Crackers).
5. Let sit for 5 minutes as apples will be hot. Enjoy!
Be sure to follow me on Instagram: @glutenfreegalpal for delicious food!