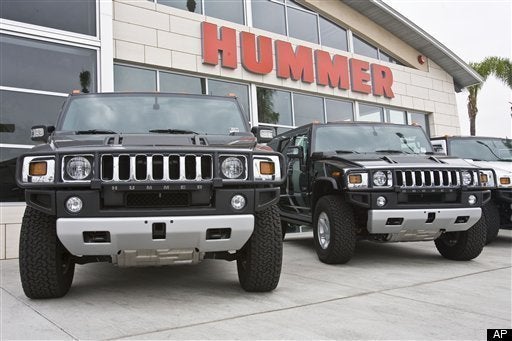 The AP is reporting that the Hummer brand is no more, after a deal with a Chinese manufacturer fell through.
It's not GM's first failed deal to sell a brand since it came out of bankruptcy, The New York Times notes. A deal to sell the Saturn line fell apart. After a few false starts, the Dutch company Spyker agreed to buy the Saab brand.
(Scroll down for a slideshow retrospective on the Hummer brand.)
"DETROIT - General Motors Co. said Wednesday it will shut down Hummer after its bid to sell the brand to a Chinese company collapsed.
Heavy equipment maker Sichuan Tengzhong Heavy Industrial Machines Co. pulled out of the deal for Hummer, known for its hulking, military-like SUVs, because it was unable to get clearance from Chinese regulators within the proposed deal timeframe, the manufacturer said in a separate statement.
GM said it will continue to honor existing Hummer warranties.
"We are disappointed that the deal with Tengzhong could not be completed," said John Smith, GM vice president of corporate planning and alliances. "GM will now work closely with Hummer employees, dealers and suppliers to wind down the business in an orderly and responsible manner."
GM has been trying to sell the loss-making brand for the last year and found a suitor in Tengzhong, but resistance from Chinese regulators created difficulties from the start. As recently as Tuesday private investors were trying to set up an offshore entity in a last-minute effort to complete the acquisition head of a Feb. 28 deadline.
Hummer is the second brand after Saturn that GM has failed to sell as part of its restructuring. GM sold Swedish brand Saab to Dutch carmaker Spyker Cars NV earlier this year. Pontiac is being discontinued.
GM is focusing its efforts on its four remaining brands: Chevrolet, GMC, Cadillac and Buick."
Last month Bloomberg reported that Hummer's management was expecting a deal to come through. It's unclear why the deal fell through. Here's Bloomberg:

"While the transaction approval process is not proceeding as quickly as originally forecasted, we're optimistic about the progress that has occurred to date," Jim Taylor, Hummer's chief executive officer, said in an e-mailed statement. "There are more than 3,000 people directly employed in the design, build and sale of Hummer vehicles. As such, we are committed to giving the sale every reasonable opportunity toward a successful conclusion."
Check out these PHOTOS of the Hummer brand:
Related
Popular in the Community