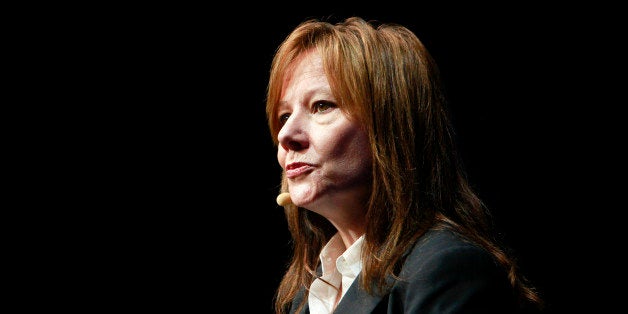 General Motors picking Mary Barra to be the first woman ever to run a major automaker is a milestone for female executives. But make no mistake: Women are still woefully under-represented in the highest ranks of Corporate America.
Women held just 14.6 percent of executive positions at Fortune 500 companies last year, according to a survey released Tuesday by Catalyst, an organization focused on advancing women in the workplace. That share was basically unchanged from last year. Even as women such as Yahoo CEO Marissa Mayer and Xerox CEO Ursula Burns grab attention, their presence in boardrooms is still the exception, not the norm.
And even Barra's significant rise to CEO of GM comes with a caveat, notes Heidi Hartmann, the president of the Institute for Women's Policy Research, a Washington think tank: Unlike her predecessor, Dan Akerson, Barra won't be chairman of the company's board, though she will get a seat.
"It's kind of like Chinese water torture, drip by drip," Hartmann said. "I certainly hope [Barra's appointment] moves the needle for getting more women in CEO positions, but you have to admit that there aren't very many."
When Barra takes over on Jan. 15, just 23 of the Fortune 500 companies will have female CEOs. That means businesses need to do more to help women advance through the pipeline, like ensuring they have opportunities to take on visible roles that could one day land them in a CEO or executive spot, according to Deborah Gillis, the chief operating officer of Catalyst.
"Her appointment is so important because we're celebrating another first and we're delighted to see her moving into this role, but we'll be more delighted when we stop counting firsts," she said.
It's particularly tough for women to get ahead in male-dominated fields such as engineering, where they can be dissuaded from entering or advancing -- with a few notable exceptions, like Marillyn Hewson, the CEO of defense contractor Lockheed Martin.
The auto industry has an especially poor track record when it comes to keeping women on board, according to Michelle Krebs, a senior analyst at Edmunds.com who has tracked the sector for decades. She noted that female auto executives often end up leaving the industry for top jobs elsewhere.
Of Automotive News' 100 top women in the auto industry, more than half said their companies don't actively target women for recruitment, according to a 2010 Deloitte survey. Sixty-eight of those 100 women described their companies' efforts to keep women as average or below.
"The auto industry isn't good at attracting women, and it's even worse at retaining the ones that they have," said Krebs, who described Barra's appointment as "huge." Indeed, women make up just 16 percent of auto industry senior management, according to Catalyst, but more than 20 percent of the workforce in the industry overall.
Barra, a GM veteran of more than 30 years who is an engineer by training, has expressed an interest in helping more women get into the field. She told Bloomberg TV in March, "If by being a woman I can encourage young women who like math and science to not shy away from it and to pursue technical careers, I love doing that." And when it comes to work-life balance, she told Businessweek this year that "[a] lot of women's issues are men's issues as well." The publication reported that Barra ended a meeting at 4 p.m. to pick up her daughter, and was met with thanks from colleagues.
But women who decide to pursue a career at an automaker often face challenges men don't, according to Sherry Muir Irwin, president of the Automotive Women's Alliance Foundation, an organization aimed at boosting women in the industry.
"The environment has been one where you feel you have to go over and above what you see in terms of the male performance," she said.
Still, Irwin pointed out, promoting women just because they're female isn't the answer.
"It's about the right person being prepared, being ready, having the background, having the experience, having the skill, having the ability to be able to step into that position and be successful in it," she said. "It's not about having it be given to you because you're marking an F instead of an M."
"Look, Mary was not picked because of her gender," Akerson said in a conference call with reporters Tuesday. "Mary's one of the most gifted executives I've met in my career."
Carmakers could probably benefit by having more women in top jobs.
Women buy about 50 percent of cars in the U.S. and are involved in 80 percent of the decision-making around cars, said Krebs, the industry analyst. So it's probably no coincidence that Barra's product development team has been so successful, she said.
"It is kind of ironic that it would take them so long" to tap a female CEO, said Hartmann of the IWPR, "because women buy a heck of a lot of cars."
Calling all HuffPost superfans!
Sign up for membership to become a founding member and help shape HuffPost's next chapter
BEFORE YOU GO
PHOTO GALLERY
World's Most Powerful Women In 2013: Forbes