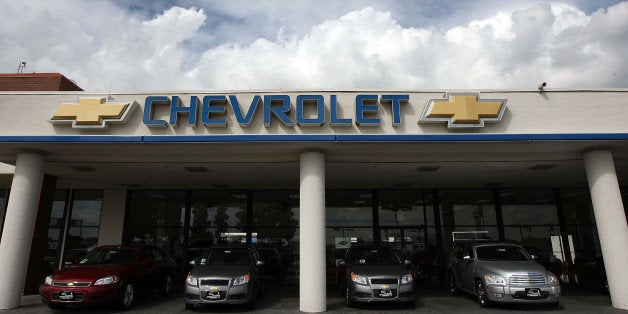 * Lawsuit filed on behalf of three teenage girls injured or killed in 2006 crash
* Lawsuit accuses company of concealing ignition defect
* GM facing numerous lawsuits stemming from recall
NEW YORK, March 24 (Reuters) - General Motors Co has been hit with what is believed to be the first wrongful death lawsuit over ignition switch problems since it recalled 1.6 million vehicles in February.
The lawsuit was filed late on Friday in Minnesota state court on behalf of three teenage girls who were severely injured or killed in a 2006 crash involving a 2005 Chevy Cobalt, one of the models GM recalled over ignition problems.
GM announced the recall in February, despite learning of problems with the ignition switch in 2001 and issuing related service bulletins to dealers with suggested remedies in 2005. GM has apologized for how it handled the recall.
The lawsuit accuses GM of knowing about the defect for a decade but failing to take steps to fix the vehicles or get them off the roads.
"GM hid this dangerous, life-threatening defect from my clients and all other Cobalt drivers for over a decade just to avoid the cost of a recall," said a lawyer for the families, Robert Hilliard of Hilliard Munoz Gonzales, in a statement. "GM is guilty of betraying our trust."
A spokesman for GM, Jim Cain, said the company would respond to the lawsuit in due course. "Right now, our biggest focus is on getting these vehicles recalled as quickly as we can with as little inconvenience to customers as possible."
According to the lawsuit, the Chevy Cobalt's ignition switch suddenly turned from the "run" to "accessory" position, causing the steering, breaking and airbag systems to lose power. The car's driver, 19-year-old Megan Phillips, lost control of the car, which careened off the road and struck a telephone junction box and two trees, the lawsuit said.
The crash killed Amy Rademaker, 15, and Natasha Weigel, 18, and caused Phillips to sustain severe injuries to her brain and body, according to the lawsuit.
The surviving family members of Rademaker and Weigel, as well as Phillips, are each seeking more than $50,000, said Hilliard.
The 2006 accident occurred before GM's 2009 bankruptcy filing. The so-called new GM, a different legal entity from the "old" GM, is not responsible under the terms of its bankruptcy exit for accidents or incidents arising before July 2009. Those claims must be brought against what remains of the pre-bankruptcy company.
The lawsuit, however, names new GM as a defendant.
GM has faced several lawsuits in the wake of the recall. It has been hit with at least five proposed class actions by customers who say their vehicles lost value. On Friday, the company also was sued by an investor who said the recalls wiped billions of dollars in value off of GM shares.
GM has said it received reports of 12 deaths and 34 crashes in the recalled cars. The recall has prompted investigations by federal prosecutors and regulators, and GM has opened its own internal investigation. Congress also is planning to hold hearings over the recall. (Editing by Noeleen Walder and Matthew Lewis)

Popular in the Community