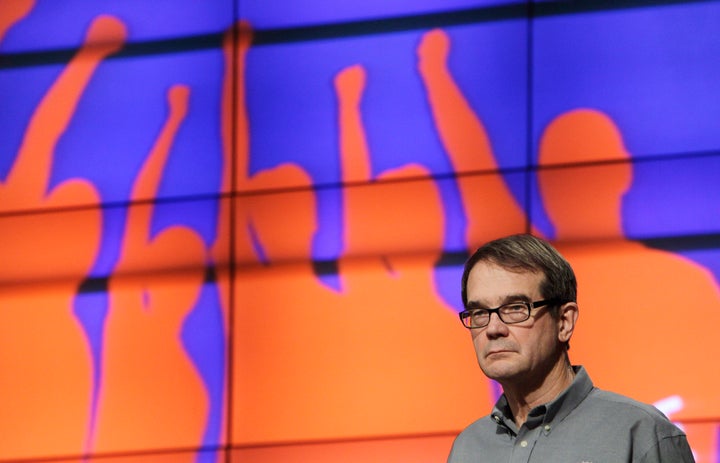 After weeks of negotiations between auto workers and General Motors over a new four-year contract, the union announced Tuesday that the company plans to create thousands of new jobs and give raises to the lowest paid workers.
But for dissenters within the United Auto Workers Union and some labor historians, the gains in the tentative contract -- while definitely better than nothing -- still fall short, given GM's return to profitability and the major concessions auto workers agreed to over the last four years as the company faced bankruptcy and government bailout.
The proposed contract, which local union leaders agreed to recommend for ratification on Tuesday and awaits a rank and file vote next week, includes a $2.5 billion investment from GM and the promise to save or add 6,400 jobs in the U.S. The contract also includes a $5,000 signing bonus for workers, a lump-sum profit sharing plan, and $2-$3 dollar-an-hour raises over the span of the contract for "second tier" workers, who work the same jobs as their more senior counterparts but currently earn around $14, half the traditional $28.
"In these times, in these conditions, to get an agreement of this status is just a miracle job," said Jerry Gillespie, president of the UAW local 1260 in Warren, Michigan. "This is an agreement that has no concessions in it."
Gillispie said he expects his members to vote in favor of the agreement by 70 percent or better. He is particular pleased by the new jobs the contract ensures. Although the vast majority of these new positions will pay wages starting below $16 an hour, according to Tuesday's UAW press conference, Gillispie said this was a "necessary evil."
"The two tier actually made us competitive, and now because of that competitiveness we're hiring more people in America," Gillispie said. "Not only did the UAW take care of their membership, but they're employing America and this is what we need. What more could you ask for?"
Given GM's new profitability, some are testing Gillispie's enthusiasm. The company's reported net income between April and June surged by 89 percent compared to the same period a year earlier, reaching $2.5 billion, and GE chief executive Dan Akerson is expected to take home $9 million this year in compensation.
Additionally, GM will offer buyout packages up to $75,000 to some of the highest paid union members in order to replace those workers with lower-wage hires. While under 5 percent of GM rank and file currently earn second tier wages, this contract insures that an increasing number of employees will earn wages lower than the top worker wages at non-union auto plants.
"Here's the salient point: The UAW made so many concessions that now it is looking great to build cars in America," said Jonathan Cutler, a sociologist at Wesleyan University and author of "Labor's Time: Shorter Hours, the UAW, and the Struggle for American Unionism."You lower the wage enough and you can always get workers employed."
Cutler sees the signing bonus and future profit-sharing bonuses as an agreeable way for the company to share profits, without committing itself to the ongoing increased labor costs that would come with raises for all rank and file workers -- the majority of whom have seen their wages frozen since 2005.
"I would call these gains modest," Cutler said. "Given GM's current profits, I'm not stunned that there were no concessions. That's just the wrong standard to judge this by."
Heading into the negotiations, many union members expressed fears that the concessions they agreed to during the last four years would never be regained. The new contract offers improvements in many areas including the health care plan and other quality-of-life issues, but it does not restore everything that was given up. This reality stokes fears among some members that the way of life once promised by a job in car manufacturing is gone for good.
Nick Waun, a worker at the GM plant in Lordstown, Ohio, and a rising voice of dissent within the UAW, plans to vote no on the contract. In a letter to the Auto Workers Caravan -- a dissenting group that has been rallying to abolish the two-tier wage system -- he writes:
"We knew this contact would be lean, but many believed it reasonable that it would reverse the modification concessions and take us back to where we were with the 2007 UAW-GM National Agreement." The letter continued, "What it looks like we are getting, and I have heard others say this as well, is a slap in the face."
For Waun, and other dissenters, the crucial sticking point is the continued existence of the two-tier system, agreed to in 2007 and frozen in place by the bankruptcy concessions until 2015. Many in the rank and file view it as a source of enduring unhappiness and friction because it means that two workers do the same work for unequal pay.
The proposed contract does not provide a path for second tier workers to graduate to top tier wages. But advocates point out the the proposed raises do mean that over the course of four years, some second tier employees will be earning over $19.
"This is not a celebration," said labor historian Nelson Lichtenstein, author of "The Most Dangerous Man in Detroit," a biography of Walter Reuther, one of the UAW's most influential leaders. "But the contract shows that the union still knows where its self interest lies: bringing more people under the umbrella of a good wage, a more uniform wage system."
Given the UAW's decline over the last 30 years, and diminished prominence within the auto industry itself, Lichtenstein is not surprised that the contract's gains were not more aggressive. But he sees this raise for second tier workers, although small, as a significant step in the right direction. History has shown, Lichtenstein said, that two-tier wage systems are devastating to unions -- an institution that depends on a feeling of solidarity and equality among the rank and file to survive.
"This contract is almost more important ideologically and culturally than it is economically," Lichtenstein said, pointing to the heated anti-union rhetoric from conservative politicians and last winter's battles across the Midwest to abolish collective bargaining and cripple public-sector unions.
"It looks like union leadership, supported strongly by their membership, said: Yeah we're going to change the wages of people we don't even know, and we're going to sacrifice our own wage increases," he said. "I think that says a lot about the essential nature of trade unionism which is: Trade unions are the essence of counter-culture in this country."
The contract will go to rank and file vote on Monday, and is expected to be ratified. The UAW will continue bargaining at Ford and Chrysler in coming weeks.