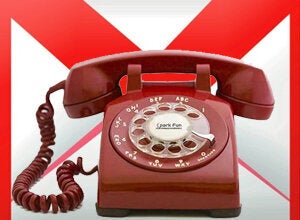 UPDATE: Google has officially unveiled a new feature that will let users call phones from Gmail.
Google explained how to use the new calling service, as well as its cost, in a blog post:
Calls to the U.S. and Canada will be free for at least the rest of the year and calls to other countries will be billed at our very low rates. We worked hard to make these rates really cheap (see comparison table) with calls to the U.K., France, Germany, China, Japan--and many more countries--for as little as $0.02 per minute.

Dialing a phone number works just like a normal phone. Just click "Call phone" at the top of your chat list and dial a number or enter a contact's name.
Learn more about it in the video and screenshots below.--Already, Gmail users can email, instant message, video chat, and voice chat with each other.
According to CNET, Google may soon be launching yet another means of communicating via Gmail: Google is reportedly testing a new feature that will allow users to place phone calls through Gmail, too.
It would be a web-based VoIP product that would live next to the existing Google Chat area (see screenshot below). CNET writes, "It's launched from the Google Chat window on the lower left-hand side of a Gmail page and allows users to place and receive calls from within their contacts through a user interface that strongly resembles the one used in Google Voice."
Although CNET does not indicate the source of the rumor, The Next Web notes that buzz of voice calling coming to Gmail "started some time back when Google acquired VoIP startup Gizmo5. Shortly thereafter, Google's Vice President of Product Management Bradley Horowitz put the acquisition into perspective, stating that Gizmo5 had "specific tech and skills in further integrating telephony with devices and desktop and Web-based computing"."
WATCH:
Popular in the Community