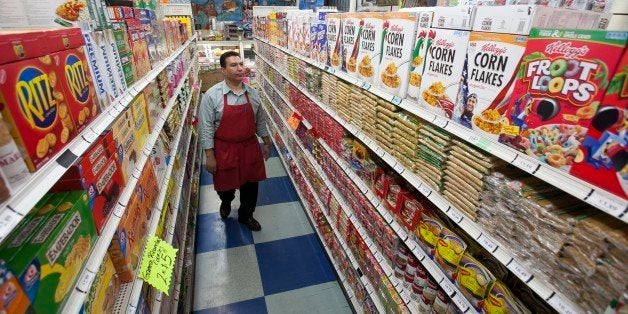 How much money does it cost to tell consumers the truth?
In the current battle over whether or not foods made with genetically modified ingredients must be labeled, the answer to that question is not easy to come by. Supporters of GMO labeling say the costs associated with implementing labeling will be nearly nonexistent -- possibly $2.30 a person per year -- a pittance for information that some consumer groups consider critical health and safety information. But opponents of labeling say the costs could be much higher; so high that they could be crippling to some families.
A Feb 21 report funded by the Corn Refiners Association, said the cost could be as steep as $1,050 per U.S. family, or up to $82 billion annually. The economic analysis was conducted by John Dunham of John Dunham & Associates, a former senior economist with the Philip Morris tobacco company. "These regulations will lead to food price increases that all Americans -- including the poorest -- will have to pay," Dunham argues in his analysis.
Consumer advocacy groups were quick to discount the report. "The food industry is once again attempting to scare consumers and legislators in order to get their way," Andrew Kimbrell, executive director at Center for Food Safety, said in a statement.
Just how costly GMO labeling really might be, or might not be, is likely to be part of the discussion on Thursday when the U.S. Senate Committee on Agriculture, Nutrition & Forestry takes up the bill introduced last week by Sen. Pat Roberts (R-Kan.) that would block any state from implementing mandatory GMO labeling. The law would most immediately impact consumers in Vermont, where mandatory GMO labeling is set to take effect on July 1.
A similar measure called the Safe and Accurate Food Labeling Act by supporters, but referred to as "Deny Americans the Right to Know" or the DARK Act, by GMO labeling supporters, passed the U.S. House of Representatives on July 23.
The Corn Refiners group, whose members include Archer Daniels Midland Co., and Cargill Inc., has a vested interest in the labeling issue, to be sure: Roughly 92 percent of all the corn planted in the United States in 2015 was genetically engineered, according to the U.S. Department of Agriculture.
But that ominous figure of $1,050 is a key lobbying point for a much broader food industry fight. The $1,050 figure accompanies a bold warning of "48 Million Americans At Risk From Food Insecurity" atop the Coalition for Affordable Food website, and consumers are told that "TIME IS RUNNING OUT." The coalition, which includes a long list of organizations representing agribusiness and food industry interests, encourages consumers to contact Congress and support the Roberts bill, which would provide for national labeling on a voluntary basis only.
Those who want to see mandatory labeling say that among their concerns about GMO foods is a worry that the herbicide glyphosate, which is widely used on genetically modified crops, is harmful to human health. Residues of the pesticide have been detected in foods and water and a World Health Organization research unit last year declared glyphosate as "a probable human carcinogen." They also express concerns that GMO crops, which include herbicide-tolerant corn, soybeans canola and sugar beets, have not undergone thorough independent safety testing.
Those opposed to labeling say that consumers don't understand the science behind GMOs, and concerns are unfounded. They say the GMO crops are proven safe, as is the herbicide glyphosate. They predict that many consumers might turn away from foods made with GMOs if they are labeled, and that many companies would follow suit.
It's that final fear that drives some of the cost modeling in the Corn Refiners report. Dunham states as much: "This law would encourage most national food manufacturing companies to either relabel their products, or most likely reformulate products from using GMO ingredients to non-GMO ingredients. If manufacturers shift to non-GMO ingredients, these costs would be substantial, and, will inevitably be passed on to consumers. It is certainly possible given consumers' lack of lack science based information on this subject, that 100 percent of all products would eventually be reformulated. This would lead to extreme disruptions in the nation's food supply chain that could take many years to overcome."
If the Vermont law is allowed to take effect July 1, the ramifications could sweep across the country, the report argues. "This could impact over 300 million Americans, far beyond the population of Vermont and could cost consumers as much as $81.9 billion annually or approximately $1,050 per American family."
The key architect of the anti-labeling legislation and a main promoter of the notion that labeling could translate to inflated costs for consumers is the Grocery Manufacturers Association, which represents more than 300 food companies. The GMA states that it welcomes a "common-sense solution to provide consumers with more information" but says that mandatory labeling like that in Vermont would be costly and confusing for consumers. (The GMA's devotion to consumer interests has been called into question by Washington State Attorney General, who has accused the association of "repeatedly and intentionally" violating state laws there by hiding $11 million in food industry money used to defeat a GMO labeling measure in that state in 2013.)

Last year, a study promoted by GMA and authored by Cornell University Professor William Lesser came to similar conclusions about the costliness of GMO labeling, finding that a proposed mandatory GMO labeling bill in New York would cost families an average of $500 per year.
That report was also criticized as invalid by proponents of GMO labeling who say real-life examples show actual costs for adding or changing food labels is not material, at least not to the tune of thousands per year of additional costs to the consumer.
Christopher Miller, social mission manager at the ice cream company Ben & Jerry's, which has converted its ingredients and packaging to non-GMO over the last few years, said that labeling in and of itself is not a big cost factor that would be felt by consumers. Ben & Jerry's, which is a supporter of mandatory GMO labeling, has changed between 20-40 percent of its packaging nearly every year without an impact on the price the consumer pays, Miller said.
"The idea that minor changes to labels that can be phased in over many months... would have any impact on the price consumers pay at the grocery store is just crazy," said Miller. He called it "moderately stunning" that the food industry seems so afraid that consumers will run from foods bearing GMO labels. "If they are so proud of these ingredients, why wouldn't they be really proud to label them in foods?"
As the debate rages, it is imperative that lawmakers seek out the truth about the costs and consequences of GMO food labeling.
Calling all HuffPost superfans!
Sign up for membership to become a founding member and help shape HuffPost's next chapter