With just over four months to go before Vermont becomes the first state to require the labeling of food products containing genetically modified organisms, the fate of that bill -- and other state-level GMO legislation -- is in question.
Senator Pat Roberts (R-Kansas) announced Thursday morning that his legislation, originally scheduled for a Thursday hearing, will be marked up in the Senate Agriculture Committee next Tuesday, March 1.
Meanwhile, celebrity chef and "Top Chef" host Tom Colicchio's Food Policy Action advocacy group on Thursday unveiled the news that their petition calling on the Senate to reject the legislation has been signed by 2,000 chefs and food professionals just two days after the petition went live. Opponents have dubbed the legislation, which Colicchio described in a statement as "ridiculous," the DARK (Denying Americans the Right to Know) Act.
"As chefs, we have a fundamental right to know what's in the food we cook and serve to our customers," the petition reads. "We urge you to reject any attempt to prevent the mandatory labeling of genetically modified food."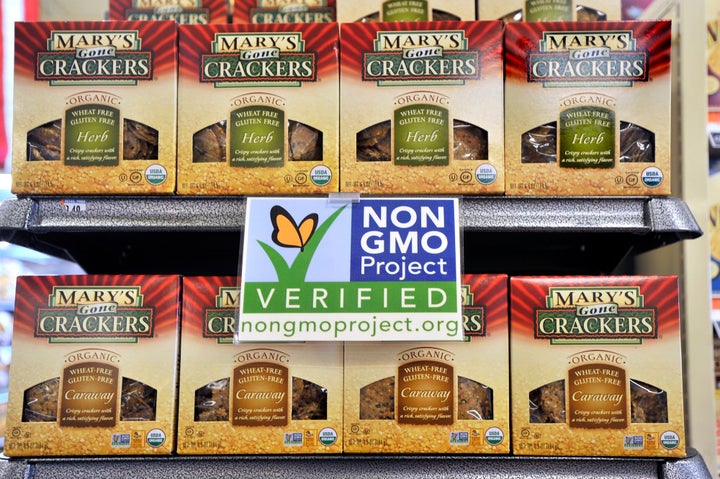 Colin O'Neil, agriculture policy director at the Environmental Working Group, which has collaborated with Colicchio's group on its efforts around this issue, described the chefs' actions as powerful testimony amid the Senate's looming consideration of the bill.
"Chefs are some of the most trusted sources of information on health and nutrition for consumers," O'Neil told The Huffington Post "It's clear that people look to chefs for their wisdom and as barometers on food policy issues. I think that respect certainly extends to members of Congress on Capitol Hill."
The bill's proponents were unmoved by the petition.
"I think it's easy for chefs at high-priced restaurants to make these statements," Claire Parker, spokeswoman of the Coalition for Safe Affordable Food told HuffPost. "These restaurants are exempt from the law but it's not so easy for families who are facing more than $1,000 in increased grocery bills."
Parker was referencing an analysis commissioned and released this week by the Corn Refiners Association, a member of the CFSAF group, which estimated that Vermont's labeling law would result in increased food costs for consumers totaling an estimated $1,050 a year per capita. Those costs, the analysis argued, would stem from manufacturers removing GMOs from their products should consumers view GMO labels as a warning not to buy products in their current form.
Further, supporters of the legislation say the Vermont law going into effect would help usher in a patchwork of state labeling laws "that simply will not serve the American people well," Parker said.
That concern was reflected in an open letter addressed to the Senate Agriculture Committee and signed by some 650 groups that the coalition issued Tuesday. Among the signers were industry heavyweights including ConAgra, DuPont, Coca-Cola, General Mills, Kellogg, PepsiCo and Walmart, plus coalition members including the Grocery Manufacturers Association and the National Restaurant Association.
In remarks before a hearing of the agriculture committee on Tuesday, U.S. Department of Agriculture Secretary Tom Vilsack echoed the same fear, arguing that the Vermont law will "create chaotic circumstances" if it goes into effect.
Still, the opposition to the legislation is spirited and it appears the legislation faces an uphill climb to passage. And even if the bill is to succeed in the Senate, it's unclear whether President Barack Obama would sign it in into law.
Two other states, Connecticut and Maine, have also passed state-level GMO labeling laws, though both laws only go into effect if additional neighboring states pass similar legislation.
Most Americans appear to be in favor of mandatory labeling of products containing GMOs. An Associated Press/GfK poll released last December found 66 percent of respondents supported labeling versus just 7 percent who were opposed. A separate poll commissioned by a coalition of advocacy groups last November found even higher support for labeling -- 89 percent.
Roberts' office did not respond to The Huffington Post's request for comment by publication time.
Joseph Erbentraut covers promising innovations and challenges in the areas of food and water. In addition, Erbentraut explores the evolving ways Americans are identifying and defining themselves. Follow Erbentraut on Twitter at @robojojo. Tips? Email joseph.erbentraut@huffingtonpost.com.
Support HuffPost
A No-B.S. Guide To Life
Related
Popular in the Community