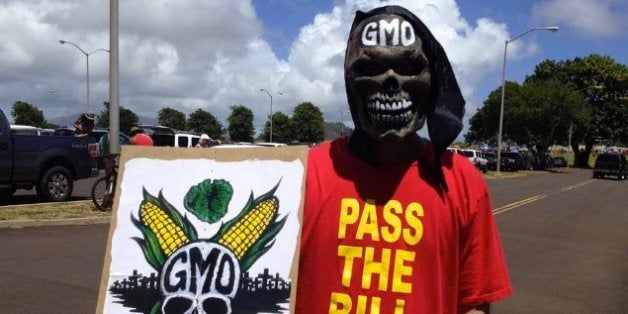 LIHUE — On the normally placid main street on Sunday afternoon, thousands of people marched in protest. As they snaked down Rice Street, toward the Kauai County Building, they chanted, "No More GMO! No More GMO!"
Much of the symbolism was colorful, even a bit carnival-esque, but grim. People wore masks with skulls. One man carried a pitch fork. As the breeze tussled numerous Hawaiian flags, signs lurched into the sky to scream, "Too Much Poison!"
Despite the underlying anger, the protestors were actually there to be constructive. That was as clear as the writing on their ubiquitous red shirts: "Pass the Bill."
The thousands of people at the "Mana March" — organizers put the number at 3,000 or 4,000 — were here to promote passage of Bill 2491. Introduced by Kauai County Councilmen Gary Hooser and Tim Bynum, the measure requires that the four biotech companies operating on Kauai — Syngenta, DuPont-Pioneer, Dow and BASF — disclose what pesticides they are spraying, where and in what quantities. The bill also requires buffer zones between biotech fields and public areas, including schools, parks, roads and waterways.
The debate over GMOs surged in intensity in Hawaii during the last legislative session with a state bill that aimed to require labeling of genetically modified foods, at least until that bill died. But the torch has since been picked up at the county level on both the Big Island and Kauai.
A wide array of issues drives the fight on the anti-GMO side. There are heart-felt concerns about the safety of consuming genetically altered foods. Some people question the validity of studies on the risks of consuming GMOs, especially over the long term. Critics also highlight precedents for seeds from GMO crops drifting into organic and conventional fields, with some decrying what they see as corporate greed by biotech companies and their supposed control of the world's food supply.
But the fight has taken a particularly serious tone on Kauai where residents, schoolchildren and teachers on the island's west side have worried for years that the pesticides being sprayed on GMO fields are harming their health and poisoning the environment around them.
The local evidence of harm remains anecdotal. One teacher at Waimea Canyon Middle School reported that many of his fish mysteriously died one year and those that survived, in a larger tank, later gave birth to offspring with gruesome deformities.
That school has been closed twice, in 2006 and 2008, due to health concerns about what were believed to be chemical oversprays. In two incidents, the school reportedly sent a total of more than 20 kids to the emergency room after students and staff complained of dizziness, nausea and trouble breathing. Some students vomited profusely, according to past reports.
Nobody knows for sure whether the chemicals being sprayed on the fields are the culprit. Nor has anybody conclusively verified or debunked rumors that there are clusters of cancer or birth defects. The reasons for die-off of 50,000 sea urchins in a nearby bay also remains a mystery.
But these are the sorts of things that Kauai councilmembers and the protestors who turned out this weekend want someone to seriously investigate. Not to mention what chemicals are blowing in the dust that surrounds them.
As the midday sun beat down on the Kauai County Building, Councilman Bynum stood atop the steps, clutching a microphone and peering down at the flocks of protestors taking refuge under umbrellas, tents and their own signs.
"Don't give us anything new until we know what you're doing," Bynum said to hisses from the crowd and shouts of "Hewa!" directed at the biotech companies.
In addition to disclosure requirements about pesticides, Bill 2491 also mandates that an environmental impact study be conducted to assess any potential health or environmental risks from the GMO fields. The biotech companies wouldn't be able to expand their operations until after the assessment is conducted.
Bynum claimed that the companies — that are experimenting on both their crops and with their pesticides, as well as growing seed crops on the west side and around Lihue — spray their fields as many as 240 days in the course of a year. By comparison, he said that Kauai Coffee Company, which would also be affected by the bill because it uses restricted use pesticides, sprays just eight times a year.
The biotech companies have fought pressure to disclose specifics about their pesticide use.
Mark Phillipson, a spokesman for Syngenta and president of the Hawaii Crop Improvement Association, which represents the state's biotech companies, told Civil Beat in an interview on Friday that Bill 2491 is discriminatory and that it unfairly singles out the biotech companies. He noted that other farms, county governments and the pest industry all use pesticides but the bill would hardly affect them, if at all.
"Here's the real bottom line," the Syngenta spokesman said, "We are willing to do things that are based on good rationale, on science and not on fear and innuendo."
But that doesn't extend to disclosing information about pesticide use. The industry worries that if it is forced to share information about that, Phillipson explained, it could be used to unfairly "demonize us."
Councilman Hooser, who has sorted through a huge number of paper records on pesticide sales (which the state already keeps track of), has come up with his own estimate about usage on the island. He says that the biotech companies, along with Kauai Coffee Company, are spraying 18 tons of restricted-use pesticides on Kauai each year. (A recent Salon article noted that this would far exceed the amount sprayed in any other state. Kauai is one-third of the size of tiny Rhode Island and 1/164th the size of Kansas.)
Andrea Brower, who helped organize Sunday's march, said that the bottom line is this: People need to know what's being sprayed around them. Otherwise, it's impossible to know what chemicals and pesticides to test for in the air they breathe, in the water that they drink and on the ground they live on.
The throngs of protestors assembled for nearly four hours on Sunday listened to speeches from west side residents, concerned scientists and government officials. The outpouring of support was in part meant to put pressure on the county council, which plans to hold its second hearing on Bill 2491 on Monday. No date has been set for a final vote.
For the crowd, the highlight of the event was a performance by the well-known local musician Makana, who summed up the sentiments of many protestors.
He modified Pink Floyd's "Wish You Were Here" into "Wish You Would Leave." Over that iconic melody, he sang, "Take your GMOs and your pesticide ho's, you can't deceive. Spraying over the same old ground, 10 thousand pounds of atrazine. I wish you would leave."
Musical purists and biotech supporters might have been troubled, but the crowd cheered wildly.
Calling all HuffPost superfans!
Sign up for membership to become a founding member and help shape HuffPost's next chapter
BEFORE YOU GO
PHOTO GALLERY
GMO Protests