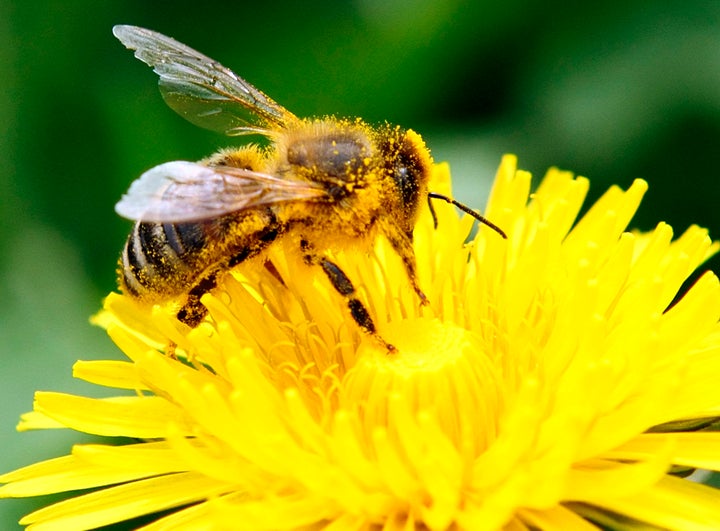 The Trump administration has scrapped an Obama-era policy that banned the use of genetically modified crops and controversial insecticides on national wildlife refuges across the country.
The move comes a little more than four years after Jim Kurth, then the chief of the National Wildlife Refuge System, issued a memorandum to phase out GMO seeds and neonicotinoids, a class of chemicals thought to be linked to declining bee populations. The 2014 decision, Kurth wrote, was "based on a precautionary approach to our wildlife management practices."
Instead of a blanket ban, the U.S. Fish and Wildlife Service will now consider approving their use on a case-by-case basis, according to an internal memo posted Friday by the nonprofit Defenders of Wildlife.
Greg Sheehan, the agency's principal deputy director, wrote in the memo dated Thursday that "in some cases the phasing out of those practices was appropriate and expedient," but that there might be certain situations "where use of GMO crop seeds is essential to best fulfill the purposes of the refuge and the needs of birds and other wildlife."
"Normal human expansion in our nation will continue to eliminate wildlife habitats that have previously been relied upon for successful wildlife restoration," the memo states. "Therefore, our professional wildlife managers will need to work more diligently than ever to ensure that those remaining important places have the best available food resources and other important conditions to ensure [wildlife] can persist."
The suggestion is that genetically engineered crops could prove key to sustaining waterfowl, migratory birds and other species. As for neonicotinoids, Sheehan noted that they are often used in conjunction with GMO seeds and "may, or may not, be needed to fulfill needed farming practices."
Neonicotinoids, a common insecticide used to fight off a variety of pests, are suspected of playing a role in the collapse of bees and other pollinators. A 2015 study last year found that chronic exposure to the chemicals, which are believed to attack the central nervous system in bees, can impair bumblebees' learning and memory. A second study, published in 2016, found neonics can impact a bumblebee's ability to forage.
A spokesman for FWS told HuffPost via email that the agency's managers periodically review wildlife management practices, including cooperative farming, in an effort to meet conservation objectives for waterfowl and other species. The 2014 ban, the spokesman said "limited the on-the-ground latitude of refuge managers to deploy the appropriate agricultural practices necessary to meet their conservation objectives and their refuge's specific purpose."
In a statement Friday, Jamie Rappaport Clark, president and CEO of Defenders, called the administration's decision "an insult to our national wildlife refuges and the wildlife that rely on them."
"Industrial agriculture has no place on public lands dedicated to conservation of biological diversity and the protection of our most vulnerable species, including pollinators like bumblebees and monarch butterflies," she said.
This story has been updated with additional information about the policy change and a statement from the U.S. Fish and Wildlife Service.
Popular in the Community