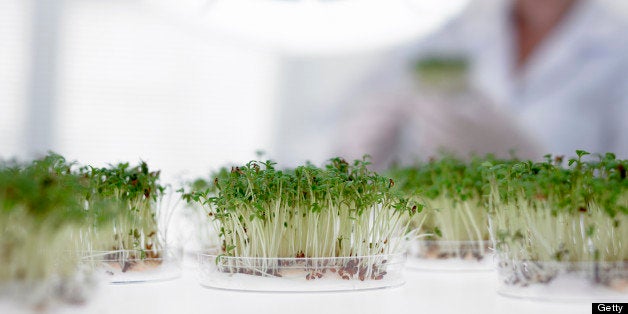 Americans are largely uncertain over whether genetically modified foods are safe for the environment or safe to eat, but the vast majority say that foods containing genetically modified ingredients should be labeled, according to a new HuffPost/YouGov poll.
According to the new survey, 82 percent of Americans think GMO foods should be labeled, while only 9 percent say they should not be labeled. The vast majority of respondents across demographic groups favored labeling, with little division either by political party or by how much respondents had heard about the development of genetically modified crops.
Although respondents were near unanimous in saying genetically modified foods should be labeled, many expressed uncertainty about the environmental or health consequences of growing and consuming them.
Twenty-one percent of respondents said they think GMO foods are safe to eat, while 35 percent said they're dangerous to eat. But another 44 percent said they're not sure. Likewise, 39 percent of respondents said they're unsure of what impact growing GMO crops might have on the environment, although those who did have an opinion were more like to say such crops are bad for the environment. Overall, 35 percent said growing GMO crops is bad for the environment, 8 percent said it's good for the environment, and 18 percent said it would have no impact.
The view that foods with genetically modified ingredients are safe to eat was more common among respondents with at least a college education, but the respondents' level of education had little relationship to views on the environmental impact of growing GMO crops.
Survey respondents were divided over whether companies should be allowed to patent the crops they develop. Twenty-eight percent said companies should be able to patent their crops and 33 percent said they should not, while 39 percent said they were not sure.
Patent rights for companies that develop genetically modified crops have not been directly disputed, but a case currently before the U.S. Supreme Court is challenging those companies' control over second-generation seeds produced by genetically modified crops. Currently, farmers can be prevented from purchasing GMO seeds under patent from sources other than the companies that developed them. They can also be barred from saving and using second-generation seeds produced by those crops.
The results of the new poll show that few Americans are paying close attention to news about GMO crops. Only 22 percent of respondents said they'd heard a lot about companies developing genetically modified crops, 48 percent said they had heard a little, and 25 percent said they'd heard nothing at all.
The HuffPost/YouGov poll was conducted Feb. 28-Mar. 1 among 1,000 U.S. adults. The poll used a sample selected from YouGov's opt-in online panel to match the demographics and other characteristics of the adult U.S. population. Factors considered include age, race, gender, education, employment, income, marital status, number of children, voter registration, time and location of Internet access, interest in politics, religion and church attendance.
The Huffington Post has teamed up with YouGov to conduct daily opinion polls. You can learn more about this project and take part in YouGov's nationally representative opinion polling.
Related
Popular in the Community