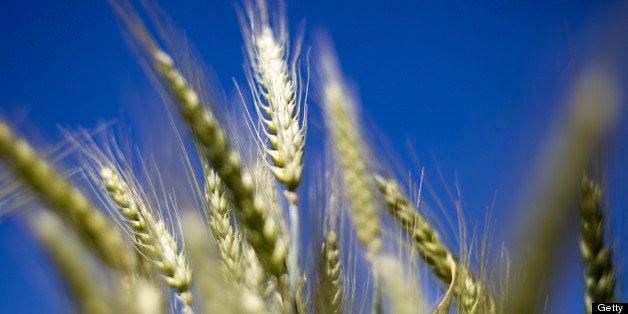 July 29 (Reuters) - U.S. government investigators said on Monday they still have few answers as to how an unapproved genetically altered wheat developed by Monsanto was found this spring growing in an Oregon farm field, but said no further contamination has been detected and no biotech wheat appears to be in commercial supplies.
The U.S. Department of Agriculture's Animal and Plant Health Inspection Service (APHIS) said its nearly three-month-old investigation has found no sign of the Monsanto Co variety, known as MON71800, in any seed or grain samples tested by government laboratories. The government also said it has interviewed nearly 270 farmers who reported no glyphosate-resistant wheat plants have been found in their fields.
In all, the government said, its investigative work indicates that the extent of the presence of the genetically engineered wheat was the single detection of several biotech wheat plants found in one field of one farm in Oregon. The wheat plants came from seed genetically altered by Monsanto to make plants resist Roundup herbicide.
Monsanto had hoped to commercialize a "Roundup Ready wheat," but shelved the project nearly a decade ago in the face of stiff consumer and customer opposition.
The USDA announced on May 29 that the genetically altered wheat was found on an Oregon farm in April, several years after Monsanto stopped field testing the wheat, which had never been approved for commercial use.
The news caused some foreign buyers to curtail purchases of U.S. western white wheat until they could have assurances that none of the biotech wheat has contaminated the marketplace.
But importers have been slowly resuming white wheat shipments, and Japan may resume imports as soon as this week after adopting stricter measures aimed at detecting genetically modified strains, industry sources said. South Korea, another major buyer of U.S. white wheat, resumed buying the variety earlier this month.
The USDA said on Monday that it was still trying to determine how MON71800 wheat came to be in the Oregon field and to determine the extent of its presence. It said its investigation includes a review of all the authorizations for Monsanto's field tests of the GMO wheat and the related field test reports.
REAL LIFE. REAL NEWS. REAL VOICES.
Help us tell more of the stories that matter from voices that too often remain unheard.
BEFORE YOU GO
PHOTO GALLERY
"Clean 15" Of 2013