There has been a lot of press coverage this week about the FDA decision to approve the sale of genetically engineered (GE) salmon. Opponents of the FDA ruling describe AquaBounty Technologies' AquAdvantage Salmon, as "frankenfish." AquAdvantage Salmon is created by splicing genes from Chinook salmon and those of ocean pout. The result is a fish that will grow faster than non-genetically engineered farm-raised Atlantic salmon.
To date, public response to the FDA AquAdvantage Salmon announcement has been overwhelmingly negative. Of the 162 public comments submitted to FDA to date, only five favored the FDA decision to allow sale of AquAdvantage Salmon with guidelines that labeling was voluntary. The remainder of comments -- a whopping 97%-- overwhelming urged that genetically engineered salmon be so labeled, as the chart below depicts: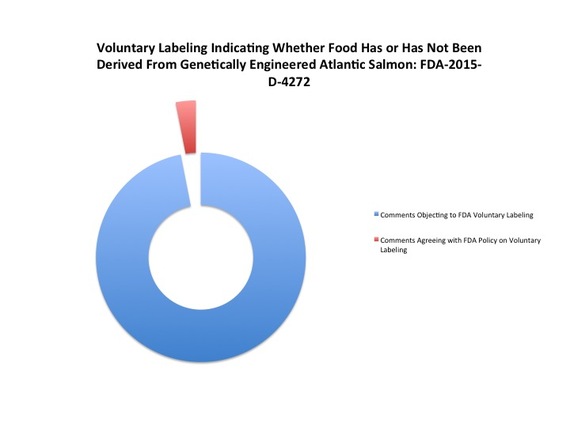 Failure to label could hurt the entire salmon industry. Danielle Shelton said that her "family will never eat salmon again if producers aren't required to label the GE salmon from the real fish itself." She explained that if FDA "force[s] the public to 'vote with our feet' we won't just be injuring the producers of GE salmon, or whatever other animals are in the process of being engineered, we'll also be injuring the fishing industry in general."

Pat Goltz agrees. Pat said that since FDA "decided to legalize genetically engineered franken-salmon, I will never buy salmon again the rest of my life." Boycotting salmon would be a sacrifice for Pat because Pat loves salmon. According to Pat, the FDA move "hurts HONEST fishermen."
Some folks, like Stephen Middleton, wondered how a patented product could be the same as wild caught salmon. Stephen queried, "If a product is different enough that it can be patented, I feel labeling should be required. If it's the same, how can it be patented? It's either the same, or it's different enough to be patented. All most people are asking for is honest information."
Like many writing in, Jenny Reinke is cautious in the foods she buys. She thinks that all genetically engineered foods "should be labeled as such." Consumers like Jenny regularly use labels to identify things in food products that may pose a health concern. Jenny carefully screens for hydrogenated oils, sugar and allergens. She said, "we should also have a choice whether to eat GE foods, and in this case specifically salmon. Food labels are required for a reason and I use them judiciously to avoid chemicals and ingredients I don't want in my body."
Labeling of genetically modified foods such as the AquAdvantage Salmon is not just a health issue according to Alex George. He recognizes that the state of the science may not demonstrate that "genetically modified foods are materially different from unmodified ones." He explained that, "many consumers want to base their purchasing decisions on other aspects of this technology, including potential environmental effects and the impact of patented technologies on the economics of agriculture and food production."
An anonymous comment asserted the labeling of genetically modified food is a "Freedom of Information issue." The comment explained that, "people with medical conditions are normally supplied with full information so that they can make a fully informed decision about their treatment.... in the same way people should be able to choose how the food that they eat is produced." Irfan Quraishi agrees because "consumers have a right to know what they are eating." As such, according to Sandy Pelland, "It's unacceptable to have voluntarily GMO labeling from manufacturers."
Teresa Cohen summed up the comments submitted to the FDA nicely when she said, "The public has the right to know which foods are GE. If industry believes it to be safe there should not be an issue with labeling products they sell as GE."
The public has spoken and the public is correct. FDA should make GMO labeling requirements mandatory, not voluntary.
Popular in the Community