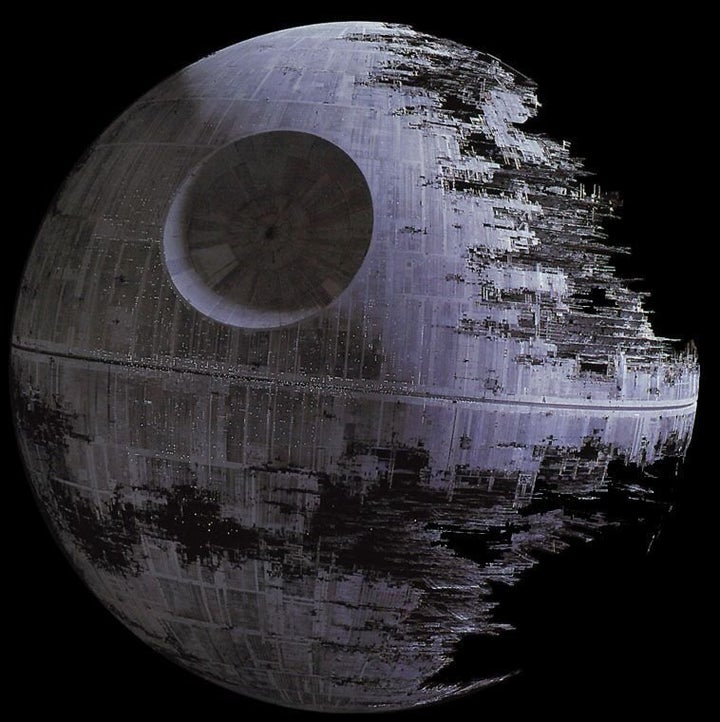 Ralph Nader said a General Motors bankruptcy would launch "a conclusive Death Star to tens of thousands of jobs, thousands of small businesses and adverse effects to hundreds of communities around the country."
The Death Star, a moon-sized superweapon from the Star Wars movies, could destroy an entire planet in a single attack. The Death Star created by GM's bankruptcy filing on Monday probably can't blow up an entire planet, but it might be able to do some damage to a small town in Illinois.
In May, GM notified Rust Chevrolet in Cissna Park, Ill. that the dealership's contract with GM would not be renewed at the end of 2010. Rust Chevrolet was one of 1,100 dealerships axed by GM in May -- a number that nearly doubled with Monday's bankruptcy filing. The delayed closings are GM's attempt to give its dealerships a soft landing. Cissna Park's mayor says that if Rust Chevrolet goes bust, it could have a devastating impact on the area.
"If we keep our school, our grocery store, and our car dealership, we'll be OK," said Mayor Rick Baier, in an interview with the Huffington Post. "And we're losing one of those things."
Baier said car sales account for about half of the town's approximately $100,000 in sales tax revenue, and a fifth of its roughly $250,000 in total annual revenue. If the dealership closes and is unable to reopen as a used car dealership or body shop, the town would have to raise rates, fees and income taxes just to keep the necessary services -- like its schools -- up and running. And it would have to delay less urgent projects, like repairs to streets and wastewater treatment systems.
"It's just gonna be a major hit for Cissna Park," he said. "Apparently GM doesn't account for any type of loyalty."
Rust Chevrolet has been operated continuously by the same family, in the same location for almost a century.
"We've been affiliated with Chevrolet for over 94 years. My grandfather started right here," said the dealership's co-owner, Karen Rust Walder.
In a good year, the dealership sells 100 units. And 2008 was a very good year, causing Rust Walder to wonder, why her dealership?
"Maybe we didn't have the numbers that GM wanted to see, but I've paid all my bills with them and I owe them nothing," she said. "It's not like we were a financial drain for them. I don't know why this would be a good business decision at all."
Bill Visnic, a senior editor for Edmunds AutoObserver, told the Huffington Post that GM supports dealers through its marketing programs, parts, and inventories, and that those costs factor into a calculation to close a dealership. The broad formula, Visnic said, "is 'How much do we as a car maker think it costs to support you versus how many car sales do you make every year?'"
Visnic said that even after GM sheds 2,100 dealers, which will leave it with 4,100, it may still have too many. But he says that in its rush to go into and out of bankruptcy as quickly as possible, GM may be cutting carelessly.
"I can almost guarantee you there are some dealers by sheer dollars and cents who've been wronged," he said. "Some dealers that have been cut are reasonably viable and making a contribution to overall profitability of the company ... but they don't have the time to pick through them."
John McEleney, chairman of the National Automobile Dealers Association, said that GM has too many dealers for its market share. While McEleney praised GM for giving dealerships until late 2010 to wind down -- providing a much softer landing than the three weeks Chrysler gave some 800 of its dealerships -- he said GM's "Death Star" blast is too large.
"They're taking advantage of an opportunity that they can reject these (dealership) contracts out of hand," McEleney said. "We think they went too deep."
Rust Chevrolet is the only car dealership in Cissna Park, which Baier (who also works as a fireman and editor of the local paper) describes as a quiet town with little crime, excellent schools, and one grocery store.
"It's just a nice quiet place to raise your family. And there are a lot of older retired people, they've lived here all their lives. They don't want to leave Cissna Park. They want to die here," he said. "The community, they want to rally around Rust Chevrolet. They want to fight GM but we don't know how do it."
Cissna Park may not have Luke Skywalker and an army of Ewoks, but it does have a congressman.
On Monday, Illinois Rep. Tim Johnson (R), who represents the area, wrote a letter on the town's behalf asking GM to reconsider its decision to abandon Rust Chevrolet. In the letter, provided by Johnson's office to the Huffington Post, Johnson noted that Cissna Park relies on the dealership for half of its sales tax revenue. And he wrote that he didn't see what GM stood to gain from closing it.
"In the larger picture of General Motors, I cannot imagine that closing a dealership of this size makes a significant difference in the sustainability of the corporation," Johnson wrote. "The effect on Cissna Park of such a decision, however, would be devastating. Please consider the scale of these decisions and the century of loyalty of Rust Chevrolet and Cissna Park as you work through these difficult times."
Calling all HuffPost superfans!
Sign up for membership to become a founding member and help shape HuffPost's next chapter