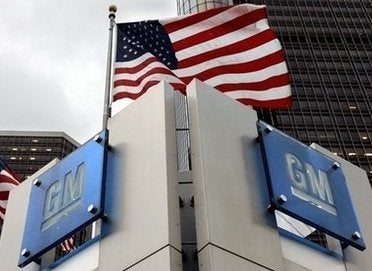 This thing that happened tonight made the possible failure of General Motors more real than before; in fact, it brought it all home for me. It made GM's tenuous position, well, official.
I was taking a night off, not planning another post until Friday or Saturday, as soon as the next Detroit Three loan news came out of Washington. But 'twas not to be.
Instead, I found out that GM is selling-off, one-by-one, piece-by-piece, memory-by-memory, the GM Heritage Collection. Finding out felt like I'd taken a punch to the gut.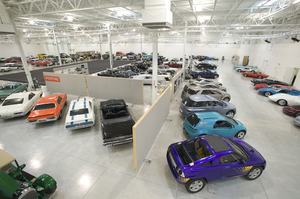 (This is just a part of the GM Heritage Collection, and starting today, it's all for sale).
We live in Southern California, and many automotive journalists in this area, where I've worked for 35+ years, tend to snicker and sneer when the names GM, Ford or Chrysler come up. And I've been as guilty of this as some of the others. Many Left Coast writers, but mostly their publishers, have viewed Detroit as one thing: an inexhaustible supply of advertising dollars for their magazines, and now, for their websites, too.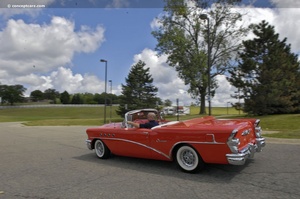 (A 1955 Buick Century is on the sales list).
Some say this attitude is why the Petersen Automotive Museum in Los Angeles has received little if any monetary support from the Detroit Three. There is still no official "American Car and Truck Museum," and if there were, those powers in Detroit think it should be in their city, and I don't blame them. Either there or in Washington, DC, possibly as part of the Smithsonian.
And Detroit, I'm told, views Southern California as almost an enemy, peopled by writers who constantly praise import cars and trucks while condemning Detroit's products, and publishers who show little if any appreciation for the very tangible support So Cal's 'zines and sites have received from Motor City.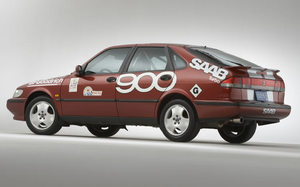 (A Saab 900 transformed into a Pike's Peak race car. You buy the company, you get the race car. Now, it's for sale. There are also two Peugeots on the list of for-sale vehicles, and frankly, I'd rather not know why).
We here in the Tragic Kingdom (a great play on Disneyland's Magic Kingdom, coined by Orange County born-and-bred ska band No Doubt) are avid regionalists, convinced the future of the automobile lies right here, bordered on the south where the 405 and 5 freeways converge, by Ventura Boulevard on the north, on the east by the 405 freeway and on the west, Japan. There are 23 wards, or sections, in Tokyo; in the car business, Los Angeles is often called "the 24th ward."
Here's some of the email I got tonight:
"All,
Attached is a notice for the sale of the GM heritage collection. This is GM's personal car collection and we are beginning to sell some of these concept and first built collector cars. I don't know anymore detail than what is listed, but if you are interested in potential purchase, I will inquire (for you) to get more information (on whatever you're interested in buying).
Regards,"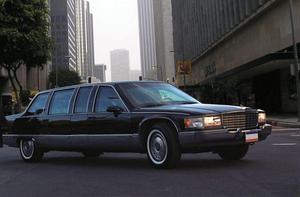 (Yes, that's just what it looks like. A 1996 Cadillac Presidential Limo. But it's something of a "model car," definitely not equipped with anything the Secret Service would want a buyer to know about).
The emotions which came up for me, reading of the selling-off of this collection, piece-by-piece, is akin to what an art lover would feel if the French government announced the sad but necessary auctioning of everything in the Louvre (and these days, never say never to anything). Okay, understand now?
Vehicles not sold by GM directly from the collection will be available for bidding and sale at the Barrett-Jackson auction in Scottsdale, AZ, January 13th to 18th, 2009.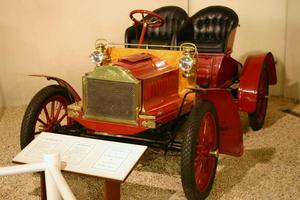 (That's a 1904 Oldsmobile Touring Runabout, rare and valuable; hey, make GM an offer!).
Stored in warehouses all around the country, but mostly in the Detroit-area, the collection has everything from the one-millionth Saturn ever made to the first-built 2004 Pontiac GTO (meaning the car is the first one actually built in production), concept cars, show cars, race cars (how about a Dallara chassis IndyCar with an Oldsmobile Aurora engine?), plenty of one-off trucks of all sizes (one-off means, essentially, made-to-order and one-of-a-kind) GMC fire trucks, a 1917 GMC trailer and a 1918 Cadillac, in all, some 250 vehicles of all shapes and sizes, including many which you've probably seen at auto shows and in magazines, in TV shows and movies (anyone for the 1967 Pontiac GTO from Vin Diesel's "XXX?"). There's a red 1969 Camaro from the Reggie Jackson collection, a 2002 Camaro police car and cars and trucks with names like, "Looney Tunes," "Big Doggie" and "CSI Vegas."
Here's the rest of the email message:
"As you may know, the GM Heritage Collection numbers in the many hundreds of cars and trucks - from 'first builts' and 'last builts' to one-off show cars to SEMA show cars.
"The Decision has been made to sell off select vehicles. (Indeed, a sad day for some of us ......).
"There's a little of everything -- from the Legendary Buick Blackhawk -- to (are you sitting down?) a COUPLE of 1989 Corvette ZR1s -- the Jon Moss built Track-dominating Black 572 ZL1 -- A C5 Alpha and a C5 Beta -- The Tiger Shark -- the LT5 Camaro -- a 1904 Olds Touring -- several GTOs -- both old and new -- a couple of 1970 muscle cars -- a mid nineties "510" Impala SS -- and many, many pace cars and trucks.
"This may be the time to break open the piggy bank................."
Just click anywhere on this line to view the complete list of cars on my website, www.SteveParker.com.
(A 1969 Pontiac GTO Judge. Make an offer, the one for sale from the collection is of much higher quality than this owner's car).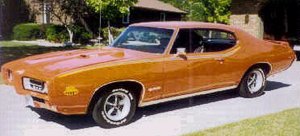 Popular in the Community