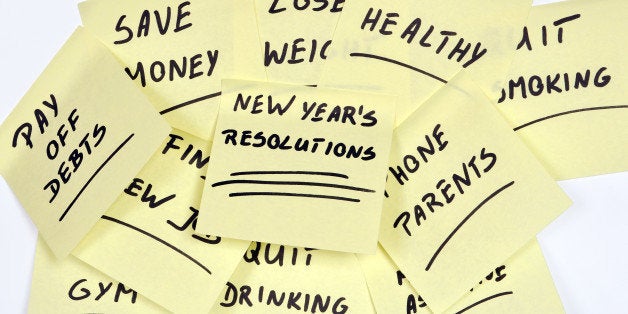 What will your 2015 be? With the new year upon us, your resolutions likely include visions of self-improvement. For many, that means vowing to finish that college degree. Good for you.
It's no secret that adults who complete their degree have increased quality of life and put themselves in a better position to negotiate a raise or garner a promotion. But how do you keep that resolution alive? How do you make steady progress and stay on track?
Just like any other resolution, the best way to make it happen is to have a plan and a support system. You've already got the support system (spouses, parents, children, neighbors and friends). Now, here's a plan to get you started -- and help ensure this is one resolution you keep!
1. Get online.
Do some research on adult degree completion programs. Consider your learning style. Do you prefer online or face-to-face courses? If you're not sure what major you want to pursue, explore the possibilities. Ask trusted friends and colleagues for suggestions and recommendations. Then, attend information sessions offered by the universities you're considering to find out more about the programs and services available. Talk to an admission counselor and get your questions answered so that you can make an informed decision.
2. Start -- and finish -- your application.
Once you decide which university (or universities) you want to apply to, dive in and complete the application. Don't let the process intimidate you. Make a checklist and stick to it. Order transcripts and update your resume. Brainstorm application essay topics and get a draft written. Ask a co-worker or friend to review it before you submit it. Talk to colleagues, supervisors or people you volunteer with in the community about writing letters of reference for you. And check in regularly with the admission office -- they are happy to answer questions, let you know what documents are missing from your application file and even provide moral support.
3. Find out about financial aid.
Congratulations! You've been accepted! Now, schedule a meeting with a financial aid representative. Many universities will assign a financial aid counselor to you and provide contact information in your acceptance packet. The financial aid office can help you determine what grants or loans are available to you, what scholarships might be a good fit, whether your employer will cover all or part of your tuition, and how much you can expect to pay after tuition, books, transportation and other expenses are considered. Your financial aid rep will be an invaluable resource -- take advantage of his or her knowledge and expertise.
4. Understand your degree plan.
Next, meet with your academic advisor so you'll know exactly what courses you'll need to complete your degree. Find out what options you have for earning credit. Maybe you can transfer credits from previous college courses or take advantage of credit by exam. Maybe your university has a prior learning program that allows you to get credit for skills you've acquired on the job or in the community. Familiarize yourself with the resources you'll be able to take advantage of on your campus -- tutoring services, writing centers, career planning and more. Then? Get registered for your first semester.
5. Keep going!
The next thing you know, you'll be in classes with like-minded adults who, along with your professors, will become part of your support system. Work hard, stick to your plan and remember your goal. Take it at your own pace, and talk to your financial aid counselor, academic advisor and professors often. You're on your way to keeping that resolution!
So what will your 2015 be? The year is young, your determination is high, and the possibilities are endless. You're already off to a successful start -- keep the momentum going!
Calling all HuffPost superfans!
Sign up for membership to become a founding member and help shape HuffPost's next chapter