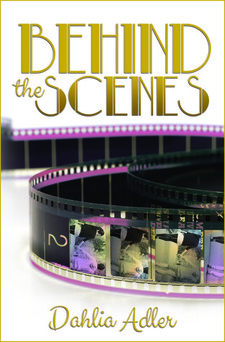 It's only mid-summer, which means there's still plenty of time to get in a good beach read.
Enter Dahlia Adler's Behind The Scenes: It's funny, contemporary, and also extremely heartfelt. And if you're the type of person who can't get enough of Hollywood (me!), this book is perfect for you.
The story follows high school senior Ally Duncan whose best friend is actress Vanessa Park -- star of TV's hottest new teen drama. Though Ally's not interested in the Hollywood scene, she takes a position as Vanessa's on-set assistant to help pay for her father's medical bills.
But everything changes when Ally meets Vanessa's sexy co-star Liam and from there, there's a whole lot of juicy teenage drama that will keep you turning the pages and wanting more.
I caught up with author Dahlia Adler to get some insight on her entertaining debut!
What was the inspiration behind your book Behind The Scenes?
I wish I could remember! There's a subplot that was inspired by my family, and some of the details were inspired by TV shows I was watching at the time, and as a writer I was driven by a challenge to myself to write a plot-driven story...but that's kind all I remember. Just bits and pieces.
Tell me a little about yourself and how you got into writing.
I started reading at a very young age, but I have much older siblings, so along with the age-appropriate books I had on hand, I was also reading YA as a pre-tween. I was so fascinated by characters like the Wakefield twins from Sweet Valley High, whose lives looked nothing like mine, and I realized I could create my own and live vicariously, so, I did.
One of the things I love about the book was the friendship between Ally and Vanessa. Was it important to you to have friendship at the center of the story instead of just romance?
Yes, definitely. When I was in high school, my friends were everything, and I can't imagine writing YA that doesn't acknowledge the importance of them. I do love romance, but I think it's key not to have it be your be-all, end-all.
Another thing I loved about the book was how Ally truly cared about her family which you don't see all that often in young adult books. What made you decide to go in this direction?
The story with Ally's father was actually "borrowed" from my own experiences when I was in college. It was one of those things that's just so big in your life that you need to somehow contain it, and putting it in a book was my way of doing that. It was sort of strange for me making Ally the big sister, since I'm the baby of the family and I've never had a "Lucy," but thankfully my own big sister is an excellent example to draw from. And again, while I know family's not always a huge part of YA books, my family was unquestionably present for my teen years, and still is, so to me that was just the truest way to tell Ally's story.
Going with the theme of the story, if Behind The Scenes was ever made into a movie or a TV show, who would be your dream cast for Ally, Vanessa, and Liam?
I have spent so much time thinking about this, but I'm so stuck on the fact that everyone I picture is actually closer to 30 now. If I could get Matt Lanter circa season 1 of 90210 for Liam, Lyndsy Fonseca back when she was the daughter on "How I Met Your Mother," and Jamie Chung from when she was on "The Real World" for Vanessa, that'd be it.
What is next for you in terms of writing? Any new projects on the horizon?
Thankfully I actually have a lot happening! Behind the Scenes has a companion out on June 30, 2015, called Under the Lights, and I'm really excited about that. Then in November 2015, I have a totally unrelated contemporary YA standalone releasing called My Name is Everett. I just finished writing a contemporary New Adult romance which doesn't have a planned future yet, and I'm drafting a companion to that while I wait for my edit letters on those first two books. And, because I'm such a NaNoWriMo fan (both Behind the Scenes and Under the Lights were written during National Novel Writing Month), I also have a YA project I'm really excited for picked out to write then.
If you have to describe your book in one word what would it be?
REAL LIFE. REAL NEWS. REAL VOICES.
Help us tell more of the stories that matter from voices that too often remain unheard.