With Serena Merriman and Alonso Dominguez
There's more to Paris fashion week than stilletos and sunglasses. From Japanese anime-inspired exhibits to scavenging for vintage accessories, our picks for contemporary happenings, classic haunts and unmissable events are certain to take your mind off Le Carousel and have you hitting the town day and night.
Cafe de Flore Is (still) the coolest lunch spot in town for the young fashion crowd. Cafe au laits and Christian Louboutins (the shoes and the man himself) converge in harmony at this staple daylight eatery. Nab a seat on the terrace for the best people watching in town. 172 Boulevard St Germain, +33 1 45 48 55 26
Chez George A classic favourite for its unpretentious, old-fashioned bourgeois French cuisine, service, atmosphere and decor. Models, editors and PYT's up the ante during Fashion Week. 1 Rue du Mail, +33 1 42 60 07 11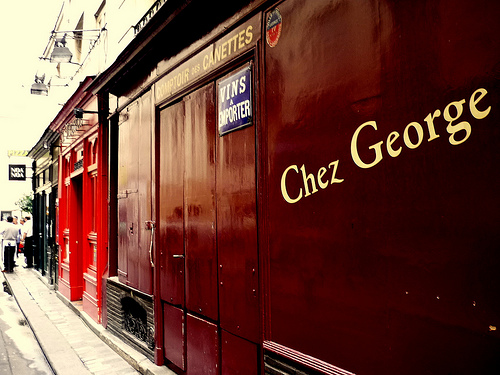 Chez George
Ferdi Burger Feeding fashion since 2004, Ferdi is the fashion industry's favourite burger. On any given day you can find Nicholas Ghesquiere and Azzedine Alaia dropping by for a cheeseburger, the menu's signature dish. Order the spicy gurapita de parchita soda to wash it down. 32 Rue Mont Thabor, +33 1 42 60 82 52

L'Avenue Snatch a coveted outside table at L'Avenue in between visits to Prada and LV. During PFW, L'Avenue seems to become a fashionable, see-and-be-seen satellite locale of the American embassy, hosting hordes of New York Editors, photographers, designers and their followers, in look for the quintessential Parisian moment. 120 Avenue de France, +33 1 45 85 41 48
Le Bouldogue Docked in between vintage shops and Sonia Rykiel, Le Bouldogue is a local den: cheap, fast, fun. Expect nothing but Parisian joie on the terrace, prime for day-drinking festivities. 20 Rue Rambuteau, +33 1 40 27 90 90

Le Meurice Only during Autumn 2009, Head Chef Yannick Alleno is offering patrons an entirely chocolate breakfast, with hot chocolate chosen by the sommelier and croissants made with chocolate dough. Get your guilt on at breakfast and skip lunch. T'will be worth it. 228 Rue de Rivoli, + 33 1 44 58 10

Le Voltaire This quintessential French restaurant (red velvet banquettes, smoky mirrors, stuck-up waiters) is a destination tres chic for fashion-forward socialites and VIP's like Anna Wintour, Marc Jacobs and Tom Ford. Try the Dover Sole. 27 Quai Voltaire, +33 1 42 61 17 49
Rose Bakery After gorging on rich, French cooking, this outpost of the London bakery serves healthy, fresh high quality British deli-food (salads!) to expats and models looking to lighten up and/or watch their waistlines. Stop for high tea and wait for Anna Piaggi to turn up in search of a tart. 46 Rue Martyrs, +33 1 42 82 12 80

Shop
Arty Dandy A seemingly endless supply of unique pieces, limited edition items and rare publications cover the walls of Arty Dandy. Aimed at shining light to the "audacity, poetry and humour" of objects, the shop carries an eclectic and surprisingly rare selection of fashion accessories, design pieces and books. 1 Rue de Furstemberg, + 33 1 43 54 00 66
Colette Enter the shrine to coolness. Colette's perfectly curated collection of fashion pieces, style must-haves and design artefacts is impossible to match. The absolute dictator in the reign of retail, Colette is the prototype for the ultimate shopping experience. Check out Rodarte's pop-up gallery on the 2nd floor, for the month of October only. 213 rue Saint-Honore, +33 1 55 35 33 90
Comme des Garcons Black Rue de Perche saw a new neighbour pop-up on June 22. The Comme des Garcons shop, "black", celebrating the 40th anniversary of the brand, was erected in the middle of Paris in a sign of protest against the economic crisis. The styles and garments carried by "black" are those we've learned to expect from the avant-garde fashion house, however this time the prices have been slashed in half to also match the economic climate. A Paris Fashion Week must. 7 Rue de Perche

L'eclaireur With Martin Margiela and Ann Demeulemeester as part of the shop's main collection, L'Eclaireur proves itself a strong avant-garde fashion den. The pieces are selected based on the shops theme, rather than acquiring entire collections, bringing a sense of cohesiveness within the boutique's eclectic showroom. 8 Rue Boissy d'anglas, +33 1 53 43 80 12

Les Archives de la Presse The collection of print material dating as far back as the XIX century is what makes Les Archives de la Presse unique. The print stock of magazines, journals, newspapers and books is updated monthly. Additionally, a service to find rare print items--with unusually good results--is available through the shop. 51 Rue Archives, +33 1 42 72 63 93
Le Marche Aux Puces A Parisian must for every fashionista (and lover of the random), Le Marche Aux Puces is a deep ocean of merchandise treats. Although a total hit-or-miss situation, a visit to the market may often score you anything from that rare turn-of-the-century fashion accessory to the odd, well-priced Givenchy vintage dress. 30 Avenue Gabriel Peri, Saint-Ouen, +33 1 40 11 77 36
Merci Merci's motto is simple but firm: give thanks by helping others. The exquisite collection available in this shop goes from vintage to ultra-modern and from serial production to one-of-a-kind pieces. Profits from all sales are donated to special fund to help children in Madagascar. Thanks, Merci. 111 Boulevard Beaumarchais, + 33 1 42 77 00 33
Noir Kennedy Noir Kennedy is every hipster's dream: cool, vintage, cheap and located in le Marais. The meticulous selection features pieces by different underdog designers as well as rare garments collected from London, New York and other vintage-producing capitals of the world. 22 Rue Roi de Sicile, +33 1 42 74 55 58

Art
Brigitte Bardot Retrospective, Espace Landowski, closing January 31st, 2010. This mixed media exhibit captures the woman who symbolized France, and French woman, post World War II. A little bit out of the city centre but accessible by metro, this is the perfect excuse to escape the hustle and bustle and spend time with a beautiful French icon. 28, avenue Andre-Morizet, Boulogne-Billancourt, + 331 55 18 53 00
Hommage to Guy Bourdin, Le Bon Marche, 2nd Floor, closing October 30th. One of the best-known photographers in fashion in the 2nd half of the 20th century, Mr. Bourdin's images were, and still are, controversial, daring and powerfully narrative, breaking the boundaries of conventional fashion and advertising photography. Get your thrill on before dark at this exhibit of never seen before photos. 24 Rue de Sevres , +33 1 44 39 80 00

Le Palais de Tokyo The ever-changing contemporary art pavilion at Le Palais de Tokyo breathes fresh air into the often-rigid Parisian art scene. Finish off your visit by grabbing lunch or dinner at Nomiya a half-restaurant, half-art project experience set on top of le Palais, with some of the best views of the city. 13 Avenue Président Wilson, +33 1 47 23 54 58
Madeleine Vionnet, Fashion Purist, Les Arts Décoratifs, closing January 31st, 2010. Dubbed the courtier of courturiers', Vionnet was France's first lady of fashion from the setting up of her house in 1912 to her golden years of the 1930's. With over 13, 000 photographs and 125 dresses, this exhibit is a must-visit for sartorial inspiration. 107 Rue de Rivoli, +33 1 44 55 57 50

Musee Rodin A timeless Parisian classic, Le Musee Rodin is the perfect size for an art pit stop. The sculpture garden is unique in its art and natural richness, and serves as an unusual escape from the city confinements, in the middle of Paris. 77 Rue Varenne, +33 1 44 18 61 10
Ne Dans La Rue Graffiti exhibit at the Foundation Cartier. An homage to street art and graffiti pioneers, Ne Dans la Rue brings an edgy side to the Parisian artistic landscape. Pieces, videos, murals and photographs by the likes of Jean-Michel Basquiat and Johone are the centrepiece at the Foundation Cartier's exhibition, which aims to uncover the global impacts of the street art form. 261 Boulevard Raspai, +33 1 42 18 56 50
Takashi Murakami 'Takashi Murakami Paints Self-Portraits', Gallerie Perrotin Closing on October 17th, the exhibit is as playful, cheerful and truthful as its creator. More than 20 new pieces, paintings, prints, sculptures and videos, bearing the classic, cheeky style of the Louis Vuitton designer and artist blink naughtily at audiences commenting on contemporary culture, economic discrepancy and the state of the world. 76 Rue de Turenne, +33 1 42 16 79 79
The Subversion of Images: Surrealism, Photography and Film, Centre Pompidou Closing January 11th, 2010. This exhibit brings together over 400 works of surrealist photography, including pieces from photographers Man Ray, Hans Bellmer and Claude Cahun and artists like Paul Eluard, André Breton and Antonin Artaud. 79 Rue Quincampoix, +33 1 44 78 12 33
Sweets

Angelina's One of the most famous cafes in the city, Angelina's signature pastry is the Mont Blanc, a meringue base piled with extrusions of chestnut puree and filled with whipped cream. It is actually as good as it sounds, so if your wallet and diet allow it, we highly recommend you have doubles. 226 Rue de Rivoli, +33 1 42 60 82 00
Fauchon A bedside table must-have, Fauchon chocolates are as good as it gets. If you get a little kinky, try their chocolate paint, it's like licking a Picasso. For the more conservative types, the teas, coffees and infusions will hit the right spot. 30 Place de la Madeleine, +33 1 70 39 38 39
Jacques Genin There was a time in which you had to make an appointment to be able to get your hands on one of Monsieur Genin's eclairs. Fortunately, the Alain Ducasse master of chocolate and all things sweet has open a (work)shop in which all of his creations are readily available. We strongly suggest skipping lunch for this one and just indulge in chocolate and all of its Genin variations. 133 Rue de Turenne, +33 1 45 77 29 01

Laduree No Paris visit (or weekend, really) is complete without a stop at Laduree. Order a cup of hot chocolate and try to not exceed your human limits of macaroon consumption while you're at it. 75 Avenue des Champs-Elysées, +33 1 40 75 08 75

Pierre Herme Pierre Herme is better known as "the king of French pastry" (or "the French Willy Wonka"). His tiny boutique on Rue Bonaparte has a queue around the block. The man took it upon his life duty to perfect the macaroon, and he succeeded. If there was ever a time to line up for pastry, this is it. Or just order online. 72 Rue Bonaparte, +33 1 43 54 47 77
Cocktails

Cafe de Flore Revived As the aperitif du jour, Cafe de Flore's evening crowd is trendy, famous and rich. No mistake where these people come from (Paris, London, Prada) and no doubt where they're going either (Le Montana). The new see-and-be-seen spot for the it crowd, this is the last stop before pulling an all-nighter at a neighbouring spotlight joint. 172 Boulevard St Germain, +33 1 45 48 55 26
Castel This Quartier Latin spot de rigeur is where photographable faces become acquainted at night. Linda Evangelista who said she wouldn't get out of bed for less than $10,000 gets out of bed to shake it here. There's a reason. 15 Rue Princesse, +33 1 40 51 52 80

Experimental Cocktail Bar Known for its cocktails (and PFW's rarest specimen, the straight man) this Montergueil haunt has long been standing as a solid drinking den. Don't be turned off by the unnecessarily rude door policy, for the daily changing experimental cocktails are well worth the trick. 37, Rue Saint-Sauveur, +33 1 45 08 88 09

Hemingway Bar at The Ritz Hotel Leather armchairs, single-malt Scotch and Spanish Tapas: Hemingway's legacy (well, and writing.). 15 Place Vendôme, +33 1 43 16 33 65
Hotel Costes Known for its mixed CDs and infamous after-after parties in guest rooms, Hotel Costes is a preferred Paris Fashion Week hub. At Costes, no detail was overlooked by owner Jacques Garcia, a man who takes pride in all things excess, particularly when it comes to drinks, lounges, parties and the beautiful people attached to them. 239 Rue Saint-Honore, +33 1 42 44 50 00
Le Fumoir Conveniently placed just steps from the Louvre, Le Fumoir is where you'll find the Tom Ford's of the world with a glass of scotch and a cigar (OK, a rum-diet coke and a Cartier light) in hand. Stop by for a drink or a fast meal and learn about the old school ways of fashion-power-networking. 6 Rue de l'Amiral de Coligny, +33 1 42 92 00 24

Le Mathis Dubbed "le refuge chic" by some insiders, Le Mathis is worth the door hassle. Make it past the rigid policy and you'll find yourself in one of the most exclusive addresses in town. Make sure you have Kate, Lily, Agyness or Gisele with you if you're planning on snagging a table. 3 Rue de Ponthieu, +33 1 42 25 73 01
Le Meurice Across the road from le Jardin de Tuileries, Le Meurice's Bar 228 hosts the fashion set for after-work drinks. Think of it as the couture equivalent to your local British Pub on a Thursday evening. 228 Rue de Rivoli, +33 1 44 58 10 1

La Palette Not much has changed since Picasso frequented this Bistro. Expect the usual classic drinks in a whirlwind of art, media and fashion attendees. 43,Rue Seine, +33 1 43 29 09 42
La Perle If Jean Paul Gaultier were 23-years-old today, he'd be at La Perle on a Friday night, lost in a sea of hipsters spilling onto the streets outside the bar. Featuring flamboyant fashion students and walking art manifestos in what seems their late teens, this pre-gaming Le Marais haunt is sartorial voyeurism heaven. Rue Vieille du Temple 75003, 01 42 72 69 93
Rosa Bonheur This new favourite is all the hype and more, so long as you make it inside the Buttes Chaumont gates before closing time at 8pm. The inexpensive tapas feed hipsters and fashionistas alike in a relaxed setting, perfect for a breather in between PFW parties. Parc des Buttes Chaumont, 2 Avenue des Cascades, +33 1 42 00 00 45
Brassiere Lipp Milla Jovovich and Anouk Lepere are known to eat sporadically. And when they do, they do it at places like Brasserie Lipp (right before hitting Le Montana). One of Francois Miterrand's favourite spots, this place breathes history from every wall. In short, as they put it themselves, Brasserie Lipp is "chic, cheap and hard to beat". 151 Boulevard St Germain, +33 1 45 48 53 91
Chez Janou This raucous bistro is a clubhouse hangout hip 25-year-old Frenchies. Decently priced and excellent food function as the perfect frame for your vis-a-vis with the young and hip Parisiens. Headbands optional, chocolate mousse required. 2 Rue Roger Verlomme, +33 1 42 72 28 41
Glou French critics and Parisians alike adore food expert Julien Fouin's newly-opened traditional French bistro that boasts reasonable prices, an incredible wine list and lots of celeb patrons like Marion Cotillard and John Galliano. 101 Rue Vieille du Temple, +33 1 42 74 44 32
Maison du Caviar The offspring of Yves Camdeborde (once part of the team at Le Crillon), master of the gastro bistro, Le Comptoir du Relais' daily changing, no-substitutions menu is a rigid but extremely palatable experience. Make sure to reserve as the spot gets overcrowded nightly. A must if you find yourself in the Left Bank. 21 Rue Quentin Bauchart, +33 1 47 23 53 43
Le Charlot Arguably serving the best-dressed lobster in la ville, the prime spot from restaurateurs Freres Blanc, serves fruit de mer to hungry French starlets long after sunset. 81 Boulevard Clichy, +33 1 44 91 90 18
Le Comptoir du Relais Neighbour to Le Baron and Chez Regine, the bellinis and caviar are what you come to this place for. If it's good enough for LOVE's Dasha Zhukova, it's good enough for us.9 Carrefour de l'Odéon, +33 1 44 27 07 97
Le Dome Arguably the best fish meal in the world, Le Dome is a staple in Parisian haute cuisine. If there was ever a time to blow your paycheque on dinner, this is it. Sit down for long enough on a Friday night and you'll eventually find yourself dining next to Carla and Nicholas, who are known to be regular guests. 1 rue Delambre, +33 1 42 79 91 30
Le Fidelite Despite being the go-to nosh-spot for fashion's avant-garde brat pack (think Olivier Zahm, Lou Dillon) the vibe is down-to-earth. Try Regine and Andre's fav menu item, the Tartare St.Jacques. 12 Rue Fidelite, - +33 1 40 22 03 81
La Societe The restaurant-cum-jazz club from hotel/restaurant dream team Alex Denis (L'Avenue) and Jean-Louis Costes (Hotel Costes) is the supper destination for the chic set. 4 Place Saint-Germain-des-Pres, +33 1 53 63 60 60
Le Stresa This Italian eatery cum celebrity hotspot offers a feast for the mouth and the eyes, frequented by superstars like Naomi Campbell, Ines Sastre and Sarah Jessica Parker, you must reserve your table days in advance to secure a seat! 7 Rue Chambiges, +33 1 47 23 51 62
Chez Moune A more off-centre option, Chez Moune is the nightlife epicentre of Pigalle. Nightly themed parties are the name of Moune's game, but be sure to study on them before attending as they tend to be very specific and targeted to a particular demographic. 54 Rue Jean Baptiste Pigalle, +33 1 45 26 64 64
Chez Regine This Studio 54 predecessor has kept its owner, Regine Choukroun, Queen of Paris Nightlife, partying since the 1970's. Recently renovated and reopened, Chez Regine is operated by the collective behind Le Baron and Le Montana, who are determined to revive the lost hedonism with which the club was once synonym. 49 Rue de Ponthieu, +33 1 43 59 21 13
Le Baron Andre's piece de la resistance is the toughest door in town, trumped only perhaps by that of its sister club, Le Montana. Its tables, prime for table-top dancing, have been graced with the moves of such names as Sofia Coppola and Bjork. On a good night, crowds of paparazzi can be seen waiting patiently outside in hopes of snapping a shot of a late-night Lohan or Olsen debacle. 6 Avenue Marceau, +33 1 47 20 04 01
Le Montana Booked solid for private soirees during Paris Fashion Week, Le Montana is the new joint for counter-cultural celebrities and the Parisian creative upper class. Models are the lowest common denominator in the boite's attendance hierarchy headed by the likes of Olivier Zahm, Carine Roitfeld and Terence Koh. 81 Rue des Pyrenees, +33 1 43 48 38 73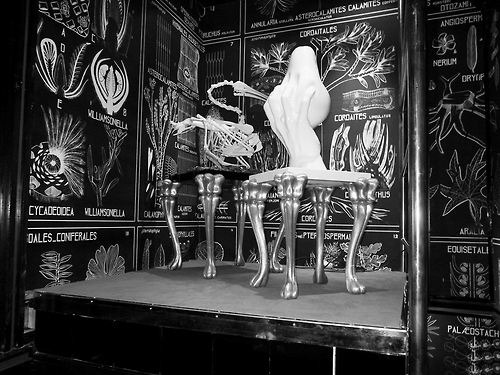 Le Montana
Maxim's Good DJs and their monthly Friday night parties have made a name for Maxim's. The popular Fashion Week hangout is known for handing out invites to its soirées during the day at the shows, so make sure to snatch a couple before you turn up at the door. 3 Rue Royale, +33 1 42 65 27 94
Cleopatre Libertinism is alive and well at this club for Paris' well-heeled swingers'. This upscale, elegant and lushly decorated club inspires sexual freedom, free from shame, with as many partners as one has time for. Address secret.
Crazy Horse A modern and more X-rated alternative to the Lido, this unforgettable cabaret show features a world-class show of coloured lights, fully nude female dancers and top dance routines, plus mimes, jugglers and a colourful variety of performers. 12 Avenue George V, +33 1 47 23 32 32
Les Chandelles Paris' famous, yet secret, swingers sanctuary has a strict dress code (sexy, elegant, formal), a dungeon-like atmosphere and a boudoir with bed-like furniture where singles get down, in public, and explore their sexual desires, fantasies. 1 Rue
Thérèse
Lido Paris' oldest cabaret (since 1946) boasts an ice rink, over 600 costumes, 23 sets, the famous " Bluebell Girls" in feathers and crystals headdresses and even Lido 'Boy' Dancers. C'est magnifique! 116 Bis, Avenue Champs Elysées, +33 1 40 76 56 00

Musee de l'erotisme Erotica's answer to the Louvre, the museum boasts a vast and serious collection of erotic art and artifacts, including Nepalese temple carvings, Aztec fertility idols, ceramic pornography from China and oddities like a yak oil lamp from Tibet. 72 Boulevard Clichy, +33 1 42 58 28 73

Paradise Found One of the most exclusive sex-clubs in Paris, members (and members only) have access to Betony Vernon's erotic jewellery, designed to heighten sexual awareness and multiply pleasure. Address secret.