The launch of this Fund is the single most important collective move to change the nature of humanitarian response to include education and has the potential to shift the education sector from tolerating resource scarcity to supporting many more of the most vulnerable children and their families and communities to imagine and rebuild their futures.
Despite this, sources close to those making funding decisions report that reaching the goal to fully fund the first year of Education Cannot Wait is at risk. This goal is a mere $150 million intended to reach only 2 percent of crisis-affected children (the actual annual funding gap is $8.5 billion). Sources say more than 50% of this $150 million is unlikely to be committed.
Or (outrageously!) less than one percent of the annual gap.
The Education Cannot Wait fund is the result of countless hours of work from policymakers, education experts, youth advocates, non-governmental and civil society organizations, several United Nations agencies, academics, business leaders, high-level champions, and countless others.
Former Prime Minister and UN Special Envoy for Global Education Gordon Brown called for the Fund and was quickly joined by Global Partnership for Education Board President Julia Gillard, and UNICEF Director General Tony Lake to bring this issue to the top of the global humanitarian agenda.
A Technical Strategy Group co-chaired by the UK and Canada (on which I served) comprised of more than a dozen senior staff in UN agencies, donor agencies, NGOs and the private sector and their brilliant support teams worked for many months discussing, debating and designing the initial approach and mandate of a new platform and Fund. To support this, The Overseas Development Institute (ODI) put the full force of their technical expertise into developing the evidence and options for the structure and governance of the Fund. The Inter-Agency Network for Education in Emergencies (INEE) hosted multiple online and in person consultations as part of a global process to gather feedback from implementers, experts and civil society.
A Call to Action was signed by nearly 60 of the world's leading education campaign organizations urging world leaders to make new, ambitious, multi-year pledges to the Education Cannot Wait Fund. More than 10 million people have signed a petition calling for Education for All.
So it's hard to believe the rumor that we are not going to launch Education Cannot Wait with at least the modest minimum funding for proposed for the first year.
Because the most important time for investments is right now. Not just because of the vast immediate need, but because of the significant negative impact of not starting as we mean to go on.
The consequences of low-balling the launch
Only half-funding year one, will fully double the time it takes to reach all 75 million out of school children -- and that's assuming that the ambitious proposed rate of scale-up is still achievable.
Comparable global funds for health and education including GAVI, the Vaccine Alliance, The Global Fund to Fight AIDS, Tuberculosis, and Malaria, and the Global Partnership for Education, have seen average increases in their funding of around 48 percent in their most recent replenishment cycles bringing their average annual growth rate to 13.7%.

As of now, there are three potential scenarios for the Education Cannot Wait Fund to scale up:
Scenario 1: Start with a fully funded year 1 and scale up at ODI projected rates
Scenario 2: Start with a half funded year 1 and scale up at the same ambitious rate
Scenario 3: Start with a half funded year 1 and scale up at the average growth rates of other comparable funds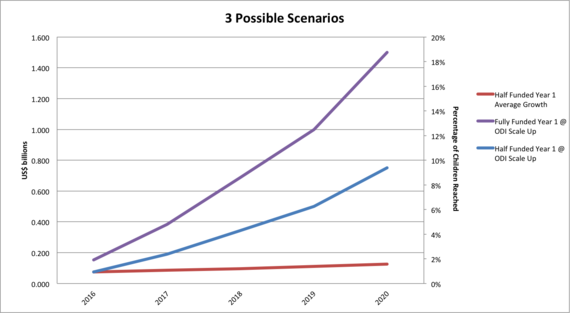 Starting with a half-empty fund, even with the ambitious rate of scale up projected by ODI, means it could take a decade to reach the five-year ambition of $1.5 billion. If in this political moment, when interest and attention are high, we cannot even fully fund year one, there's no reason to expect we would scale up at a rate faster than other comparable already successful funds.

In scenario 3, a half-funded year one with an average growth rate for comparable funds means that we may not reach the year five ambition of $1.5 billion until 2040 -- a decade past the SDG 4 goal for universal, quality education. And that's still only reaching 18% of the 75 million in need.
We must start as we intend to go on
Education as a life-saving intervention to protect children in emergencies is finally getting the spotlight it merits. Now is the time for big ambition. Action by halves is not enough. Failing to fully finance the Education Cannot Wait fund means that education for millions of children in crises around the world will not just wait, it will never happen. These children will grow up with higher chances of exploitation by traffickers, extremist groups and abusive employers. If they can find a way to survive, their children will suffer higher rates of poverty and death, many before their 5th birthday.
Millions of people, dozens of agencies, two former prime ministers and several more senior global leaders have come together to raise their voices so that all children everywhere -- especially those who have faced displacement and unimaginable trauma -- can rebuild their futures and communities.
Now it's up to those making funding decisions to let us know whether they were listening.
Because later is far too late.
Calling all HuffPost superfans!
Sign up for membership to become a founding member and help shape HuffPost's next chapter