If there's anything that history has proven again and again over centuries of art-making it is that art is perpetually informed by the work that preceded it; reconfigured and recontextualized for new generations of viewers and new understanding. Each of the Old Masters are remembered not only for the styles they innovated but for what their work contributed to the art historical milieu at large. Enter Eddie Martinez.
His work--a colorful and crudely-rendered assortment of tablescapes and recurring abstracted figures--is at all times evocative of the still lifes and portraits that dot the landscape of art history, executed in a manner not only revelatory of their influence but aesthetically on par with something else entirely. Now after years of developing his own remarkable and distinct pictorial language with little formal education, and an international career that has seen an incredible rise in recent years, Martinez is well poised to significantly influence future generations of artists as a kind of new master.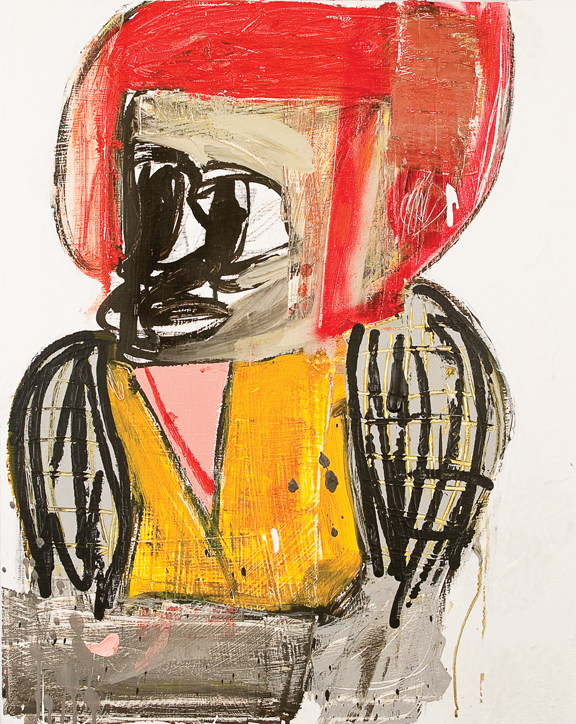 Eddie Martinez, Untitled, 2009, Mixed media on canvas, 24 x 30 inches. Courtesy ZieherSmith, New York.
Born in Groton, Connecticut in 1977, and featured in edition #68 of New American Paintings, Martinez grew up all across the country, bouncing around from coast to coast for years, which is no surprise for an artist who zigzags between multiple canvases simultaneously in his studio. His first experiences working with paint began with helping his father, a contractor, paint houses. The experience built an affection for using large brushes, a tool Martinez continues to employ in his work, but his predilection for long, large marks was largely informed by making graffiti in San Diego and Boston, spray-painting the tracks along Porter Square and the trestles of the Boston University Bridge.
"Spray paint is a tool that, immediately, you're going to make large marks with," Martinez tells me. "You're not going to sit there and make a two-inch mark."
Martinez left The Art Institute of Boston after a little more than a year, and he quit art school altogether after a month at Massachusetts College of Art and Design, citing frustration with having to take academic classes. In 2004, after two years in Boston, he returned to New York, and the artist's subsequent success there and abroad, including solo shows with galleries in Brussels, Copenhagen, Seoul, and Stockholm, would make quite clear that his inherent skill as an artist would be the cause of his achievement.
Before working with paint, Martinez worked almost entirely in drawing and graffiti, and a further examination of his paintings--despite their intimate or immense scale--reveals that he truly draws with paint. His still lifes carry with them a kind of abstracted portraiture, bred from frequent studies of his own style, with the scale and speed of graffiti left firmly intact.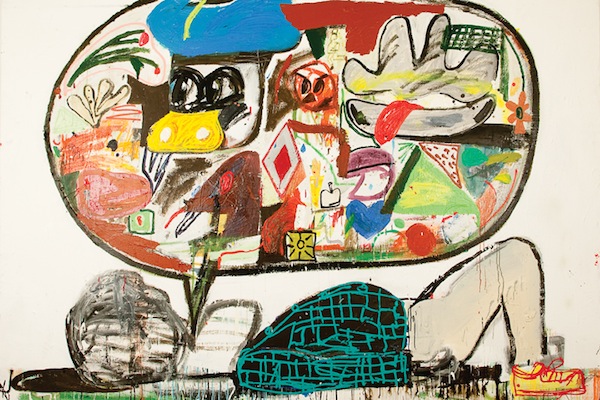 Eddie Martinez, Back Looker, 2009, Mixed media on canvas, 72 x 118 inches. Courtesy ZieherSmith, New York.
"The still lifes started with a miniature vase that my mom gave me," he says. "I collect miniatures--she had miniatures when I was kid. I just had this little inch-and-a-half tall, white and blue traditional looking vase in my studio, and I painted that and I decided to put flowers in it. It just started there. Because I didn't have a formal education, the way for me to get anywhere in painting was to start figuring it out on my own. Still life was the way to do that because you could just take an object and give it life, and treat the object as a portrait."
The object that Martinez has undoubtedly given the most life is the table. Recognized the world over, Martinez's table paintings are masterful and highly contemporary renderings of one of still life's most recognizable traditions made completely untraditional. Marked by a fondness for childlike, faux naïve application and compositions that richly recall the work of 20th-century masters like Picasso and Matisse, Martinez often flattens and breaks open the picture plane of his tablescapes, pushing the viewer full force into the two-dimensional surface of the painting.
"[The tables] become a plane for emptying out ideas and objects and marks and different ways of getting my energy out [without producing] a figure," Martinez explains. "Basically, all the tables in my life are cluttered, in my studio and in my house, and so that just sort of translates.
"What I also like about the table is that it lends itself to abstraction. And some of the tables have become completely abstract in the past. But now I feel like what I'm doing is removing the template of the table and just having what would be inside of that be the whole painting, but without even objects--just the marks loosely representing the object."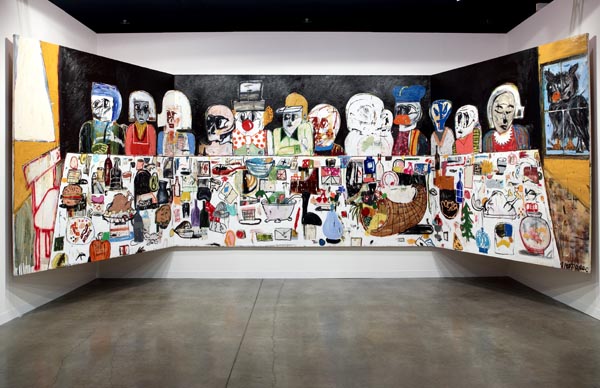 Art Basel Miami Beach installation view of Eddie Martinez, "The Feast," 2010, mixed media on canvas (triptych), 8 x 28 feet, Courtesy of The Saatchi Collection, London and ZieherSmith, New York
As Martinez continues to work in the table paintings, their scale has grown dramatically, and the artist jokes, "Go big or go home." Exhibited in December by ZieherSmith in the coveted Art Positions section of Art Basel Miami Beach, his most recent table spans a staggering 8-by-28 feet.
The Feast, 2010, which was purchased by famed British collector Charles Saatchi and will be exhibited at Saatchi Gallery later this year, harkens back to the mammoth religious triptychs of the Renaissance with a focal 8-by-12 foot center panel and 8-by-8 foot wings. Martinez explains that the painting has been repeatedly mistaken for another Renaissance classic.
"It's pretty traditional when we're talking about art history and traditional themes," he tells me while working on the painting in his studio. "This is as traditional as it's going to get... Everyone who looks at it, their immediate reaction is, 'Oh. It's the Last Supper.' I'm trying to stay away from that, but it's pretty difficult. It's kind of not possible," he says laughing. "It's funny because, with people thinking that's what it is, the centermost figure is a clown. Again, which is not intended, but it's pretty awesome."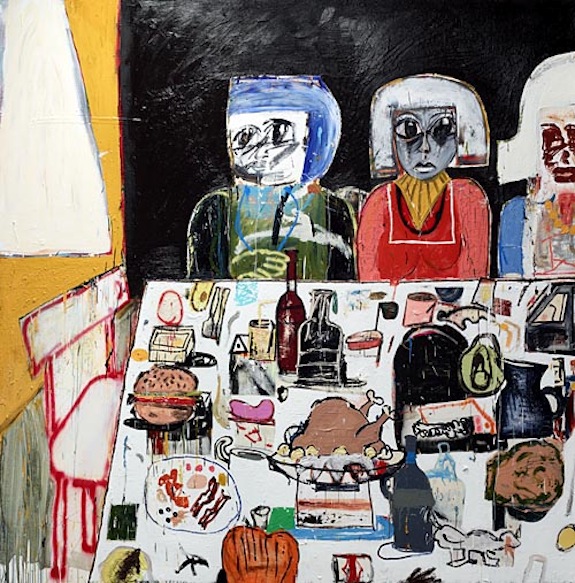 (detail) Eddie Martinez, "The Feast," 2010, mixed media on canvas (triptych), 8 x 28 feet, Courtesy of The Saatchi Collection, London and ZieherSmith, New York
The surface and scale of his works reveal an uncomplicated, masterful knowledge of the possibilities of paint (and graffiti), and like the history of art-making itself, Martinez continues to push beyond the styles and artists that precede him. His work is the result of the simple act of mark-making and the complicated task of revisiting historicized conventions while making them intensely fresh.
"I think the progression comes from my excitement," Martinez says. "And with things going the way they are, I just want to keep going and keep doing the things I want to do. I don't really see it slowing down."
New American Paintings is a juried exhibition-in-print and is the largest series of artist competitions in the United States. Working with experienced curators, New American Paintings reviews the work of thousands of emerging artists each year, with forty artists selected to appear in each bi-monthly edition, many of whom go on to receive substantial critical and commercial success. Additional content focuses on the medium of painting, those who influence its direction, and the role contemporary painting plays within the art world. Visit New American Paintings for more information or to subscribe.