First off, Auld Lang Syne needs to be taken off the sing-along list at my mother's Alzheimer's care center because if I walk in to hear "Should Auld Acquaintance be Forgot?" one more time the irony may actually kill me. That being said, I've loaded mom up with presents and am now headed south to New Orleans for the holidays. Here's a recommended week long itinerary in the city if you're short on good times rolling.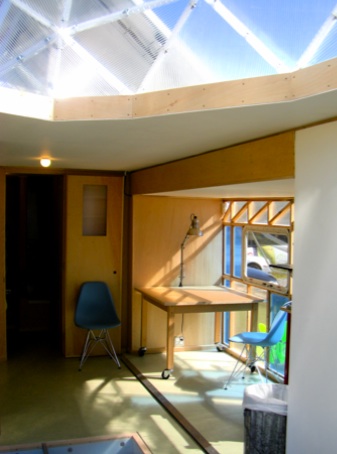 Global Green's Holy Cross Visitors Center and its neighboring Prospect 1 solar FEMA trailer are green sites offering a serene outpost as well as education on living free of harmful chemicals. The Prospect 1 international art biennial is in town for a few more weeks, and Global Green isn't going anywhere. Before The Mysterious Case of Benjamin Buttons was a gleam in Brad Pitt's eye, he was kicking off the architecture competition that helped usher in the green building boom in New Orleans. I had the chance to interview Global Green Director Beth Galante Global Green is Growing in Holy Cross (HERE), and Emergency Response Studio artist Paul Villinski The Artistic Greening of a FEMA Trailer (HERE).
Next up, you can catch Dr. John's Friday and Saturday shows at the House of Blues. A tireless warrior for wetlands restoration, and a teller of truth about what happened in the lawlessness after Katrina (now in The Nation), his CD The City That Care Forgot sets the aftermath to music with lines like, "You tell your Miss Billy Holiday, strange fruit of today ain't hanging from no tree but laying on the ground left to rot right where they drowned." It's well worth buying if no one gets it for your Christmas / Hanukkah / Kwanza gift.
I traveled with Dr. John into the bayou earlier this month for an upcoming article on the fragile condition of the wetlands - vital protection one of the country's most important port cities has against future storms. Not only port security, but also New Orleans' singular culture needs protecting with a major infrastructure push for both levees and wetlands restoration, and it's at the top of my wish list for President Elect Barack Obama.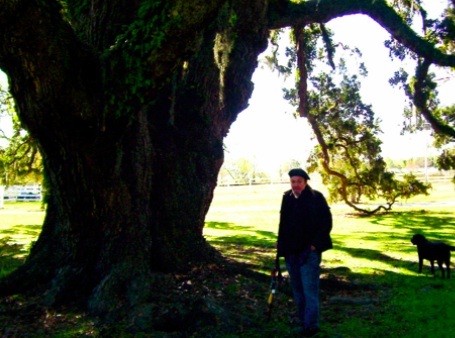 After a week in New Orleans, you'll have the chance to attend a New Year's Eve Bonfire in Mid-City, our pre-K neighborhood, thanks to local activists who pushed for the right to stand around a ginormous fire with cocktails. At the fire's edge you will have been well versed on letting Les Bon Temps Roulez.

I'm signing off with Ian Hunter's "How's Your House" because every holiday deserves an anthem and post-Christmas is pre-Mardi Gras in New Orleans. And a note to commenters, Levees.org founder Sandy Rosenthal busted Army Corps of Engineers employees for posting blog comments that the City of New Orleans does not deserve any better than sinking into the ocean. From their computers at work. So if any potential comments are from that crowd, knock it off and fix our levees.
Dr. John at the Rosella Plantation Photo by Bellavia
Solar FEMA Trailer Photo by Jeff Beninato