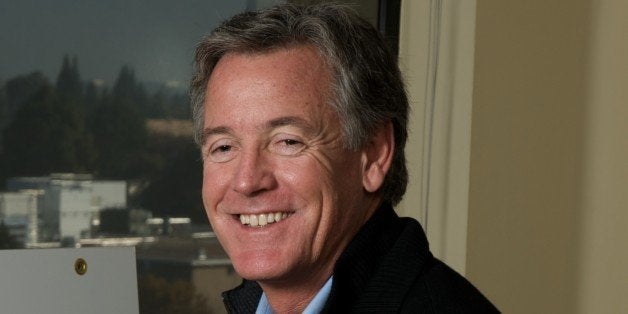 Much of what Tom Lounibos knows about business, he learned playing baseball.
The entrepreneur, who has spent a 30-plus year career building and guiding technology and software start-ups -- two of which he helped take public -- says that above all, the sport taught him about perseverance, a must for anyone in the business world.
"In baseball, you can strike out two out of three times, and still make it to the Hall of Fame," said Lounibos, CEO of SOASTA, which provides a platform for testing websites and mobile apps.
He didn't make it to the Hall of Fame, but Lounibos did play at the University of San Francisco for his beloved coach, Dante Benedetti, who made quite an impression on him. Benedetti worked for $1 a year because the school couldn't afford to pay him more, and kept the program alive, Lounibos said.
"He gave guys like me, who were young kids and kind of insecure, a chance to go and prove themselves on the sports field," he said. In 1978, Lounibos was drafted by the Minnesota Twins, later deciding his future lay in the tech world.
But Lounibos was inspired by his onetime coach's commitment to giving students a chance to play and learn from the sport. In 2006 -- roughly a year after his mentor died -- he worked to launch the first-ever Dante Benedetti Baseball Classic, a double-header featuring high school and college teams (including the University of San Francisco) at AT&T Park, home of the San Francisco Giants. It was a way of honoring Benedetti's work and continuing it, Lounibos said, not just by raising money for local children's sports teams, but by giving kids who might not otherwise set foot in a major league baseball park a chance to do so -- "and to dream."
These days, the nonprofit Dante Benedetti Foundation not only continues to work with other area organizations to raise money through the Classic, it provides financial support to organizations that give San Francisco community youths access to baseball. In some cases, that means supporting baseball academies that are open to any teen or tween who wants to participate; in others, it means working with the San Francisco Giants to help ensure there are enough baseball fields for young players.
"Having enough bats and balls and equipment to use is one of the toughest areas ... because budgets have been cut back," Lounibos said.
And while he no longer plays baseball himself due to a genetic retinal disease that cost him much of his vision and depth perception ("I still have that desire to pick up a bat," Lounibos said, joking that it would "probably be a little dangerous"), he remains a fan of the sport -- and the skills and values it can teach young players.
"Sports are a really great educator," he said. "We're looking for [kids and teens] who just need a little bit of a push ... and really, just the chance to participate."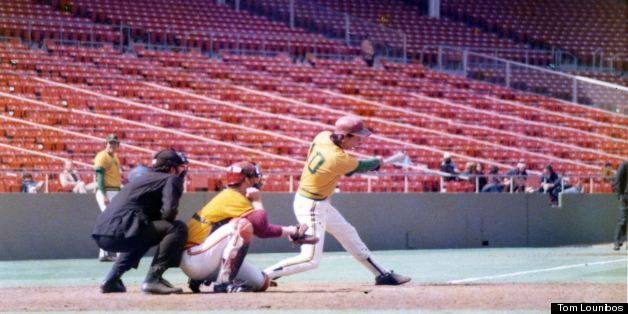 Lounibos batting at San Francisco's Candlestick Park in 1975.
This post is part of a series produced by The Huffington Post highlighting the contributions of Go-Givers -- people who are looking beyond a "Go-Getter" approach to success and redefining success to include the importance of giving back. To nominate a Go-Giver of the Week, email gogiver@huffingtonpost.com.
REAL LIFE. REAL NEWS. REAL VOICES.
Help us tell more of the stories that matter from voices that too often remain unheard.