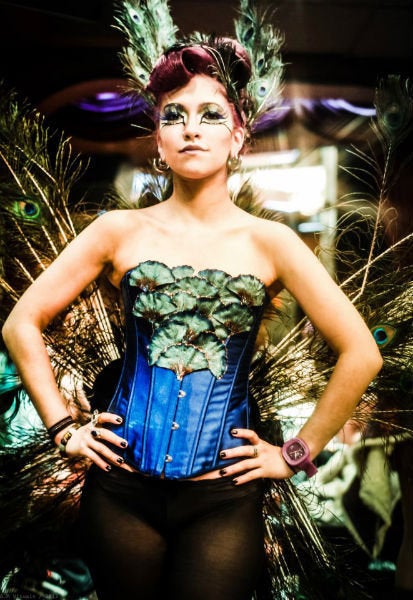 With wavy purple hair, a discernable nose ring and a furry black coat, 20-year old Gabby stands out even when she's not in costume. But when she undergoes her colorful transformation every Friday night, the suburban Maryland native is sure to turn heads.

Dressed as a peacock, Gabby portrays elegance and flair that is only enhanced by her purple hairstyle. Dressed as a clown, she is set free to entertain a crowd with no inhibitions.

Sweaty old men ogle at her from afar, perhaps hoping to take the young woman home. But unlike strippers all too willing to get intimate, this young dancer won't be looking down.

Whether in a Washington nightclub or a suburban music festival, "Ziggy Twigzz," as she calls herself, is a go-go dancer who dedicates every waking minute to her misjudged career. Her grandparents have no idea. Her mother just recently found out. But the city's partygoers have surely seen the alluring nighttime dancer, who frequents Washington D.C.'s most popular venues.

"I love dancing more than anything," she says. "Becoming a dancer... that's how I found myself. I never knew that I had that passion until I started."

And that passion was in high demand. The rise in new-age electronic music has come hand in hand with a rise in go-go dancing, especially as techno, house and trance music transitioned from the underground rave scene to mainstream culture.

"It's kind of like a package deal," Ziggy explains. "As long as you see a growth at those types of events, then there will definitely be growth in the entertainment aspect of it."

The style has largely evolved from the 1960's-era freestyling that the girls were initially known for. Go-go was first inspired by the Parisian discotheque, arising from the sexual revolution during a time when American women sought individuality and liberation -- often through dance. The business commonly attracted would-be entertainers, many of which endeavored to become actresses or Broadway stars.

Today, go-go girls continue to freestyle at shows and nightclubs, but can often be seen raving to techno, house and trance music -- new styles of electronic music that largely emerged in the 1990s and became popular after artists like David Guetta collaborated with pop singers like Nicki Minaj.

But while the glitzy showgirls have become celebrated for their short skirts, platform boots and flashy outfits, they never take their clothes off and they never give lap dances -- at least, the serious ones don't. Ziggy calls herself a "professional entertainer" -- and claims that anyone who does otherwise is not a real go-go dancer.

"I know promotion companies that just hire girls that are wearing fishnets and a bikini and they dance for free," she says. "But we don't work for free, and we do everything with the utmost care."

As a professional go-go dancer for a Washington-based team called Dystrucxion, Ziggy spends late nights hyping up the crowds and inviting solemn partygoers to fill the empty dance floors. She usually performs with at least one other girl from her group, typically between midnight and 2 a.m. The girls from Dystrucxion are divided among the various nightclubs at which the group boasts a 'residency,' with each girl making $100 to $150 for every night that she dances.

The wages may seem meager compared to the hundreds, sometimes thousands made by women who bare it all: strippers in the oil boomtown of Williston, N.D. have reported cashing in on $2,000 to $3,000 a night with little effort. But a stark commitment to retaining their modesty is what often sets go-go girls apart. Even if they do show up to nightclubs wearing a crop tops and knee-high platforms, they maintain a considerable distance from the men gawking at them from the dance floor.

Go-go dancing demands exhausting vigor, time and energy -- but often yields only one tenth of a stripper's pay. Still, thousands of young American girls choose to supplement their lives with go-go without surrendering their humility.

Many of them are college students. Some are yoga instructors. Others work full-time day jobs in corporate offices and enjoy the extra cash that a night of dancing can quickly yield them.

Although Team Dystrucxion consists of about 30 girls, Ziggy has been a member longer than most, since many of the others come and go quickly, leaving for other opportunities in education or the workforce. She joined the group shortly after she turned 18 -- the legal age to work as a go-go dancer in many of the District's nightclubs. But her interest in dancing was sparked when she was "probably about 16 or 17," she says.

"I went to an event in Baltimore where I saw the first go-go dancers that I had ever seen," she recalls enthusiastically. "And I just remember being so captivated. They were dressed like clowns and it was just crazy. I just remember thinking, 'wow, I've never been so moved by an entire experience' -- and not just the music. The dancing gave it so much more depth."

Months before her high school graduation, Ziggy launched her own go-go career and is now among the country's top dancers. She gets hired to freestyle at festivals all around the country, including the Electric Daisy Carnival (EDC), which requires her to dress up as a clown, and Miami's Ultra Music Festival. She even works with America's most-renowned go-go queen, a Denver-based woman known as "Ms. Easy."

But it's not as easy as it sounds: professional go-go girls are required to dance in heels while often wearing heavy layers of make-up that would instantly smudge if they touched their faces.

"You have sweat and makeup in your eyes and you can't touch your face," described the 20-year-old dancer. "I've been on a stage where I seriously can't see because I have so much makeup and sweat in my eyes and I have to keep dancing and make it look good and not have my wig fall off."

And when in costume, go-go girls must always stay in character, especially at festivals that draw an audience of thousands.

"When I dance for the EDCs, we're dressed as clowns, and there's sometimes a mime character. And the mime does not talk," Ziggy says. "We don't even drink water in front of people. We have someone that comes with us carrying our water, because we can't be seen holding it, because that's out of character."

To master the combination of dancing, acting and entertaining, go-go girls regularly work on their skills outside of nightclubs and festivals. Whether taking professional dance classes, designing their clothes or keeping fit at the gym, it's a job with hours that extend far beyond the pay -- and some might even call it a lifestyle. Ziggy was a dance major in college. She knows how to perform with fire, how to design costumes and how to walk in heels so high that it's a miracle she can even maintain her balance.

"Balance and poise, that's what comes with dancing in elevated shoes," she says, indirectly scorning those who associate go-go dancers solely with pink, furry winter boots and a trashy bikini. "If you're go-go dancing in Uggs, you can't dance."

While the music has evolved and outfits have evolved since the '60s, the fundamental duty of a go-go dancer remains the same as it has been for decades: to hype up a crowd -- especially one that isn't dancing.

Southern California was the launching pad of the first go-go team nearly half a century ago. In 1964, the Los Angeles-based club, Whisky A Go Go, accidentally gave birth to a movement that quickly spread across the country. Elmer Valentine, a former police officer and founder of the nightclub, had named his venue after a discotheque he saw during a 1963 trip to Paris. The launch of his club was an instant success. Famous bands such as the Who, the Doors and the Byrds all played at Valentine's club, drawing in enormous crowds that made Whisky a Go Go one of the most famous venues in Los Angeles.

To fill up the time between live acts, Valentine hired a female disc jockey, Patty Brockhurst, to play records. With no room for the girl on the crowded dance floor, the club-owner built a glass cage for her and suspended it above the audience, from which she spun the records undisturbed. At one point, the girl unexpectedly began dancing to the songs she was playing, exciting the crowd so much that Valentine soon built more cages for other go-go girls to dance in.

The glitzy outfits, vibrant wigs and towering boots were designed over time by the dancers, and continue to be the entertainer's responsibility. Ziggy spends hours designing her own outfits, each of which is customized for the venue to which she devotes her evening.

"I have to go to fabric stores all the time. We don't just buy stuff and wear it," she says. "We make the stuff that we do because it's better for bookings. People will know that they can get customized, personalized stuff for their events."

Last month, Ziggy was dressed as a peacock, complete with an extravagant eye-spotted tail and the make-up to match it. Other professionals do the same: Ziggy described an event called "Beyond Wonderland," where the dancers had their entire bodies painted to resemble the Cheshire Cat.

But girls who simply move their hips on a platform in clothes they can buy at Spencer's Gifts are the type of girls that Ziggy says distort the public perspective about go-go.

"And it's girls like that who pretty much step on everything we worked so hard to achieve, respect-wise," she says. That includes girls who drink on the job, take their clothes off or take drugs on the job -- all of which professional go-go dancers are not supposed to do.

"I really want people to realize that people just have an incorrect perception of it," she says. "[This is] a lot of the stuff I had to explain to my family."

Until the public perception about go-go dancers evolves, 20-year-old Gabby will continue to go by her stage name, Ziggy Twigzz, which allows her to fully embrace her character without the backlash of her extended family's intolerance. But even though she may sometimes be mistaken for a stripper, stalked by "creepy dudes" or questioned about her job, the young dancer would never want to give up a job she calls 'empowering' -- a job that teaches women to love their bodies and find confidence on the dance floor.

"I'm so lucky that I have the job I have," she says. "I mean, how many people can say they get paid to dance?"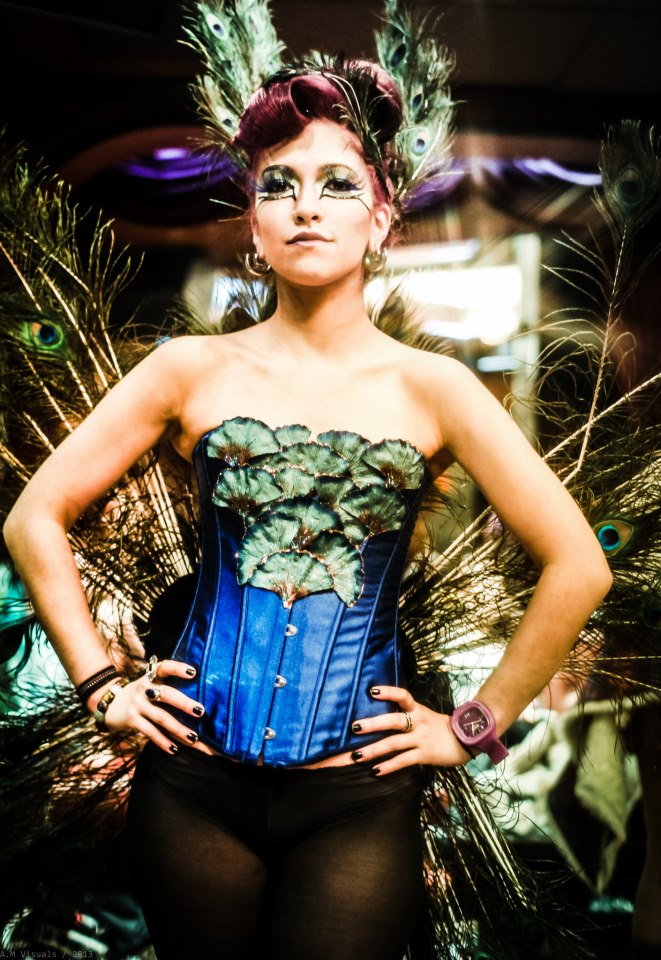 Photo by Alejandro Martin
Related
Popular in the Community