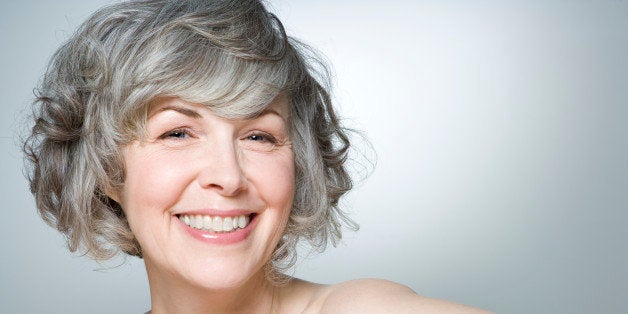 SPECIAL FROM Next Avenue
My friends tell me I should consider myself blessed, because at nearly 52 years of age, I'm just beginning to show my gray. And while it doesn't bother me — yet — I'm starting to think about color for the first time in my life.

The odds are, though, that I won't go there, for a variety of practical reasons: the chemicals, the cost and the hassle of upkeep. But mostly I just don't want to mess with Mother Nature.

I came close to coloring my hair last year, when my father passed away. My sisters and I contemplated dyeing our brunette hair red in solidarity: My father went into the great beyond at 84 with the same gorgeous copper-red hair with which he came into the world.
How Women Used to Grapple with Gray

Until recently, women fell into two basic camps: those who colored and set their hair until it didn't, or couldn't, move (think "helmet head") and those who went gray naturally.

"Several decades ago, when women decided not to color their hair, they just grew it longer and pulled it back," says Elizabeth Cunnane Phillips, a trichologist at Philip Kingsley salon in New York City. "You got away with having gray hair because that's what the norm was — it was either done and colored or it wasn't."

Today, women who want to hide their grays have many options. There are demi- and semi-permanent hair color options that are ammonia-free, and therefore less damaging, as well as permanent color, a stronger cocktail of chemicals that keeps the color longer. (Semi-permanent color typically fades in about a dozen shampoos, while demi-permanent color lasts twice as long. These options are best for those whose head of hair is about one-quarter gray.)

Then there's a completely different contingent of women ready to get their gray on but whose husbands don't want them to. "I'm always intrigued by what dictates that," Phillips says.

Either way, there's no getting around the stereotype that gray is "distinguished" on gentlemen and "dowdy" on ladies. "The high-level women I consult with say, 'I can't let it grow out now. It won't work in the boardroom,'" says Phillips. That's true in reverse, too. "When the husband is in the boardroom and there's a lot of social interaction, he often doesn't want his wife to be gray," she says.
Steps to a Color-Free Future
If you've been coloring your hair regularly but feel ready to take the gray plunge, realize that growing it out isn't going to be a quick and easy process. First, get a consultation with a good colorist, preferably one who has helped a lot of women slide into silver. And then, because your look is going to be one of "transition" for a while, choose your timing carefully and plan to be patient. You don't want to start growing out your color right before an important presentation or social event.
Tips for Going Gray
Go shorter. A different cut helps to eliminate a bulk of the hair you're trying to match or catch up to — it also introduces the element of new.
Go lighter. Ease into gray by going lighter first, says Phillips, who recommends starting that process as early as possible. This eliminates and/or lessens the demarcation between regrowth and pigments that you're applying.
Add lowlights. Instead of doing a full base color, start doing lowlights — that is, instead of coloring all of the hair, re-pigment hair that's your base color in strands as opposed to in full. "There are several benefits to this," Phillips says. "It buys you more time between appointments and it can look very natural — not like you've gone gray overnight."
Temporarily cover new gray growth. Within five days, you start to see the shadow of roots; by week four, they're obvious. In response, the hair-care industry has created a number of products to cover you up in between appointments. You can use a crayon-like cover-up stick from Roux; mascara wand–type color applicators, such as Generation Klean's Gray Disappear; spray-on hair color powders, like Bumble and Bumble's; and rinses and foams, including a line from British hair guru John Frieda.
How to Care for Gray Hair

Once you've grown out your gray, plan to put in a bit more effort to maintain it and keep it healthy. Step up your regular maintenance: Your old shampoo and conditioner won't cut it anymore. Choose products that brighten and clarify the gray, like Blue Malva from Aveda, Pantene Pro-V Silver Expressions, Clairol Shimmer Lights and Pure Silver from Philip Kingsley.

Because gray and white hair is naturally more coarse, dry and brittle, you'll want to give it special care, like having regular deep-conditioning, warm-oil scalp and restorative elasticizer treatments.

"In a perfect world, you should have an elasticizer treatment every two weeks," Phillips says. "Or you can do it yourself at home." This helps to bring moisture and elasticity back into the hair fibers to help reflect light and shine. She further stresses the importance of protecting your gray hair from oxidation and advises clients to stay out of direct sunshine, which can make hair dull-looking.

Refresh Your Face

When you do go gray or white, your skin can look a bit washed out. This is a perfect excuse to toss your old cosmetics and bring in some new, added color.

Choose hues that will brighten your complexion and not fight the gray. The right (and brighter) blush, for instance, becomes much more important now, as does a nude lip liner and a rich lipstick that's just a few shades deeper than your natural color. But steer clear of black liner, face powder and smoky or dark eyeshadows. These will not only age you, but work against your gorgeous new gray.

Need a little more inspiration? Just think of all the beautiful gray-haired women out there, including Emmylou Harris, Jamie Lee Curtis, Helen Mirren, Annie Lennox and models Carmen Dell'orefice and Kristen McMenamy. And for camaraderie and more good tips, check out the upbeat blog Revolution Gray. Apparently gray isn't just a hair color, it's a lifestyle.

Read more from Next Avenue:
Raw Power: The Return of Old-Fashioned Jeans
Long Hair After 50: Who Says You Can't?
Beautiful Hair at Any (Every!) Age

Before You Go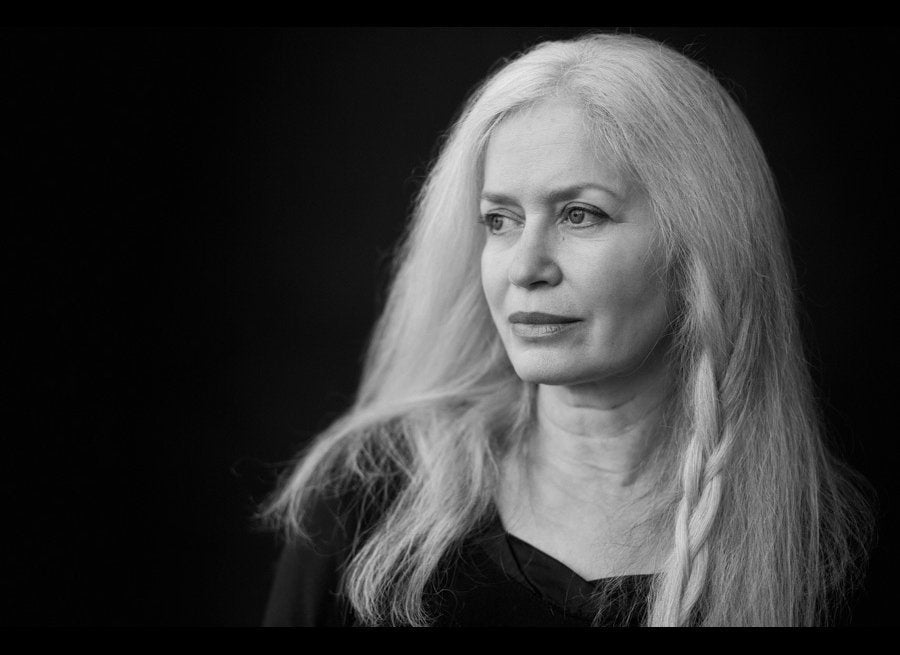 25 Ways To Rock Gray
Popular in the Community