I'm a sucker for a little film with a big heart. (And look around -- we don't have that many to choose from these days.) It's one of the reasons Away We Go had me from the very first frame.
The new romantic comedy, starring Maya Rudolph and John Krasinski, and directed by Sam Mendes (Revolutionary Road), is one of the sweetest road movie in years, a tender, often humorous expose of how to survive the sloppy spitballs life often shoots your way. (You don't always have to duck.) It's also an emotionally rich love story in which Krasinski (The Office) and Rudolph (SNL) morph into a financially-strapped couple expecting a baby. Six months into the pregnancy, they're forced to consider leaving their Colorado home when Krasinski's parents decide to take off on a whirlwind, once-in-lifetime adventure. Hoping to relocate and land into the right set of circumstances where they can raise their child harmoniously -- surrounded by either good friends or relatives -- the lovebirds set out to visit a handful of their posse around the country.
Novelists Dave Eggers and Vendela Vida penned the screenplay, something Rudolph says she was immediately captivated by when she first read it. Then again, so was Mendes, who told me, "It's very rare to find a portrait of a couple that is that 'real', that genuine... the script made me laugh and I needed to do something with some laughter in it. [Revolutionary Road] was very bleak."
Away We Go is anything but. Neither is Rudolph for the matter. She sheds her late-night comedy skin nicely -- but oh, how we miss her impersonations of Donatella Versace and Ms. Aguilera - -with this standout performance. I recently interviewed Rudolph -- also the daughter of the late soul singer Minnie Ripperton -- about the film, being a mother to her three-and-a-half-year-old daughter (another child is on the way), why undergarments are, and aren't, important, and, well, so much more...
Q: What made you say yes to this?
A: I think because the characters, Burt and Verona, were kind of their own and the fact that they truly loved each other and had something really special. That was really clear the minute I read it. I just felt like you wanted to be part of their world. They really were truly just something else that I hadn't seen or hadn't read and it felt really natural, and way more like real life and what love can truly be -- and not a movie depiction of what romance is. I really fell in love with them.

That's a good thing and I suppose you can't practice 'having chemistry' with another actor. You and Krasinski seem to have that.
Well, we did a lot of chemistry calisthenics. (Laughs)

It involves a lot of ab work, actually. People don't expect that, but there's a lot of cardio and a lot of leg lifts involved.

It's great for the gluts.

You have to watch out for those gluts, you know?
It's great for the gluts, exponentially, but [John and I] were both really happy to find that we were working together. We liked each other's work and we knew each other very peripherally through mutual friends, and we never had a chance to hang out. But we were so happy to find that we liked each other so much, because it is really, just the two of us [in the film]. We really do have to become a team and it was easy to do, because we were enthusiastic about working together. We really hit it off.

Your character is pregnant in the film but you weren't pregnant when you shot it, but now you are pregnant. What's the best thing about being a mom?
I didn't know I was gonna get so lucky and get such a great kid. You can get a... bad one. And I got a really good one. (Laughs) She's magical and really unbelievable. I can't believe every stage that I have had with her. When she was an infant and wasn't speaking yet, we had such an incredible bond that did not involve words. We communicated in this quiet and gentle way, and I look back on it now, in little home movies of herself, and she can't believe she was so quiet. She's a full on person with her own personality. It's mind-blowing that she listens to me. Well, she doesn't listen to me all the time... but that I am in charge is pretty mind-blowing. I am still not 100 percent used to that concept.

It can be when you think about it.

Because I'm afraid to get a dog let alone ...
Yeah, I mean, when you step back and realize that there is nobody else in charge, it's like, 'Whoa ... shit. I better get my act together.' It's only when I say things that other parents have said, or that you've heard your parents say to you, that you say, 'Who am I, who have I become?' You hear yourself saying 'You need to sit down and eat your food.' And it's like, 'Oh God, how did I become her? But you know what? If I don't say it, nobody else will.

This is a relationship movie. What do you think are three things that make a relationship work?
Well, one thing is acceptance. I think that's what's really going on between Burt and Verona. That's why they're so solid. They've already accepted who the other person is. You know, you can hem and haw all you want about things, but accepting the other person for who they are gives you the ability to love someone for who they are. But I, personally, could not be in a relationship without laughter. That's really important, especially when times are shitty.

What sort of things did you learn from director Sam Mendes?
He gave me so much freedom. I didn't know what to expect. He was so incredibly thorough on who Burt and Verona were before we started, and the way we talked about them. I was amazed at how much freedom he gave me to explore how to come up with her. It was incredibly collaborative and I was surprised by that, because every director is different -- 'I want this, I want that!' -- but I felt very much a part of her and it was actually nice to not know what to expect. I was familiar with Sam's work and we all loved it, coming into the film, and then from there, we all put it together. That's why seeing it now, I can be really proud of it, because we had spent hours...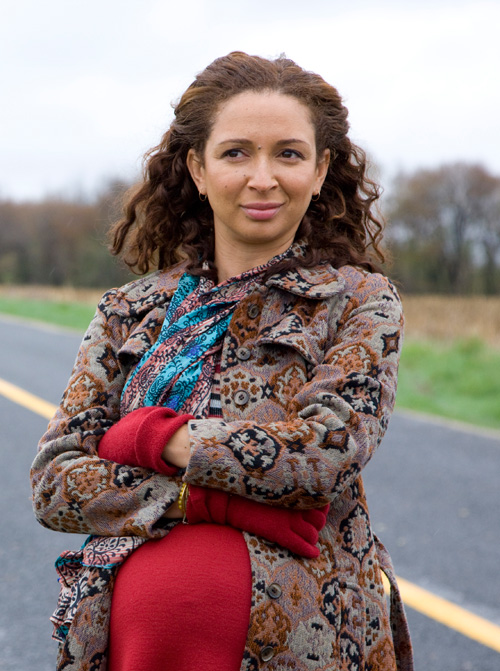 You went to UC Santa Cruz.
I did. I am a Banana Slug. I ended up with a photography major.

So you enjoy taking pictures?
I don't know about that any more. Yes, I do love taking photographs and I get made fun of in my house because it's like 'Who's the one with the photography degree?'

What did you love most about that time?
All my friends grew up in Berkeley and San Francisco so I feel very at home in the Bay Area, weirdly, even though I am from Los Angeles. I mean, I went to New York and everything, but I definitely feel like this is also the natural place for me to be. I am a little bit of a hippie, I am not going to lie. I can't. But the UCSC hippie... that is very extreme compared to the hippie I am talking about it. I mean, my parents were hippies. I mean, they were vegetarians. I grew up with the health food stores with carob instead of chocolate chips. There was no soda in the house.

Yeah, well, I'm carob'd out. I won't even get that stuff to my daughter. Tiger Bars are as far as I go.

Some word association fun. Oprah or Tyra?
Can I have both? Am I allowed to have chocolate and vanilla?

Absolutely. Coffee or tea?
Tough one. Nothing beats coffee but I am tea drinker as well. There are days when I drink shitloads of coffee and then an iced tea, but that's when I want jet-fuel energy.

Goofy, sleep deprived nut jobs having the time of their lives. And eating a lot of food together at really bizarre hours.

Donatella Versace or Christina Aguilera?
You're too fun. OK, what's some of the best advice you've been given about life?
Hmm, other than don't wear underwear to bed... which is very important.

I think my mother told me that as a little girl. It's not to be gross, but you need to be free and air things out.

The whole idea about underwear, in general, it is a bit extreme for sleeping. But lets' see... well, there's the whole 'trust your instinct,' which is 'wah wah' but I think it came in handy when I had a child. Like, how do you raise a child when you don't know what the hell you are doing in your life? You do your best. Your trust your instinct. You trust your guy. All that.
Um... I don't mix coffee with cantaloupe because it gives you a terrible stomachache and If I can impart that wisdom to most people, I think it would change their lives.

So what makes you laugh these days?
My daughter makes me laugh quite a bit I have to say.

What's the most interesting thing you've been learning about yourself lately?
That I am not getting any younger.
Never a bad thing to learn.
Popular in the Community