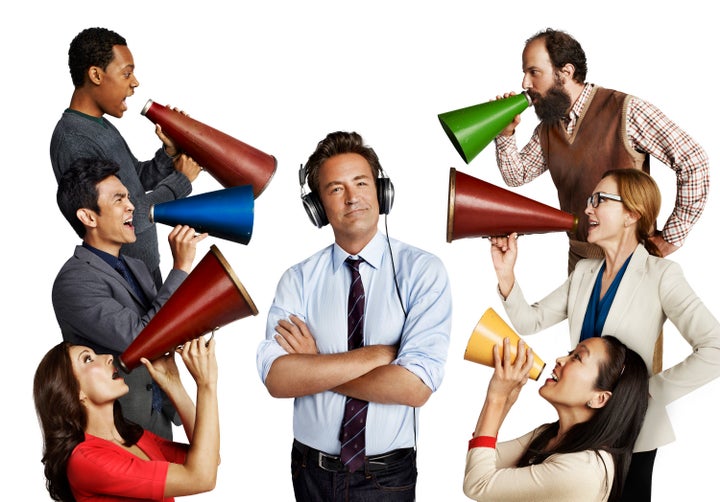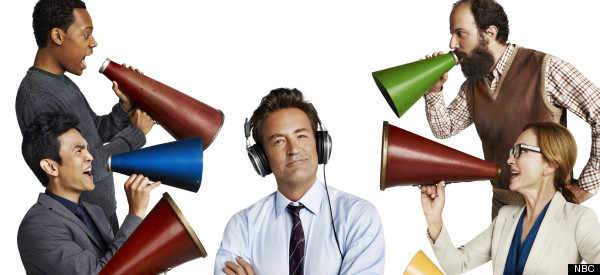 "Go On" and Animal Practice," both of which have sneak peeks this week during the Olympics, represent the two strands of NBC's halting efforts to reinvent itself.
"Go On" (11:04 p.m. ET Wednesday) is a moderately entertaining ensemble comedy built around a star, something that works well on a schedule that also features the likes of "Parks and Recreation" and "Community." With "Go On," the network doesn't resist its generally laudable comedy legacy and doubles down on the part of its DNA that has won it critical praise and cult audiences but iffy (if not career-ending) ratings.
"Animal Practice" (10:38 p.m. ET Sunday, after the Olympics' Closing Ceremonies), on the other hand, is fairly likely to feature the throwing of dog poop in the near future. It has a monkey. It shows that monkey riding a tiny ambulance.
You can't really blame NBC for going big and broad, or at least trying to. Last season, it offered smart fare like "Prime Suspect," an unsuccessful but at least different period piece like "The Playboy Club" and watched much of its quality programs weaken in the ratings (or nosedive in both ratings and quality, in the case of "Smash"). What executive, given the season NBC had and the decade the network has endured, wouldn't say, "Ah, screw it. Let's try the thing with the monkey!"
"Animal Practice," which stars Justin Kirk as the arrogant head of the country's top animal hospital, is not subtle. Its supporting characters are about as schticky and one-note as you might expect them to be. Having said all that, the monkey on staff is pretty great. Crystal, whom you may recognize for her work on "Community" and in "The Hangover," has killer comic timing as "Dr. Rizzo" and steals her share of scenes with some legitimately funny gags. I'm not made of stone; more often than not, the funny monkey made me laugh.
Yet monkeyshines are not enough to base a show on, nor are tigers in labor and/or dogs with intestinal troubles. To their credit, the producers of "Animal Practice" realized that the actress previously cast as the lead wasn't really working and revamped the show accordingly. JoAnna Garcia Swisher ("Privileged," "Better With You"), one of the most dependably likable and winning actresses in the TV trenches, is an able foil for Kirk in the new and improved pilot, which has been toned down and made much more tolerable (it wasn't a good sign that in the first pilot, the animals were less screechy than the people). If this show finds ways to consistently make good use of Kirk, who's always been one of the best parts of "Weeds," and Garcia Swisher, who's deserved a high-profile success for a long time, it'll be worth keeping an eye on.
But don't look for the will-they-won't-they between Kirk's Dr. George Coleman and Garcia Swisher's Dorothy Crane to recall the deft early days of the Jim-Pam attraction on "The Office" or the sweetly endearing devotion of Leslie and Ben on "Parks and Rec." "Animal Practice" is starting out from a much brassier and more shameless place, but it's not completely unmindful of the characters' emotions, and it's worth noting that even the best NBC shows of the last decade needed some time to find their feet. The pilot doesn't allow the supporting characters to do more than play somewhat grating stereotypes, but I'll keep watching to see how they develop (and yes, OK, to see what the monkey does when the show returns with its "real" debut Sept. 26).
"Animal Practice" might devolve into a lot of jokes about mammalian reproduction and/or defecation, or it might evolve into a goofy workplace drama with reasonably sparky leads and occasionally frisky pythons. Given the quality of the core cast and the mildly pleasing (if broad) nature of the pilot, I've got my paws crossed and I'm hoping for the latter.
"Go On," which stars Matthew Perry as a recently widowed sports-talk radio host, seems like the much riskier bet, but Perry ably carries the first episode; all that remains is to see how the show develops its premise, which (as many have others pointed out) resembles a low-rated ensemble cult-comedy about a group of oddballs. Yep, it's more or less "Community" set at a "life transitions" class.
If there's one thing that grates about "Go On," it's that the first episode sets up an all-too-familiar TV dynamic: Perry's character, Ryan, is allowed to be a rogue-ish rule-breaker, while Laura Benanti's group-leader character, Lauren, is often a killjoy who gets little comedic material as she tries to get Ryan to follow the rules. Charming man, uptight lady -- where have we seen that dynamic before on TV, aside from almost everywhere?
I get that the first episode needs to give Ryan someone to argue with, but there are other potential obstacles. Despite the title, it's not quite clear where the show goes on from the pilot; Ryan tries to get the group to lighten up a bit, and once he's done that, presumably he still has his share of grieving to do, but it's questionable how much NBC executives want the show to delve into that. You can almost feel their ghostly presences hovering around the margins, asking the "Go On" team to make the characters' personal losses a little more hilarious.
The premise has more promise than the uneven "Mr. Sunshine," Perry's weirdly sodden previous vehicle, and the supporting cast seems especially solid (especially Julie White as another angry widower and Brett Gelman as a creepy dude), but you have to wonder how much NBC will let the show embrace the sadness that these characters are contending with. The truth of the matter is, the pilot is well-paced and the first half is especially fun; Perry in enthusiastic mode is enjoyable to watch. He can do snarky, cynical Chandler Bing wisecracks in his sleep, but let's hope the "Go On" producers know better than to rely too much on that.
The biggest question about this comedy doesn't even pertain to its current cast. Here's the real test: If "Go On's" debut is low-rated, when the show returns Sept. 11, will Perry be joined by a monkey?
Calling all HuffPost superfans!
Sign up for membership to become a founding member and help shape HuffPost's next chapter