Why would anybody in their right mind willingly go Over the Edge of the Miami Marriott Marquis? Oh yes, the old "it's for the children" routine. Yet, it really is for the children of Liberty City, through the work of the Miami Children's Initiative (MCI), building strong families block by block.
That's how Geoffrey Canada built the Harlem Children's Zone (HCZ), by going block by block. HCZ is an internationally recognized model that has experienced astounding results since it began in the late 1990s as a one-block pilot program in Harlem. The goal was to create a "tipping point" in the neighborhood so that children are surrounded by an enriching environment of college-oriented peers and supportive adults, a counterweight to "the street" and a toxic popular culture that glorifies misogyny and anti-social behavior. HCZ now encompasses over 100 blocks and 11,000 children. From cradle to college to community, their mantra is "whatever it takes" to save our inner-city children and families. And it works.
In the truest spirit of the Harlem Children's Zone, the Miami Children's Initiative and their small staff work like bees towards a prosperous, family-focused Liberty City by transforming the lives of children in the early learning years when the return on investment is the highest. Like the Harlem project, MCI helps families obtain the resources they need to build strong households. Every child in an early learning program, every child receiving an enrichment experience like art or tennis, every child has a medical home and on and on and on. Parents are offered job opportunities, family counseling, financial literacy skills, workshops on discipline, bonding and safety. Like any success in life, the secret to these programs is to be laser-focused and intentional. ALL hands on deck. Everyone involved.
So, in 2012 MCI optioned one of the most unique fundraisers ever called Over The Edge, where Miami's most famous, most powerful and most adventurous are invited and raise $1,500 in exchange for the knuckle-biting privilege of rappelling 19 floors down the side of the Miami Marriott Marquis. No, seriously. About 100 "thrill seekers", me included, are going to strap on harnesses, gloves and hard hats and in front of God and the media, step off the ledge, feet against the glass and slowly inch our way down 200 feet for those Liberty City children. That's the only way this tomfoolery can make any sense.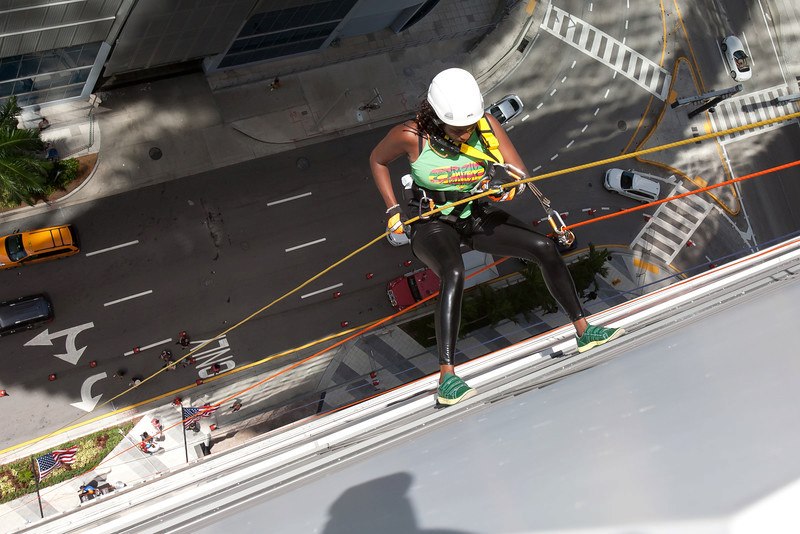 The list of victims -- errrr personalities -- that took the challenge last summer included international renowned jazz superstar Nicole Henry, Superintendent of Miami Dade County Public Schools Alberto Carvalho, School Board Member Raquel Regalado, then-President of The Children's Trust Modesto Abety, Managing Partner at Greenberg Traurig Jared Davis, City of Miami PIO Delrish Moss and little ole me. This year's cast of characters still includes Carvalho, Regalado, Davis, but adds Senator Dwight Bullard, Miami Dade Commissioners Pepe Diaz and Juan Zapata, MDCPS Assistant Superintendent Pablo Ortiz, the new president of The Children's Trust Charles Auslander, UM's VP of Human Resources Nerissa Morris and the owners of Buena Vista Bistro, among others.
Last year, it was all fun and games raising the money then having my friends and family watch me get suited up in my official gear, my friend Charlie taping the whole thing, people high-fiving me. Until I actually had to do it. I know now why it's called Over the Edge, because it's in that exact moment of stepping over the railing that the panic sets in. I wanted to faint or for my daughter to have a tantrum just to have a plausible reason to abandon the mission. I wanted to cry. But as terrifying as it was, I did it and was never so happy to see concrete in my life.
So, I keep asking myself, "Why did I agree to do this again"? Well mostly for the children and my belief in "whatever it takes", but also for Cecilia Altagracia Gutierrez-Abety, one of the most sincere community activists I've ever met. She really, actually, truly, sincerely CARES about our children and their future. She is THE boots on the ground, ride or die, get her hands dirty, walking block by block, do the work Managing Director of Miami Children's Initiative. And with her passion for this groundbreaking program, she manages to rope almost everyone into her web of community participation. A phone call, an email, a kiss on the cheek, a big hug and twinkle twinkle little star the next thing you know you're raising money like it's your job and you find yourself on a ledge overlooking Biscayne Bay peering down at moving cars and people who look like ants.
Why can't MCI just have a normal fundraiser where people give you $1 per mile you walk? Because MCI is determined to stand out; the charge of changing the lives of the children in Liberty City demands it.
As President Obama put it, programs like the Harlem Children's Zone and the Miami Children's Initiative are "literally saving a generation of children in a neighborhood where they were never supposed to have a chance."
Over the Edge Miami 2013 is Sept. 6 and 7 at the Miami Marriott Marquis in Downtown Miami. Rapellers go over two by two about every 30 minutes. The public is welcome to watch us scale the building. On behalf of my fellow rappellers, I hope you, the reader of this blog, will join our "whatever it takes" mission and support Over the Edge Miami.
After all, it really is for the children.