What a week it has been on social and news stations around the world! The silly game that has created an overnight triumph - both online and in the physical world. ...Pokémon GO has people out and about and away from their homes in an attempt to catch the digital monstrous.
I must admit this one has had me a bit excited as well. Yes, I've downloaded the App but have yet to venture out. I have; however, watched other Pokémon GO enthusiast's in action at the local park and downtown pedestrian mall.
An augmented reality game which requires users (Pokémon Trainers) to go outside and physically seek out digital monsters as well as catching, training, battling, and nurturing them.
Who else is jumping on this phenomenon bandwagon? BUSINESS!
For retailers who rely on foot traffic this has become a point of entry for increased sales.
Several businesses have already caught on, as brilliantly as Money has said. "Pokémon GO users gotta catch 'em all--and small businesses are taking advantage of their obsession with the viral smartphone game."
Have you thought about how you can attract Pokémon Trainers to your store? What if your business is virtual/remote?

Short Lesson on What a PokeStop Is!
A PokeStop is a place for people to catch their Pokémon. These places can be and are churches, restaurants, museums, parks...each are already established as PokeStops.
Have you begun the research to make your business a PokeStop? I suppose it would depend on your vicinity.
Let me know how you've integrated this overnight success App into your business funnel.
One thing you can do immediately to boost your business presence is to activate a Lure Module to capture potential customers.
A Lure Module is something that attracts Pokémon to a spot for 30 minutes. By purchasing a Lure Module, these little digital trolls will migrate to wherever that module is located. Activating one at the PokeStop near your place of business will inevitably attract anybody within a city block looking to catch these buggers. And people are looking.
TIP: If you are a retail shop with restaurants nearby, activating a Lure Module at lunch or dinner time may actually drive some traffic through your doors.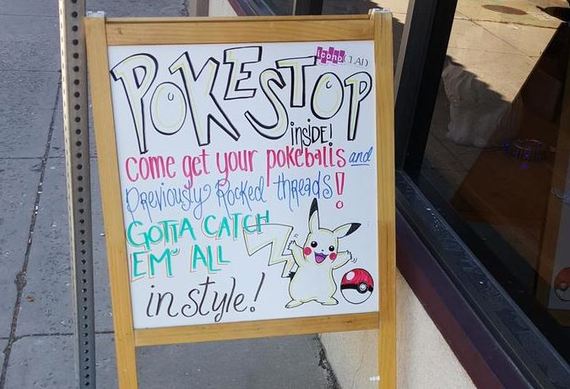 Rather than turn away potential customers, this indie clothing store is getting in the spirit and luring them in. (Credit: Forbes, How 'Pokémon GO' Can Lure More Customers To Your Local Business)
Of Course It Comes with a Cost!
Purchase 14,500 Pokecoins for $100 (US dollars). One Lure Module costs 100 Pokecoins. One Lure Module buys 30 minutes of Pokémon attraction.
If you break the math down it would be worth your while to invest a bit of time and money on this game.
If you are still reading this, then the interest has struck. Pokémon GO is a free app that can be found in the app stores for both Apple and Android. You will need to sign in through a Google Account.
I've downloaded the App and we are ready to go! Of course, my tween son is astounded that his Mom is jumping on this craze. I've even developed my own Avatar. Can't believe I'm even saying this. Later today, we plan to visit the local park as well as the downtown pedestrian mall. We've already visited both and clearly see the increase of people (of all ages and I mean all ages and people from different styles of life) winding and zigzagging in search of the little monster and all the other little goodies to be found.

Last Note: At the moment I don't know all there is to know about this great outdoor - interactive phenomenon but it has definitely sparked my interest.
REAL LIFE. REAL NEWS. REAL VOICES.
Help us tell more of the stories that matter from voices that too often remain unheard.