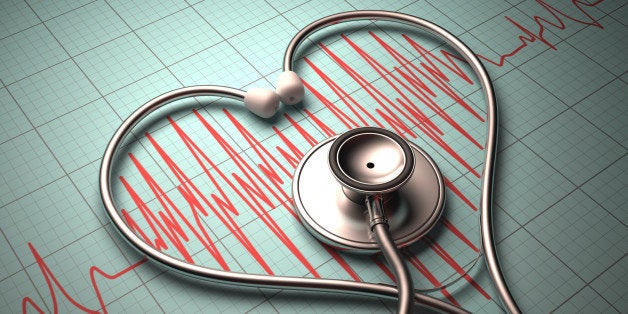 February is American Heart Month! The American Heart Association is dedicated to help bring awareness to heart disease and stroke in women. This month they have encouraged others to spread the word with events such as National Go Red Day and a Go Red Fashion Show during New York Fashion Week featuring Rosie O'Donnell, Catt Sadler, Hoda Kotb, Zendaya Coleman, and more!
You may not know that heart disease and stroke is the #1 killer of women. Many believe that heart disease is a man's disease, but each year 1 in 3 women die of heart disease and stroke. The American Heart Association is using National Go Red Day to help change that. Eighty percent of cardiac events can be prevented with education and lifestyle changes.
The following acronym can help you remember "What it Means to Go Red":

Get Your Numbers: Ask your doctor to check your blood pressure, cholesterol and glucose.
Own Your Lifestyle: Stop smoking, lose weight, be physically active and eat healthy.

Raise Your Voice: Advocate for more women-related research and education.
Educate Your Family: Make healthy food choices for you and your family. Teach your kids the importance of staying active.
Donate: Show your support with a donation of time or money.
Why is this important for women?
Cardiovascular diseases kill approximately one woman every minute.
Ninety percent of women have one or more risk factors for heart disease or stroke.
Eighty percent of heart disease and stroke events could be prevented.
Fewer women than men survive their first heart attack.
Women have a higher lifetime risk of stroke than men. Each year, about 55,000 more women than men have a stroke.
It has been shown that women who are involved with the Go Red For Women movement live healthier lives. Nearly 90 percent have made at least one healthy behavior change; more than one-third have lost weight; more than 50 percent have increased their exercise; 6 out of 10 have changed their diets; more than 40 percent have checked their cholesterol levels; and one third has talked with their doctors about developing heart health plans.
When you get involved in supporting The American Heart Association's Go Red by advocating, fundraising and sharing your story, more lives are saved. To help raise awareness and show your support try some of the following ideas:
Talk about it on social media using #GoRed.
Host an American Heart Month event at local schools, health centers, and libraries. Work with local recreation and fitness centers to spread the word about the importance of physical activity to prevent heart disease.
Contact your local Red Cross to host a CPR (cardiopulmonary resuscitation) training event in your community. Urge local community members to learn CPR and AED (automated external defibrillator). These skills can help save the life of someone who has sudden cardiac arrest.
Start a 20-minute group walk around your office at lunchtime.
Conduct a cooking demonstration using a heart-healthy recipe.
NOTE: All sources for the health statistics cited in this article are from The American Heart Association's 2015 Heart Disease and Stroke Statistics Update, which is compiled annually by the American Heart Association, the Centers for Disease Control and Prevention, the National Institutes of Health and other government sources. To access the full update, please visit www.heart.org
Calling all HuffPost superfans!
Sign up for membership to become a founding member and help shape HuffPost's next chapter