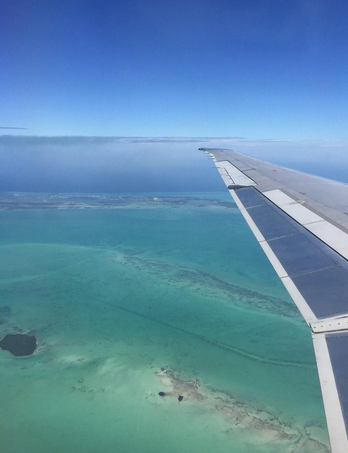 01.02.15
Caye Caulker, 5pm: Last half of last cigarette smoked. I am done.
01.03.15
Ambergris Caye day trip. To say I didn't San Pedro would be kind. Concrete roads that were once dirt, golf carts jammed along the sidewalk; the antithesis of Madonna's La Isle Bonita.
Caye Caulker, 5pm. Licking the mint chocolate chip cone from the stand in front of our hotel by The Split after a quick dip in the aqua water, made dark in large splatter spots from the seaweed gently floating on the ocean floor. Baby oil slathered all over, coating every inch of my body, preventing the mosquitos from getting seconds on their first buffeted feast.
I stand on the balcony under the full moon, my being renewed as a crystal would cleanse in the soft light.
I am whole. I am renewed. I am grateful. I am thankful. I am blessed. Thank you.
On repeat. Affirmations into truth.
I am not bitter. I am not resentful. I am not hurt. I do not feel guilty. I do not feel betrayed.
I am happy for the memories. I'm over the pain. I'm over it. I am grateful for all that's happened. I am thankful for the opportunities ahead.
Thinking thoughtful thoughts. Retrospective. Proactive.
I am whole. I am the version of myself I wanted to be. I've returned to myself where I feel like my old self, and not that dissociative self that happened.
It happened in Spring 2012. When I was doing social media, and the shoot in Hicksville Joshua Tree, and living in the Marina. I felt lost. I didn't know my home, literally, as if the apartment was someone else's living a life with someone else's boyfriend. I didn't feel like that person at all.
And then the stress of business, of my mom; it all compounded the uncertainty and anxiety. I drank a lot of wine. I did things to suppress the underlying unhappiness.
That feeling continued until this week. Until I was free and unplugged from it all. 7 nights to restore myself.
To erase the dissociative I've felt.
To find laughter and silliness and a sense of adventure.
To feel pretty and beautiful.
To feel enough.
My tattoo means, "this above all, to thine own self be true" but that self was blowing in the wind, swirling in the clouds, trying to stay on track and get back to a place I could call home.
To erase those deep lines, now filled with soft happy ones. My skin tan and smooth. My hair back to being long and brown, plain and simple.
My heart full as it once was. Not torn and hollow and broken. But pieced back together with love, gratitude, faith, prayer.
For a deep breath, and a knowing, that in order to be free and whole, to be content and secure, which comes within, my heart had to be whole.
Standing for only moments in front of the full moon, so round and bright, so clear and radiant, I saw that whole circle. My heart felt complete, and my life will never be the same again. For a key to everlasting happiness is to feel whole. To have God. To have yourself.
Follow on Instagram @flourgal @theflowerchef
Popular in the Community