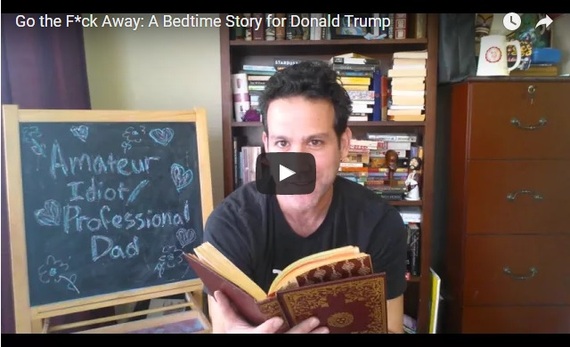 Donald Trump acts like a petulant child who will do or say anything to get his hands on a shiny new toy that is way too mature for him. (Even if he had it, he wouldn't know how to use it. He'll probably break it or get bored with it after a few minutes.) After you're done explaining to your children why his behavior is inappropriate, I think it's time we started using our mommy and daddy voices with little Mr. Trump. Let's put his bid for president to rest with a (very NSFW) bedtime story, "Go the F*ck Away," based on the hilarious children's book parody and every parent's favorite, "Go the F*ck to Sleep"
This profane and poetic tale begins:
Mexicans are paying for a gold-plated wall.
They won't rape any Americans today.
Trump brand hats will still cross the border.
Donald Trump, please go the fuck away.
You're a smart man and know the best words.
At Trump University, you would have gotten an A.
But that piece of shit folded. It was a scam all along.
You're a con man, not a president. Go away.