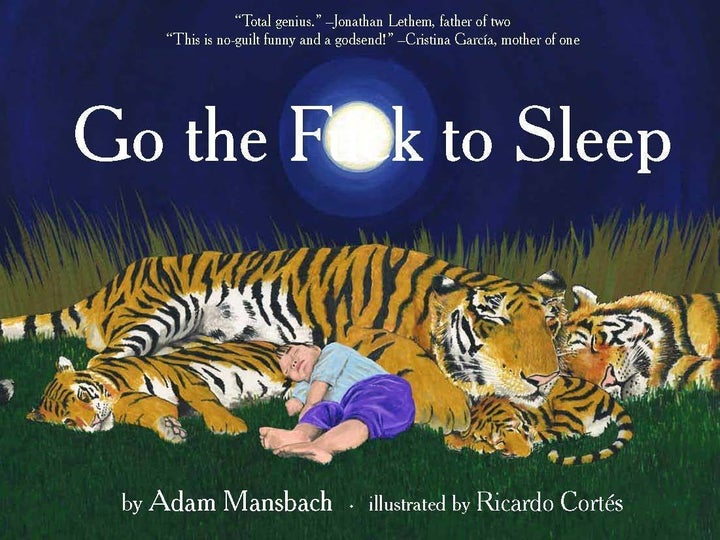 Author Adam Mansbach knows a thing or two about the difficulty of putting a child to sleep. The father of a three-year-old, Mansbach became increasingly frustrated with his daughter's bedtime antics one night and took to Facebook to blow off steam.
"Be on the lookout for my forthcoming children's book, 'Go the Fuck to Sleep,'" he joked in his status update, with no intention of writing the book. The responses he received were encouraging, and the concept for "Go The Fuck To Sleep"--a children's book for adults--was born.
Fast forward several months, and the book--comprised of quatrains that detail a child's bedtime excuses (thirst, needing to go to the bathroom), with the first two lines mirroring a traditional bedtime story and the second two reflecting the frustrated internal monologue of the parent struggling to get their kid to bed--reached number one on Amazon seven months before it was published thanks to a leaked PDF that went viral. In June, it debuted at number 1 on the New York Times bestseller list for advice books. Samuel L. Jackson recorded the audio book, it has been optioned as a movie, and numerous foreign publications are in the works. Mansbach attributes to book's success to its honesty.
"I think that a lot of parents feel very isolated and this resonates with them because it's cathartic and it gives them permission to laugh at something they are going through, to acknowledge something they're going through, and to be a little less caught up in the gravity of it," he told Huffington Post Divorce recently. "A lot of people's self image is caught up in their understanding of themselves as parents, but it's in a very narrow way. It's not like, 'well I'm a good parent if I love my kids' or 'I'm a good parent if I teach my kids how to enjoy life,' it's like a good parent means this rigorous and self-defined level of control that's almost unattainable," he said. "There's not of lot of humor."
According to Mansbach, the book may be particularly appealing for single parents:
"[As a single parent] it's just you and the kid and there's no one to bounce your frustrations off," he said. "It's simply harder across the board to be a single parent, so you need more release and more confirmation that the way you feel is normal and acceptable."
He recalled especially challenging nights when he relied on his partner to "tag in" and assist with putting their daughter to sleep: "It's like, 'I can't do this anymore. I'm done. I need to tag out and you need to take over,'" Mansbach said. "If you're a single parent, you ... can't do that."
WATCH Mansbach talk about "Go The Fuck to Sleep" On AOL Video:

Related