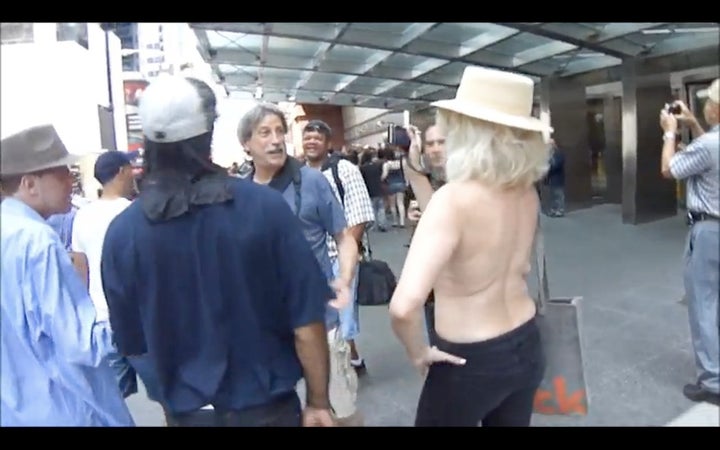 NEW YORK (Reuters) - Some two dozen topless women protested in a New York City park on a hot, sweaty Sunday as part of what they called "National Go-Topless Day" to draw attention to inequality in topless rights between men and women.
There were topless men in the park, too, but nobody paid them much attention, a disparity, organizers said, that demonstrated the need for the event.
The topless women drew crowds of onlookers who took pictures and video with their cell phones.
"We say there is nothing wrong with the female nipple," Karen Heaven, an organizer of the event, told the crowd that quickly formed around her in Manhattan's Bryant Park. She was wearing white pants and not much else besides a purse over her shoulder. "My dog has six, I have two, but I can be put in jail for showing my nipples. It's 2012 -- what are we thinking?"
It is legal for women to go topless in public in New York City but laws vary widely across the United States. Heaven and her colleagues say discrimination is unconstitutional and they want full equality.
Similar protests were scheduled in about 30 U.S. cities and 10 around the world, organizers said.
The annual Go-Topless Day was established in 2007 by a former sports car journalist called Rael, who founded a religion called the Raelian Movement after he said he was visited by a space alien in a French volcano park who told him life on Earth was created by extraterrestrial scientists, according to an account on his website.
Occasional references to alien creators did not seem to register with the crowd, which focused mostly on the breasts.
"I'll show these to a few friends and then delete them after a few days," Rudy Sison, a New Yorker who happened to visit the park on Sunday, said as he thumbed through photographs and video he had just taken on his phone. "They're topless."
Several women waved signs saying: "Equal Topless Rights For All."
After the speeches, a guitarist led the crowd in a reworking of The Beatles' song "Let It Be."
"Let 'em breathe," people sang. "Let 'em breathe."
(Editing by Daniel Trotta)

Related
Before You Go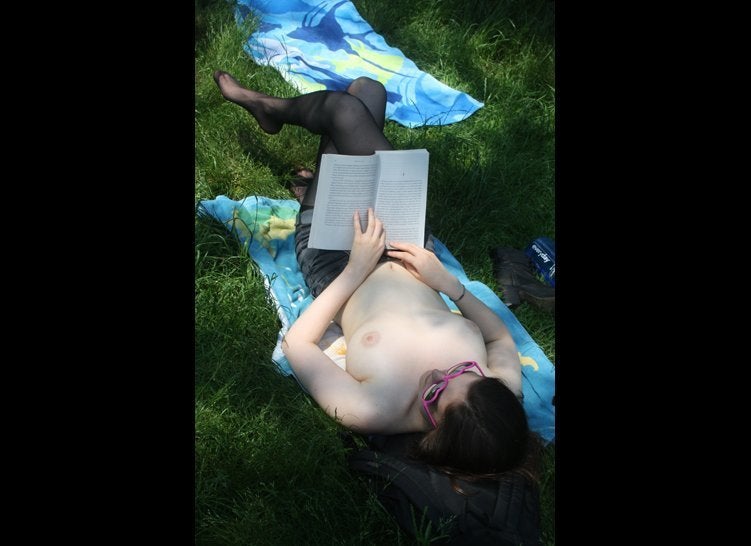 Memorial Day: Co-Ed Topless Pulp Fiction Appreciation Society
Popular in the Community