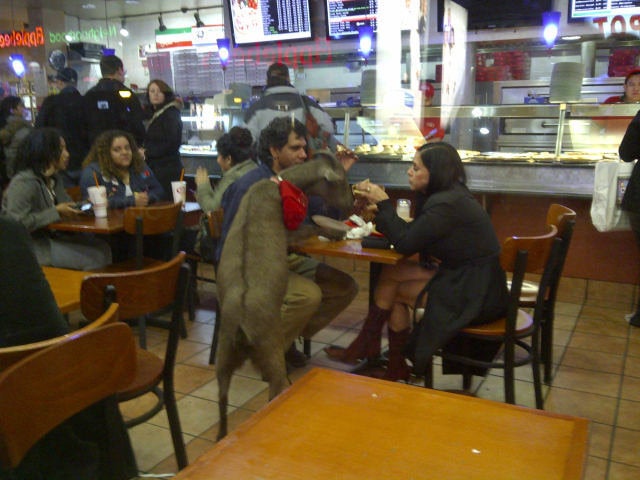 MIDTOWN -- When it comes to pizza, this goat wasn't kidding around.
The animal was spotted chowing down on a jumbo slice of pizza at Famous Famiglia restaurant in Midtown Wednesday night about 11 p.m.
The goat, which was with a dark-haired couple, propped his two front hooves on top of their table while the woman fed it from her slice, which appeared to have spinach on it.
A crowd quickly gathered outside Famous Famiglia's floor-to-ceiling windows on the bustling corner of 50th Street and Broadway to snap photos. The farm animal, which was about the size of a large dog, appeared to be wearing a leash and had a red satchel around its neck.
"Maybe it's a service animal," said one man. "It could be a seeing-eye goat," joked another.
Despite the attention, the couple continued to enjoy their meal and remained focused on their four-legged third wheel.
"I don't know who let the goats in because we normally don't even let dogs in, but it's big news around the pizza joint," said Famous Famiglia worker Lona Asaneni Thursday.
Twyla Reynolds, 32, said she wasn't grossed out by the fact that she was eating pizza in the same place where a goat had noshed before. "I mean, maybe he likes the pizza. I think it's fine as long as its not goat cheese pizza- that's weird," Reynolds said. Other residents didn't think it would be so sanitary to have a goat dining next to them. "Get out of here. That's insane," said Ed Sullivan, 37, a construction worker from Long Island. "It's not sanitary -- well -- I guess it depends on the goat. But it's still funny."
Della Hasselle contributed reporting.
Support HuffPost
The Stakes Have Never Been Higher
Related
Popular in the Community