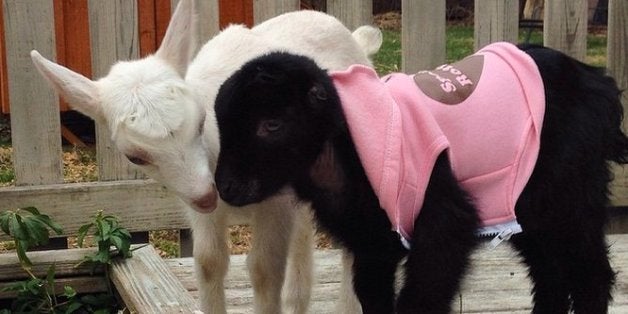 Two baby goats that were rescued from a New Jersey farm earlier this month are now inseparable playmates.
"I would never dream of splitting them up," Leanne Lauricella, 41, told The Huffington Post about the goats, Petal and Ansel. "They curl up and sleep together. They think they're brother and sister."
Lauricella is a volunteer for The Barnyard Sanctuary, a refuge in Columbia, New Jersey, for abused and displaced farm animals. After the local animal control department was tipped off to allegations of animal abuse on a privately owned property in the area, the sanctuary partnered with officials to rescue nearly 200 animals from the dire living situation.
"I didn't notice anything when I first walked into the house," The Barnyard Sanctuary Director Tamala Lester said, describing the eerie scene she found when she arrived at the property. "It was very neat and tidy. There was just a strange smell in the air -- you couldn't really tell what it was. The house was normal, until [officials] said, 'Go back into the bedrooms."
There she found emaciated animals -- mostly infants -- living without adequate food and water among the dead bodies of other animals. A second property owned by the same people housed many more starving, sick and dying animals living among carcasses, officials say.
The sanctuary took in around 150 of the survivors, but two goats, only days old, needed special care.
PHOTO GALLERY
Ansel And Petal The Goats
Lauricella, who already had five pet goats of her own on a small hobby farm, got a call from Lester the day after the rescue asking if she could foster a white female Saanen goat and a black male Lamancha goat -- a breed with an earless appearance. Lauricella named the white goat Petal and the black goat Ansel.
"They were so skinny," she said. "Just bones."
Though Petal recovered quickly, Ansel was critically ill with what turned out to be a case of E. coli, and veterinarians feared he wouldn't make it. After a week and a half of intense care -- during which Lauricella herself contracted E. coli, though she is fine now -- Ansel is a playful, healthy little goat, she said.
Now, there are few lingering reminders of his illness, except the strong bond between Ansel and his new human mom created by days of constant care.
"He looks right in my eyes when I bottle feed him," she said. She noted she originally planned to only foster the pair of infant goats, but ended up adopting them.
The owners of the property are currently under investigation for charges of animal cruelty and child endangerment.
The majority of the rescued animals will live at The Barnyard Sanctuary permanently, Lester said, noting that "they're doing really well." Those interested in learning more about the animals and the sanctuary can do so here and here.
PHOTO GALLERY
Barnyard Sanctuary Animals Rescued From New Jersey Farm
REAL LIFE. REAL NEWS. REAL VOICES.
Help us tell more of the stories that matter from voices that too often remain unheard.