Alex Buckley's fraternity at Penn State University always wanted a pet. Most Greek houses that want one usually get a dog, because cats make for a bad frat pet and fish are boring. Since Buckley's fraternity is Lambda Chi Alpha, the brothers often joked they should get a "Lambda Chi Lamb" as a mascot, but Buckely said nobody really acted on it.
He and a few friends found out that getting a Nigerian dwarf goat or Pygmy goat was much more realistic than buying a lamb. They got one from Trout Run, Pennsylvania, that they named Bella Russe. She's adorable, and if you have any doubt about that, you probably haven't seen her popular Instagram account, @psugoat, that "gets DM'd on the reg," as Buckley put it.
"She's not just our frat's pet, she's a friend and peer to the community," Buckley told The Huffington Post. "We would like her to eventually become not only an icon for our fraternity, but an icon for our school. We have plans to bring her to sporting events, philanthropic events, and are hoping that Bella can become an asset to the community."
In February, the fraternity and the Alpha Sigma Alpha sorority hung out with Bella as a morale booster just before the annual THON, a 46-hour dance marathon charity event for cancer where participants cannot sleep, sit or drink caffeine. The two Greek houses raised over $220,000, and let two of the kids they sponsored, Trent and Michael, play with Bella for over an hour.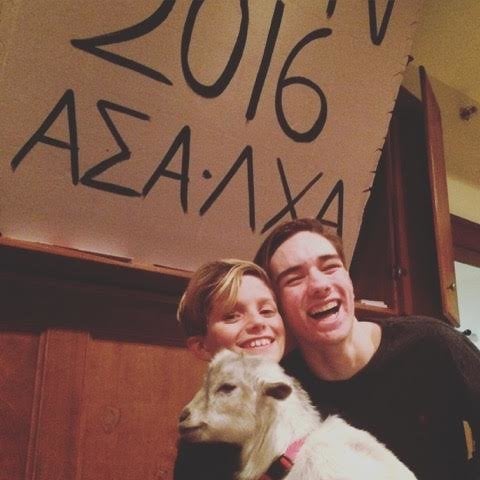 "What started from a funny idea of getting a frat goat, turned into a campaign to improve and better the Penn State greater community," Buckley insisted.
Bella Russe is part of a trend on some American college campuses of students getting small goats for pets -- dwarf and Pygmy goats, to be specific.
Evan Marinis got a Pygmy goat off of Craigslist and often brought it to Chicago Cubs games, though they had to hang out outside of the ballpark. Marinis also brought his pet goat, Littleton, over to his fraternity house where his brothers described it as being like a cuddly dog, but one that doesn't bark.
But Marinis was originally looking for a puppy, according to Littleton's co-owner, Quinn Hagan. People thought it was a crazy idea to get a goat, Hagan said, but they decided to split the vet costs for Littleton and his brother, Waller.
"He loved being around people and playing but he was happy to get his brother back and have another goat to be with," Hagan told HuffPost.
Hagan and Marinis are both from the Chicago area. They got the goats as students at the University of Missouri, where Hagan still attends, though Marinis transferred to the University of Illinois at Urbana-Champaign.
Littleton and Waller behaved much like dogs. For instance, on car rides they would hop onto someone's lap and watch things go by outside the window. Their life expectancy is similar to a dog, Hagan said, anywhere from 8 to 18 years.
"I've met plenty of puppies that have given me a much harder time than them," Hagan said. "They are really well-behaved and extremely friendly to people. When we first bought Littleton, everyone on campus was dying to meet him and take pictures with him. He would never get irritated or try to run away. As long as he was fed and got a few naps in, he loved meeting everyone at Mizzou."
It's not all fun and games, however.
Some students bought a goat for $80 on Craigslist at the University of South Carolina, but had trouble with it repeatedly escaping. One day it took 25 guys three hours to capture the goat, and soon after, animal control took it away. But this was a full-sized goat, not a miniature one, as they told WJBF.
Most Pygmy goats are raised as companion animals like cats and dogs, according to Lionel Dawson, an Oklahoma State University professor with expertise in herd farm animals. Some are raised in backyards and some are trained to live inside a house, Dawson said. The key to whether they can be raised as pets is how well the owners do with the goats' nutrition, he explained: "They need to be fed roughage like hay and some grain."
Whether you can keep a pet goat also depends on local city ordinances and neighbors.
Hagan said they "built a sweet pen" for Littleton and Waller in his parents' backyard in Glenview, Illinois, but neighbors got annoyed so they had to move them to a farm. They plan to pick them back up this summer for more Chicago Cubs games.
At Penn State, some Lambda Chi Alpha alumni weren't thrilled, but Buckley said they explained to them that Bella was a domesticated pet, not an animal being kept for livestock purposes.
Bella is "essentially potty-trained," according to Buckley. She's never left alone, either -- Buckley mildly complained people are so interested in spending time with Bella he sometimes has trouble getting to hang out with her himself. And she sleeps on a bed made of rocks and straw, and enjoys playing on couches.
Buckley has plans for the near term as well to make sure Bella is taken care of. Over spring break they brought her back to the farm they got her from to spend time with other goats, and when Buckley is away on an internship this summer, she's being boarded at a farm outside Pittsburgh. But there's a cost to that, and the large animal veterinarian visits and vaccinations, so they have a GoFundMe to help cover the expenses.
"Bella is truly a remarkable animal. She's friendly, personable, fun and very spoiled," Buckley said. "She lives in a frat house with a dad and 40 uncles that love and care for her, and lives on a campus with 46,000 people that are dying to meet her. Bella Russe is not your average goat. She's a frat goat and she's living the life."
This article has been updated with comments from professor Lionel Dawson.
Related
Before You Go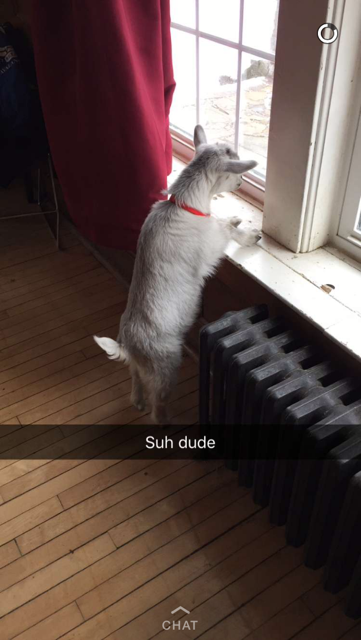 Bella Russe, The Goat From Penn State
Popular in the Community