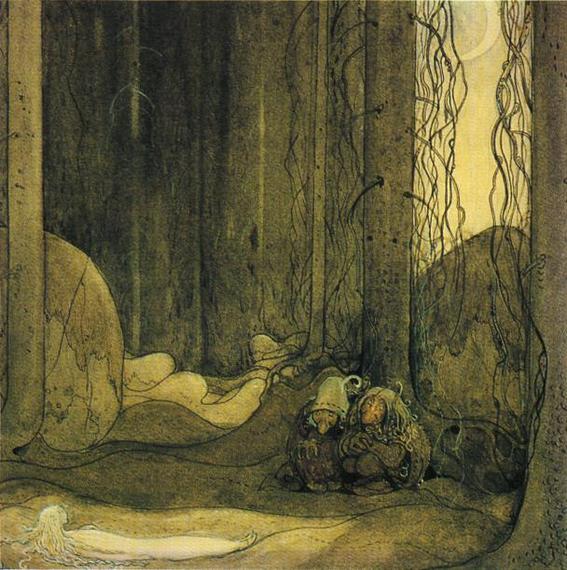 A tide of reported goblin encounters that have swept the African mainstream alternate media in recent days left me astonished! Strange goblins are poisoning poor lady's food, turning successful businessman into a bankrupt and even burning houses down in the dearly beloved Africa.
First off, Lydia Motaung from Qalabotjiha in Villiers, Free State, claims that a goblin, an "invisible thing" called the tokoloshe, is poisoning her family to death. Lydia's sister died this March after she became very ill from eating the food prepared in her house, leading her to believe that a goblin is poisoning her entire yard!
"All the food that comes into my yard is poisoned by an invisible thing. I think it's a tokoloshe and it wants to kill my whole family."
"The symptoms are always the same - dry throat, dizziness, terrible fever and severe headache."
Not only that, the goblin is also causing irritation and domestic fights in the family:
"It's painful to see family members turning against each other and being unable to help each other when we are sick. We need help to get rid of this thing,"
Now, here's another case, where a Frans Ngakane says his once successful spaza business is close to shutting down due to "a very aggressive mpundulo (zombie)". It reportedly hisses from the store ceiling and steals his money:
"Once it stole R800 of the week's taking of R2000. I was angry, thinking my children stole the money, but I discovered it wasn't them. Sangomas [healers] told me this tokoloshe was sent to make me poor."
His daughter has left the house and his wife can't stand him. Business rivals now treat him as a joke. Poor Frans now requests churches to come pray for him. Hope his plight is soon over.
Finally, the news of the era. Seems my earlier blog on Violent Exorcisms: The Modern Day Witch Hunt? was really important after all. Mike Musiiwa, a self-proclaimed Sangoma from the Chief Nyajena area in Masvingo, took advantage of his uncle's absence from his house, and set his property, worth about a $1,000 one fire! Yes, and in his defence, he said before Masvingo provincial magistrate Sibonginkosi Mkandla:
"I just wanted to destroy his goblins, which I did."
The chap plead guilty for arson, and is due punishment.
What do you think? Are goblins taking a form of mass hysteria? Leave your comments!
Calling all HuffPost superfans!
Sign up for membership to become a founding member and help shape HuffPost's next chapter